Feels Like Your Uterus Is Expanding But You're Not Pregnant? You May Have Myoma

You can have a single myoma or multiple ones.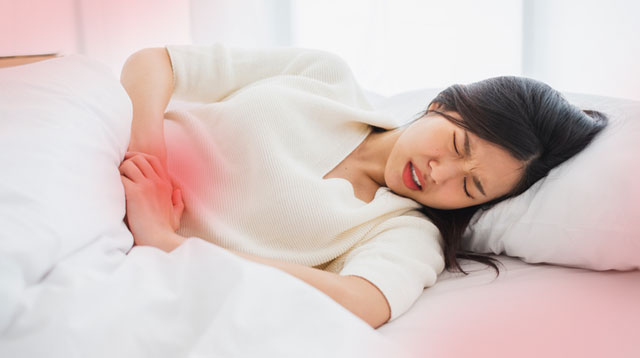 You see and feel your uterus growing, but surprise! — you're not pregnant. Instead, you might have uterine fibroids or myoma, noncancerous growth in the uterus that can appear during childbearing years.

According to the Mayo Clinic, many women have myoma, but most of them go undetected as it usually has no symptoms. Dr. Jennifer Co, M.D., FPOGS, an ob-gyn and infectious disease specialist who holds clinic at the FEU-NRMF Medical Center, shares that women who suspect they have myoma might go to the doctor "kasi may nakakapa na silang bukol." (because they can feel a lump on their abdomen.)

Sometimes, ob-gyns might be able to detect it accidentally during a pelvic examination or a prenatal ultrasound. "Sasabihin namin [sa pasyente], parang malaki ang matres mo," Dr. Co explains. "Or kunwari nakapa namin na yung contour ng matres ay asymmetrical, meaning, irregular 'yung shape. To help us differentiate, we order an ultrasound."

What is a myoma?

Myomas are abnormal growths that develop in or on a woman's uterus. They are benign tumors composed partly of muscle tissue and range in size from seedlings to big ones that can enlarge the uterus. According to Dr. Co, myomas are very common in women in their 40s and who are approaching menopause.

Types of myomas

The type of myoma a woman develops varies according to its location in or on the uterus.

Intramural myoma – grows between the muscles of the uterus
Submucous myoma – develops in the middle muscle layer, or myometrium, of your uterus. It can cause heavy bleeding.
Subserous myoma – develops outside the uterus. A large growth may interfere with your pregnancy.

ADVERTISEMENT - CONTINUE READING BELOW

Symptoms of myoma

Many women with myoma don't feel any symptoms. Those that do will experience pressure symptoms, according to Dr. Co. These will depend on the location, size, and number of myomas, according to Mayo Clinic.

The most common symptoms are:

Heavy menstrual bleeding
Menstrual periods that last more than a week
Pelvic pressure or pain
Frequent urination or urge to urinate
Changes in bowel movement
Constipation
Backache or leg pains

Can myoma affect pregnancy?

Fibroids or myoma don't usually interfere with getting pregnant. However, Dr. Co explains that a woman with submucous myoma can experience complications during pregnancy. "Yung submucous myoma kasi nasa surface ng endometrium. So [maaaring] mahirapan 'yun na magbuntis. Halimbawa, nagkaroon ng fertilization, pero ang problema ay implantation [dahil sa myoma] so hindi rin dumidikit o nag-i-implant." (Submucous myoma is on the surface of the endometrium, which can make implantation difficult. If fertilization happens, the myoma can interfere with implantation and the fertilized egg won't cling to the endometrium.)

If the myoma is too big in size, it can cause preterm labor, according to Dr. Co. Pain from the fibroids may lead to uterine contractions, which can result in an early delivery, according to Healthline.

Myomas can also prevent a fetus from growing fully because of decreased room in the womb. "Kasi nakikipag-compete ng space 'yung baby dun sa myoma," explains Dr. Co. "Dahil malaki 'yung myoma, pwedeng may growth restriction or low birth weight 'yung babies kasi maliit sila." (The myoma competes for space with the baby in the womb. That can cause growth restriction or low birth weight in babies because the fetus is too small.)

CONTINUE READING BELOW

Recommended Videos

Other complications include:

Placental abruption — occurs when the placenta breaks away from the uterine wall because it is blocked by a myoma. This can reduce oxygen and nutrients.
Cesarean delivery — according to WomensHealth.gov, women with fibroids are six times more likely to need a cesarean delivery (C-section) compared to women who do not have myoma.
Miscarriage — according to Healthline, research says the chances for miscarriage are doubled in women that have myoma.
Breech position — Since the myoma is competing for space in the womb, the baby might not be able to align for vaginal delivery, according to Dr. Co. This is called malpresentation, where the fetus is in an abnormal position which may result in prolonged or obstructed labor.

Many fibroids that were present during pregnancy may also shrink or disappear after pregnancy when the uterus goes back to normal size, according to Mayo Clinic.

Treatment and management of myomas during pregnancy

If a myoma is detected during pregnancy, Dr. Co shares that the first step they take is to tell the patient that the myoma can grow in size. But surgical removal is not yet recommended — "I-mo-monitor lang 'yung baby saka myoma," she explains. "Halimbawa nagkaroon siya ng signs ng preterm labor, nagbibigay lang kami ng gamot na pamparelax ng matres ng pasyente, na ginagawa rin namin sa mga normal pregnancy. (We just monitor the baby and the myoma. If there are signs of preterm labor, we just give medication that would relax the uterus. This is also the routine for normal pregnancies.)

ADVERTISEMENT - CONTINUE READING BELOW

Small fibroids or myoma usually do not interfere with pregnancy. If the patient does not experience any symptoms, removing the myoma is not necessary.

If the uterus expands due to the myoma, say your uterus grows like you are 2-4 months pregnant, and it causes bleeding, that's the time when removal by surgery is recommended, according to Dr. Co. "Pwedeng laparoscopy, pwede ring laparotomy," she shares.

If it's a smaller-sized submucous myoma that causes bleeding symptoms, doctors may also perform a transcervical resection, according to Dr. Co. "As much as possible, we do the conservative management which is myomectomy. Tatanggalin lang 'yung myoma at iiwan ang matres." (We just remove the myoma and not the uterus.)

What other parents are reading

Can myomas become cancerous?

Myomas are usually not classified as malignant, explains Dr. Co. If it does become one, it is only a very small percentage. Myomas can turn into leiomyosarcoma, a rare type of cancer that affects smooth muscle tissue. According to Mayo Clinic, these tumors are most common in the abdomen, but can also occur anywhere in the body, including the uterus. It can also be present in the blood vessels and skin. Dr. Co reiterates that this occurrence is not very common. It can be less than one percent for women with myomas.

How to prevent myomas

The cause of fibroids is not known, according to WebMD, but it seems to rely on estrogen to grow. After menopause, these myomas usually shrink on their own.

By maintaining healthy lifestyle choices, like maintaining a normal weight, and eating a balanced diet, you may be able to reduce your chances of getting a myoma, according to Mayo Clinic. Some research suggests that using hormonal contraceptives or birth control pills, may be associated with a lower risk of fibroids.

ADVERTISEMENT - CONTINUE READING BELOW

According to Dr. Co, a regular gynecological consult is a must in order to detect myomas right away. Getting a pap smear annually is highly recommended.

Do you experience painful periods monthly? It may not be dysmenorrhea anymore. Click here for other possible reasons for your menstrual cramps.  

What other parents are reading

Celebrate your pregnancy milestones!


Enter your details below and receive weekly email guides on your baby's weight and height in cute illustration of Filipino fruits. PLUS get helpful tips from experts, freebies and more!

You're almost there! Check your inbox.


We sent a verification email. Can't find it? Check your spam, junk, and promotions folder.
Trending in Summit Network