How Being Too Clean Might Be Making Your Child Sicker

The concept 'hygiene hypothesis' has been a subject of debate over recent years.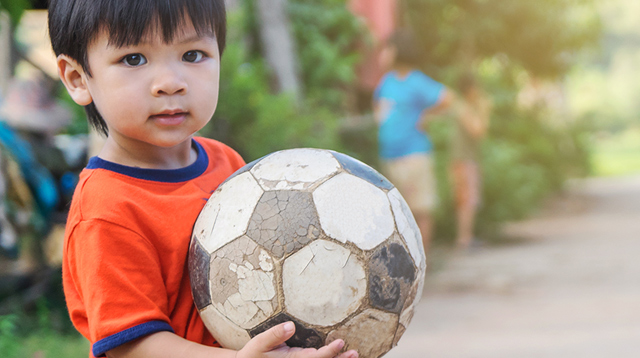 As a parent, you know good hygiene is essential to avoid bacteria and germs. But a scientific concept called the "hygiene hypothesis," which has been the subject of many studies (and debate) over the past years, appears to be challenging the belief that kids should be protected from bacteria at all costs.

The hygiene hypothesis proposes that when humans are not exposed to bacteria, viruses, and allergens during childhood, their immune systems are not given the opportunity to develop normally, therefore increasing their chances of developing different kinds of illnesses.

The hygiene hypothesis has been a topic of debate among scientists across the field, Vox notes.

What exposure to bacteria can do to your body

Vox reports that in the late 1980s, an epidemiologist named David Strachan conducted a study investigating the connection between childhood allergies and lifestyle differences in children from East and West Germany. He found that children from West Germany, which was a richer and cleaner region at the time compared to East Germany, tended to have higher rates of asthma and hay fever. He also discovered children from West Germany were less likely to spend time with other children in day care centers than children from East Germany.

After his study, Strachan proposed West Germany kids' "reduced exposure to bacteria and other antigens, normally acquired from other children, somehow affected their immune systems, leading to their increased chance of developing the autoimmune diseases."

Since then, other studies which supported Strachan's findings have been increasing. Many appear to claim that people who lived in wealthier and more sanitized nations were at a higher risk of developing asthma and different kinds of allergies than people who lived in other nations.

ADVERTISEMENT - CONTINUE READING BELOW

A 2007 study found that adults who use common household sprays, particularly antibacterial ones, in cleaning their homes exhibited higher rates of asthma. A 2011 study, meanwhile, concluded that higher exposure to triclosan — an active ingredient found in antibacterial soaps — had negative effects on people's immune systems. Those who were exposed to triclosan more frequently tended to manifest higher rates of hay fever and allergies.

Even studies involving animals seem to have similar findings. In an article on Vox, Erika von Mutius, a pediatric allergist who has studied the hygiene hypothesis, discusses one such study. "In experimental studies with germ-free mice raised in a sterile environment, researchers have found they're extremely prone to developing colitis and asthma, among other problems."

While these studies only indicate possible correlations between health and exposure to bacteria, they also help substantiate the idea behind the hygiene hypothesis — that our immune systems need to be regularly exposed to different kinds of bacteria to learn how to fight off bad bacteria.

An article on the New York Post discusses a similar idea by Dr. Jack Gilbert, associate director of the Institute for Genomic and Systems Biology at Argonne National Laboratory in Illinois, USA. He said hospitals, where creating sterile environments are a top priority, need to have a richer and more diverse microbial diversity — in other words, become dirtier.

He explains that "the lack of a rich microbial ecosystem, especially in our hospitals, might be causing more harm than good, leading to drug resistant strains of powerful superbugs and infection-causing viruses."

ADVERTISEMENT - CONTINUE READING BELOW

Recommended Videos

The article goes on to explain how microbes help our health. They replace cells that die or that have been damaged and also assist the body in absorbing and storing fat and nutrients. It is actually in the birth canal when humans first encounter microbes, which is said to help improve a baby's immune system. Breast milk, for instance, contains a substance that a baby couldn not digest if it were not for the microbiome in his gut.

Let bacteria help the immune system

Knowing all this, does it mean we should now stop observing proper hygiene? Of course not. In fact, the presence of microbes are just as harmful, even life-threatening, as they are beneficial, especially for kids. You don't want to buy water from a refilling water station with unsanitary conditions. Hygienic practices save lives. 

However, being too clean may prevent our children from being exposed to all kinds of bacteria. Gerald Callahan, a microbiologist, tells LiveScience that exposure to both harmful and benign bacteria can help the immune system learn how to deal with and respond to different illnesses.

"A child's immune system needs education, just like any other growing organ in the human body," von Mutius also tells Vox. "The hygiene hypothesis suggests that early life exposure to microbes helps in the education of an infant's developing immune system."

So next time, maybe don't be too paranoid about letting your child get himself dirty during playtime. But make sure he washes his hands before he eats.

ADVERTISEMENT - CONTINUE READING BELOW

What other parents are reading

Celebrate your pregnancy milestones!


Enter your details below and receive weekly email guides on your baby's weight and height in cute illustration of Filipino fruits. PLUS get helpful tips from experts, freebies and more!

You're almost there! Check your inbox.


We sent a verification email. Can't find it? Check your spam, junk, and promotions folder.

Trending in Summit Network