3 Things That Can Go Very Wrong if You Don't Follow Your Child's Doctor Prescription

It may not always be convenient, but asking for your pedia's advice is never a bad idea.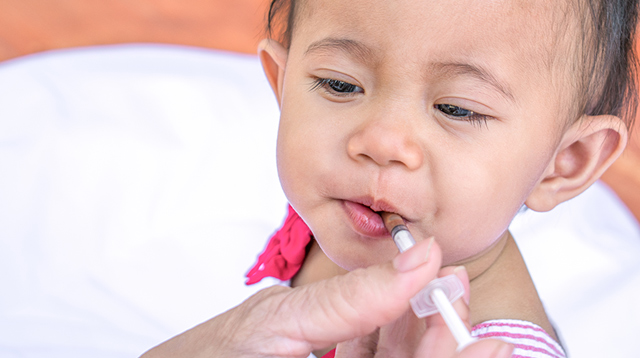 You are your child's first playmate, first friend, and in a sense, her first doctor or at least your baby's first line of defense when she gets sick. If you have a 1-year-old, you quickly realize not every sickness requires a trip to the emergency room, and your pediatrician's clinic will do just fine. In fact, you see that his doctor prescrption is something you can get over the counter of a drug store.

You can't help but think the next time your child gets the same condition, there is no need to reach out to your pediatrician anymore. You even recommend your prescription to another parent who says her child is experiencing the same illness.

What happens if you don't follow doctor prescription

While it can happen that drugs that have worked for other children before can work on your child and vice versa, this type of practice can hav adverse effects on a sick child's ability to fully recover and can make his condition worse. Below are reasons of what can happen if you don't follow doctor prescription (or don't talk to your doctor at all).

1. The medication will not be as effective.

Say your older child recently experienced strep and was given a prescription by his doctor. Now, it's your younger child who has strep, and you just happen to still have some of your older child's medicine left over at home. It's easy to see why a parent in this situation would find it easier to give the younger child her older sibling's medicine. As Dr. Benjamin Spock points out in his book Dr. Spock's Baby & Childcare 9th Edition, when parents see that the medicine they gave one child produced great results, they might assume the same thing will happen with their other child.

ADVERTISEMENT - CONTINUE READING BELOW

But, according to experts, that is not always the case. Just because your children have the same condition doesn't mean that the same prescription will work for all of them. Factors such as weight, age, and medical history have an impact on dosage and a new drug altogether. What to Expect says taking medicine that was originally meant for someone else can be dangerous for a child, which is why it is still better to ask her pediatrician for a prescription written specifically for her.

And this needs to be said: drugs prescribed for adults are not to be given to children, especially without a doctor's advice. Because children's bodies are less developed, adult meds can cause unfavorable or harmful effects. Again, when it comes to giving your child medicine, make sure to stick to your pediatrician's recommendations.

2. Your child can get sicker.

One common mistake parents make when it comes to giving their children medication is not following the full course of treatment — they don't administer the medicine according to the period of time prescribed by the doctor. This might be because, at a certain point, you notice that your child is getting better, so she can stop taking her meds. That can be dangerous.

Rainu Kaushal, M.D., director of pediatric quality and safety at the Komansky Center for Children's Health at New York-Presbyterian Hospital in New York City, USA, tells Parents that if you don't finish the prescribed period of treatment, you are giving the bacteria in your child's body the opportunity to linger, grow back, and possibly even become resistant to the medicine. As a result, your child can get even sicker and find it more difficult to recover fully.

ADVERTISEMENT - CONTINUE READING BELOW

Recommended Videos

3. Your child might experience serious side effects.

Over-the-counter (OTC) meds are convenient and even effective, but note that these can also cause several side effects. Some medicines might even be unsafe for use on young children.

When it comes to giving children OTC medicine, the American Academy of Pediatrics (AAP) reminds parents to read the label or the portion on the packaging where you will find data such as the ingredients of the medication, what it is to be used for, and what possible side effects it can trigger. This step can help you make sure that you are looking at the medicine that is most appropriate for your child's symptoms. At the same time, the label will will tell you if it contains any ingredients that your child might be allergic to and if it is safe for kids who are your child's age.

If your child ends up developing a reaction like a rash or after taking the medication, the AAP advises calling your pediatrician immediately. "Even if a medicine is safe, your child may be allergic to it," says the AAP.

When treating your baby's cough or cold, OTC medicines are not advisable for use and can be harmful to infants and children under 2 years old. For children between 4 and 6 years old, cough medicine may be used if recommended by the doctor, while for children over 6 years old, cough medicine may be administered, as long as it is given in the amount prescribed on the label.

ADVERTISEMENT - CONTINUE READING BELOW

What other parents are reading

What to remember when giving your child medicine

Taking all the safety precautions for your child is never a bad idea. Make sure you give her the appropriate dosage of medication using the spoon, cup, or dropper provided.

Spoons you use for eating are never a reliable tool for measuring medicine. According to a study published in the International Journal of Clinical Practice, these items can actually hold two to three times more than the amount that standardized dosing instruments. Giving your child medicine on a kitchen spoon means she is at risk of overdosing.

Be careful about giving your child an extra dose of medicine if she refuses to take it the first time or she spits it out. Some might also assume that doubling the dosage can speed up the child's recovery. But according to pediatrician Laura Prager, M.D., F.A.A.P., it can actually take up to three to four days before a child feels better, even after taking medication. She also tells Good Housekeeping that giving the child an extra dose can lead to serious side effects.

At the end of the day, it is still best to consult your child's doctor when it comes to administering medication. You may know your child better than anyone else, and, yes, do follow what your maternal instinct is telling you. But if you have a prescription, trust your pediatrician, and follow it to the letter.

What other parents are reading

Celebrate your pregnancy milestones!


Enter your details below and receive weekly email guides on your baby's weight and height in cute illustration of Filipino fruits. PLUS get helpful tips from experts, freebies and more!

You're almost there! Check your inbox.


We sent a verification email. Can't find it? Check your spam, junk, and promotions folder.

Trending in Summit Network