Why Your Newborn Shouldn't Leave the Hospital Without the Hepatitis B Vaccine

The vaccine is best given at birth and is crucial for preventing the infection.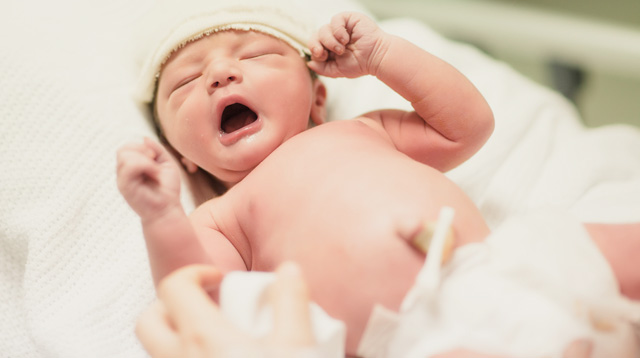 Kung gusto mong basahin ang nakasulat dito sa Tagalog, mag-click lamang dito.

Hepatitis B is a major health problem in the Philippines, with 20 to 30% of infected individuals developing chronic liver infection between the ages of 30 to 50 years old. Annually, 9,000 people die from chronic liver disease, according to the World Health Organization (WHO). There is no cure for hepatitis B, however, there is a vaccine for the disease, and it is important that newborns do not leave the hospital without getting a dose of the HBV vaccine or hepatitis B vaccine.

In 2018, the Hepatology Society of the Philippines (HSP) stated that "in Filipino babies without contraindications, hepatitis B vaccination is recommended within 24 hours of birth." The timing helps ensure the effectiveness of the vaccine in preventing newborn infection, according to the Department of Health (DOH).

What other parents are reading

What is hepatitis B?

Hepatitis B is a virus that attacks the liver. According to the Hepatitis B Foundation, it is known as the "silent epidemic" because a number of infected people do not experience symptoms until many years later when they develop liver diseases like hepatitis (inflammation of the liver), cirrhosis (severe liver disease) or liver cancer (called hepatocellular carcinoma). Thus, they can unknowingly spread the virus to others and continue its spread.

"Among Filipinos, hepatitis B is the leading cause of liver damage resulting to cirrhosis and cancer," said former Secretary of Health Dr. Paulyn Jean Ubial in a previous SmartParenting.com.ph article. She adds that 7.3 million Filipinos are chronically infected with hepa B, and liver cancer is the second deadliest in the list of top cancer deaths.

ADVERTISEMENT - CONTINUE READING BELOW

Symptoms of hepatitis B

The hepatitis B virus can either be acute or chronic. Acute hepatitis B is a short-term illness that occurs within the first six months after the person is exposed to the virus. Symptoms include:

Fever
Fatigue
Loss of appetite
Nausea
Vomiting
Abdominal pain
Dark urine
Clay-colored bowel movements
Pain in muscles and joints
Jaundice

Chronic hepatitis B is a long-term illness, and may not manifest any symptoms. As mentioned above, it can cause extensive liver damage, leading to liver diseases and even death.

What other parents are reading

How hepatitis B infection spreads

The virus is passed through blood and bodily fluids. Mothers who do not know that they are infected with hepatitis B can easily pass the virus during pregnancy or after birth. According to the U.S. Centers for Disease and Control and Prevention, a person can also become infected through:

Sharing items such as razors or toothbrushes with the infected person
Contact with the blood or open sores of an infected person
Sexual intercourse
Sharing needles, syringes, or other types of injection
Exposure to blood from needlesticks or other sharp instruments

Hepatitis B treatment

Since there is no cure for hepatitis B, treatment for acute hepatitis B is mostly supportive in the form of rest, adequate nutrition and hydration. In some cases, hospitalization may be needed for those who are unable to eat due to vomiting and lack of appetite.

Chronic hepatitis B may be managed by drugs, depending on what the doctors deem appropriate for the infected individual. People with chronic hepatitis B, even those without symptoms, need long-term monitoring for the early detection of complications in the liver such as cirrhosis and liver cancer.

CONTINUE READING BELOW

Recommended Videos

What other parents are reading

What happens when a baby gets hepatitis B?

Most newborns who become infected do not have signs or symptoms but have a 90% chance of developing chronic or life-long hepatitis B, as do babies and young children who become infected with the virus. "The younger a person is when infected, the higher the chance that he or she will have a life-long infection with the virus," according to HSP.

It's why getting the HBV vaccine is a must — it protects all babies (whether the mom is infected with the virus or not) from acquiring the infection and prevents them from developing a serious liver disease when they get older.

When to get the HBV vaccine

The hepatitis B vaccine is given in three doses starting from birth. It is part of the Childhood Immunization Schedule released annually by the Philippine Pediatric Society (PPS) and the Pediatric Infectious Disease Society of the Philippines (PIDSP) together with the Philippine Foundation for Vaccination (PFV).

In the Philippines, hepatitis B immunization is included in the Maternal, Newborn, Child Health and Nutrition package of the DOH. HBV vaccine should be free and mandatory to all infants, as stated in Republic Act 10152 (An Act Providing for Mandatory Basic Immunization Services for Infants and Children).

Babies should get a dose at each of the following ages:

Shortly after birth
One to two months
Three to four months

After completing the full three-dose hepatitis B vaccine series, 98% of healthy infants achieve full immunity to the virus, according to the American Academy of Pediatrics (AAP).

Ideally, HBV vaccine doses are completed between 6 to 18 months. For babies born to mothers infected with hepatitis B, an additional shot called hepatitis B immune globulin (HBIG) should also be given at birth. "HBIG gives a baby's body a 'boost' or extra help to fight the virus as soon as he is born," says the CDC.

Children and adolescents below 19 years old who have not yet received the vaccine should be vaccinated immediately. Adults may also get the vaccine provided they consult with a doctor first.

ADVERTISEMENT - CONTINUE READING BELOW

What other parents are reading

Is the hepatitis B vaccine safe?

The HBV vaccine is made from parts of the hepatitis B virus but it will not cause hepatitis B infection, according to the CDC. It is safe and effective at preventing hepatitis B.

Most people who get the HBV vaccine will have no side effects at all. However, minor side effects include soreness where the shot was given and a low-grade fever. If you're unsure of giving your baby the vaccine, the AAP says that it is well-tolerated in infants.

The vaccine may not be recommended for those with documented yeast allergies or a history of an adverse reaction to the vaccine, according to the Hepatitis B Foundation website.

Apart from making sure your newborn is vaccinated within 24 hours after birth, the HSP also strongly advises pregnant women to get tested for hepatitis B. There are several blood tests that your doctor can request for to diagnose the illness. "Knowing whether a pregnant mother has hepatitis B is important because transmission of the virus can be prevented."

For the full list of the Childhood Immunization Schedule of 2019, click here.

What other parents are reading




Celebrate your pregnancy milestones!


Enter your details below and receive weekly email guides on your baby's weight and height in cute illustration of Filipino fruits. PLUS get helpful tips from experts, freebies and more!

You're almost there! Check your inbox.


We sent a verification email. Can't find it? Check your spam, junk, and promotions folder.
Trending in Summit Network