The MMR Vaccine Does Not Cause Autism, According to Latest Study of More Than 650,000 Kids

The results of this study about the MMR vaccine might put parents' mind at ease.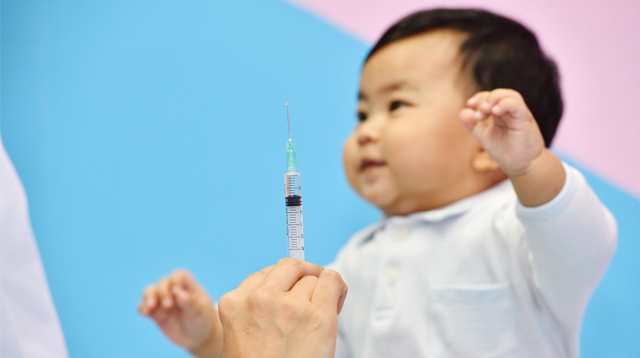 The argument that Measles-Mumps-Rubella (MMR) vaccine causes autism has long been debunked. The original study that sparked the controversy was already retracted and found to be "seriously flawed and fraudulent," but the issue still surprisingly persists in 2019.

Now, a large study published in the Annals of Internal Medicine provides strong evidence that the MMR vaccine does not increase the risk of autism. "We believe our results offer reassurance and provide reliable data," says its authors.

What other parents are reading

No link between MMR vaccine and autism

Researchers analyzed data collected from 657,461 children born in Denmark to Danish-born mothers between 1999 and 2010 to see whether the MMR vaccine increased the risk of autism in them. Over 95% of the kids received the MMR vaccine, and 6,517 of them were diagnosed with autism.

Scientists found there was no overall increased risk for the condition for those who received the MMR vaccine compared to those who didn't. There was also no increased risk for children who might be "unusually susceptible to autism," like those who were born to older parents, were low weight at birth or born prematurely, or had a sibling who was diagnosed with autism.

What other parents are reading

"The idea that vaccines cause autism is still around despite our original and other well-conducted studies," said the study's first author, epidemiologist Anders Hviid of the Staten Serum Institute in Copenhagen, in an email to NPR. "Parents still encounter these claims on social media, by politicians, by celebrities, etc."

"We felt that it was time to revisit the link in a larger cohort with more follow-up which also allowed for more comprehensive analyses of different claims such as the idea that MMR causes autism in susceptible children," Hviid added.

Hviid hopes their research's findings can reassure parents and convince them that there is nothing to fear when it comes to vaccinating children.

ADVERTISEMENT - CONTINUE READING BELOW

What other parents are reading

MMR vaccine dose and age

The MMR vaccine protects kids from measles, mumps, and rubella (German measles). It is typically given to babies at a minimum age of 12 months and in two doses. The second dose is usually given between four to six years old but may be given earlier with a minimum of 4 weeks interval between doses.

According to the 2019 Childhood Immunization Schedule, the MMR vaccine may be substituted for the measles vaccine in cases of outbreaks and may be given as early as 6 months of age. If the MMR vaccine is used as a substitute, the child should receive two more doses of the vaccine starting at 1 year of age.

The vaccine can prevent infection if given within 72 hours (three days) post-exposure to a person with measles, according to Dr. Jay Ron O. Padua, FPPS, DPIDSP, a pediatric infectious disease specialist from San Lazaro Hospital. However, it is not an assurance that you will not develop the disease later on.

What other parents are reading

Philippine pediatricians back the MMR vaccine

The World Health Organization lists "vaccine hesitancy", or the "reluctance or refusal to vaccinate despite the availability of vaccines, as one of its top 10 global health threats of 2019.

With the recent measles outbreak, it is more important than ever that parents get their children vaccinated. The Philippine Pediatric Society (PPS) and the Pediatric Infectious Disease Society of the Philippines (PIDSP) aim to restore the public's confidence and trust in vaccines, as the Department of Health's immunization program rates have dropped from 85 to 90 percent to 60 percent in 2018.

"We actually examine the safety of any vaccine before it's put out to the market," said Dr. Anna Lisa T. Ong-Lim, MD, during a press conference at the 26th PIDSP convention in February 2019. "With the specific example of the measles vaccine, it's been in the market for 40 years. The story about autism being a result of MMR [vaccine] has already been debunked and the pediatrician who did the study had his licensed stripped."

CONTINUE READING BELOW

Recommended Videos

What other parents are reading

The said pediatrician is Dr. Andrew Wakefield, who released a study in 1998 that found a link between the MMR vaccine and a suspected new syndrome involving autism and a non-specific bowel disease. According to a report by Esquiremag.ph, Dr. Wakefield's findings were distorted, and unbeknownst to patients and their parents, Wakefield was "paid to distort the data for a lawsuit involving this new syndrome."

The doctor lost his medical license in 2010 and in 2011, The Lancet, the science journal that published his findings, retracted the study.

"Although that myth [that vaccines cause autism] continues to be propagated in other countries, I would like to think that our people are more intelligent than that," said Dr. Ong-Lim. "Nakikita naman nila kung ano ang ginagawa ng measles."

Health Secretary Francisco T. Duque III says that measles can have an adverse effect on the recipient (such as a severe allergic reaction), but it is 1 in a million doses. "It's much fewer than you getting struck by lightning, [the ratio of] which is 1 in 18,000 and a plane crash which is 1 in 180,000. So 'yung risk-benefit ration, talagang ang baba-baba," he shares. "Ang baba ng risk, pero ang benefit mataas. [It's] life-saving."

What other parents are reading

Latest reports from the Department of Health shows that 286 measles-related deaths have been recorded from January 1 to March 2, 2019. Among those who died, 131 were children aged 1 to 4 years old, according to a report by ABS-CBN News.

Among the 286 deaths caused by measles, 228 did not have any history of vaccination, 28 have unknown vaccinations status, while only 30 have had 1 or more doses of the measles vaccine.

Measles is a vaccine-preventable disease. According to the US Centers for Disease Control and Prevention, two doses of MMR vaccine are about 97% effective at preventing measles, one dose is about 93% effective. With this latest study and other large studies that disprove MMR vaccine's relation to autism risk, we hope that as parents, you can make an informed decision and have your children vaccinated.

ADVERTISEMENT - CONTINUE READING BELOW

What other parents are reading

Celebrate your pregnancy milestones!


Enter your details below and receive weekly email guides on your baby's weight and height in cute illustration of Filipino fruits. PLUS get helpful tips from experts, freebies and more!

You're almost there! Check your inbox.


We sent a verification email. Can't find it? Check your spam, junk, and promotions folder.
Trending in Summit Network