Lola Was Right! Our Toddlers Need Germs and Bacteria

Stop the doubt. Science provides many reasons why it's healthy for the kids to get dirty.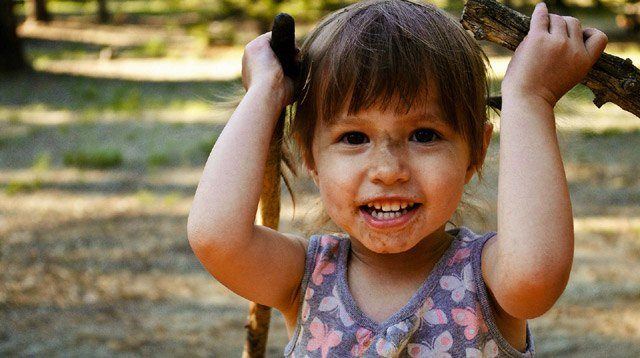 Most parents today have memories of long-gone summer days spent playing patintero and habulan out on the streets. Back then, kids would come home at dusk, smelling of sun and sweat with a layer of dirt sticking to their skin and clothes. It's a rare occurrence nowadays, but experts are finding a good reason to bring it back. Aside from giving your child a break from screens, research has shown that dirt is essential in strengthening the immune systems of young kids.  

Just like how an infant's brain needs a wide variety of stimulation to reach its potential, the immune system needs exposure to all sorts of everyday germs and bacteria -- also known as microbes -- to grow strong, says Thom McDade, director of the Laboratory for Human Biology Research at Northwestern University. McDade, an associate professor, has done research on the link between early childhood exposure to microbes and diseases in adulthood. 

Infants are born with underdeveloped immune systems, explains microbiologist Marie-Claire Arrieta, co-author of the book Let Them Eat Dirt: Saving Our Children from an Oversanitized World. "It is only upon the encounter with these microbial substances that an immune cell obtains the information to do what they're supposed to do," Arrieta told told Toronto Star. "They literally train [the immune cells]."

What other parents are reading

The "hygiene hypothesis," the notion that exposure to germs can protect children from illnesses as they grow old, is not new. A mounting body of research has been published from all over the world on the subject. Recently, a new study from Aalto University in Finland found that intestinal microbes in children 3 years old and below affect the likelihood of type 1 diabetes later in life. 

ADVERTISEMENT - CONTINUE READING BELOW

Results of the study showed that severe dominance of one type of bacteria and too many antibiotics in early childhood was linked with far less healthy microbe levels. "Hundreds of bacteria live in the intestine, and early childhood is an extremely important time for bacterial colonies to develop and prosper," researcher Tommi Vatanen told YLE News. "In a way, intestinal microbes teach the body's immune system."

Microbial exposure early in life has been shown to lessen a child's likelihood of autoimmune diseases like type 1 diabetes, asthma, allergies and illnesses linked to inflammation such as heart disease and Alzheimer's, as shown by research from McDade.

When we overly sanitize an infant's environment, we may be hindering them from developing a healthy immune system. "Children raised in an ultraclean environment are not being exposed to organisms that help them develop appropriate immune regulatory circuits," Dr. Joel V. Weinstock, the director of gastroenterology and hepatology at Tufts Medical Center, told The New York Times. 

Most of the germs around us and live on our bodies are harmless, says Dr. Martin Blaser, professor of internal medicine at New York University. In fact, they've been with us for millennia, he told WebMD.  "[Microbes] perform important physiological functions but because of modern life they are changing and some are disappearing. Those disappearances have consequences -- some good, some bad." 

What other parents are reading

So, what's a parent to do? So, what's a parent to do? There should be an appropriate and proper use of antibiotics, Dr. Blaser advises. Careful consideration should be taken on whether a child's sickness requires antibiotic treatment. Overuse of antibiotics leads to a weakening of the immune system's ability to fight infection and may result in antibiotic resistance down the road. 

And, when it comes to kids getting dirty and exposed to germs, Dr. Blaser recommends the use of common sense. "You don't have to wash or sanitize everything," he says. 

"There has to be a balance between preventing infection, which is still a real threat to society, but also promoting this microbial exposure that is healthy," says Arrieta. "Hygiene is crucial to our health. We should not stop washing our hands, but we should do it at a time when it is effective at preventing disease spread -- before we eat and after using the restroom."

When hand washing, plain soap and water will do, says Dr. Maida P. Galvez, an associate Professor of Pediatrics, in an article for Huffington Post. Antibacterial soap has not been proven to work better. In September 2016, the U.S. Food and Drug Association issued a ban on antibacterial soaps because of concerns about increased bacterial resistance to antibiotics, and issues on the safety of the chemicals added to these soaps.   

"The idea that soap kills germs is a misconception. Soap just helps you wash the germs off," Dr. Allison Aiello, an epidemiologist at the Gillings School of Public Health at the University of Carolina, told Time. 

It is necessary to wash a wash a child's hands on the following occasions: before and after eating, before and after using the toilet, and after coughing and blowing their nose. During playtime, let the kids have their fun. Let them play in the garden and don't be so quick to wash off the mud. 

ADVERTISEMENT - CONTINUE READING BELOW

Recommended Videos

Sources: Toronto Star, The New York Times, WebMD, YLE News, Huffington Post, Time

What other parents are reading

Celebrate your pregnancy milestones!


Enter your details below and receive weekly email guides on your baby's weight and height in cute illustration of Filipino fruits. PLUS get helpful tips from experts, freebies and more!

You're almost there! Check your inbox.


We sent a verification email. Can't find it? Check your spam, junk, and promotions folder.

Trending in Summit Network