PH Was Declared Polio-Free Nearly 20 Years Ago. DOH Confirms It Has Returned

Recent tests of sewages in Manila indicated the presence of poliovirus.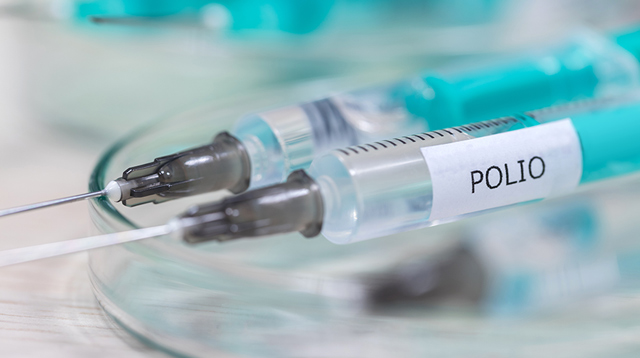 On September 19, 2019, the Department of Health (DOH) confirmed that polio has officially reemerged in the Philippines, 19 years after the World Health Organization declared the country polio-free, reports CNN Philippines.

The DOH previously said the country might see a possible resurgence of polio in light of the continuous drop in the number of children receiving the oral polio vaccine (OPV) in recent years. The Philippines has been falling short of the ideal polio immunization coverage rate since 2016.

On August 31, 2019, DOH Secretary Francisco Duque III announced that the Philippines is at "high risk for poliovirus transmission" after a 2019 test on Manila's sewage showed two samples that indicated the presence of poliovirus.

It was in October 2000 when the DOH declared the Philippines polio-free with the last case of wild poliovirus recorded in 1993. However, according to a fact sheet provided by the DOH, several vaccine-derived poliovirus cases were detected in 2001 already.

ADVERTISEMENT - CONTINUE READING BELOW

A look at the data shows the resurgence of polio in the country might be imminent. Inquirer.net reports that in 2016, only 68% of Filipino babies were vaccinated for the virus. This rate increased to 71% in 2017. And while it did fall to 66% in 2018, the figures is still low for vaccine coverage.

"If we do not take appropriate actions now, polio will return. We need to urgently act to stop its spread in our communities," Duque said in a press conference.

What is polio?

The Centers for Disease Control and Prevention (CDC) describes polio as "a crippling and potentially deadly infectious disease. It is caused by any one of three related viruses called poliovirus types 1, 2, and 3. The virus spreads from person to person and can invade an infected person's brain and spinal cord, causing paralysis (can't move parts of the body)."

The CDC notes that a majority of people who get infected with poliovirus don't show visible symptoms. Others may exhibit flu-like symptoms, including fever, sore throat, headache, nausea, tiredness, and stomach pain. Other symptoms of polio, according to the DOH, are vomiting, stiff neck, and sudden onset of floppy arms or legs.

A small portion of people who get infected with poliovirus develops more serious symptoms that can affect the brain and the spinal cord, such as paresthesia (feeling of pins and needles in the legs), meningitis (inflammation of the membranes surrounding the brain and spinal cord), and paralysis. According to the World Health Organization (WHO), 1 in 200 individuals who get infected with polio eventually get irreversible paralysis, usually in their legs. Among this group, between 5% and 10% die when their breathing muscles become immobilized.

CONTINUE READING BELOW

Recommended Videos

Poliovirus is highly contagious. It enters the human body through the mouth and can be transmitted via direct contact with feces or inhalation of droplets from the cough or sneeze of an infected individual. It is also possible to get poliovirus by having feces in your hand then touching your mouth and by putting your mouth near an object that has been contaminated by feces.

Duque explained that children under 5 years old are most vulnerable to polio.

Polio vaccine is the best protection

The WHO says that there is no cure for polio. The best and only way to provide children with ample protection from this infectious disease is to have them vaccinated. Children under one year old need three doses of OPV and one dose of the inactivated polio vaccine (IPV).

According to the childhood immunization schedule prepared by the Philippine Pediatric Society (PPS) and the Pediatric Infectious Disease Society of the Philippines (PIDSP) together with the Philippine Foundation for Vaccination (PFV) for 2019, OPV (administered as drops) is recommended to be provided when a child is 6 weeks (1 ½ month) old, 10 weeks (2 ½ months) old, and 14 weeks (3 ½ months) old. Meanwhile, the IPV, which is given by injection, is to be provided when a child is 14 weeks (3 ½ months) old.

While the polio vaccine can cause reactions like mild fever, soreness, and redness at the injection site, these are typical. It has also been proven to be safe for young children and have been instrumental in eliminating polio and the eradication of the disease globally. Vaccines have helped greatly in curbing the number of children who die from infectious diseases, which are among the leading causes of death among children under 5 years of age worldwide.

ADVERTISEMENT - CONTINUE READING BELOW

To increase the number of children vaccinated against polio, the DOH held a round of synchronized polio immunization in Metro Manila from August 19 to 30, 2019. The next round will be held in Manila and the rest of the National Capital Region (NCR) from October 1 to 14, 2019. The last round will be held in Manila and Regions III and IV-A from November 18 to 30, 2019.

During these rounds, children are given two drops of OPV. The vaccination is given for free.

"We repeat our call to parents and caregivers: Let us prioritize the complete vaccination of our children so they remain safe from vaccine-preventable diseases, like polio," Duque stated in the same press conference.

"We need to make sure that the polio vaccine coverage should be at 95 percent to ensure that this will not create problems [for] our children."

In an article previously published on SmartParenting.com.ph, PIDSP president Dr. Anna Lisa Ong-Lim reiterated the importance of having children vaccinated according to the recommended schedule.

"Vaccinating our children is one of the most basic medical interventions to ensure that our children develop as healthy adults," she shared during PIDSP's annual convention. "Some fears and myths persist that vaccines could harm infants, but decades of studies have shown that vaccines prevent unnecessary child deaths instead of causing them."

Cleanliness helps curb the spread of polio

Another way to protect children from polio is by keeping the surroundings clean and practicing proper hygiene. Duque urged local government units to intensify their implementation of the Zero Open Defecation program and to strengthen their efforts to ensure environmental sanitation and personal hygiene, ABS-CBN News reports.

ADVERTISEMENT - CONTINUE READING BELOW

During the launch of the synchronized polio vaccination campaign on August 19, 2019, DOH Undersecretary Eric Domingo said that aside from immunization, keeping the surroundings clean can help curb the prevalence of polio nationwide.

"Siguraduhin po natin ang kalinisan, at ang dumi ng tao ay dapat malayo sa ating mga tubig na inumin," Domingo said . The CDC says that polio can remain in an infected person's feces for many weeks, and the infected feces can end up contaminating food and water in unsanitary conditions.

To learn about all the vaccines your child needs in his first year of life and the recommended schedule for getting those vaccinations, click here.

This article was updated on September 19, 2019 at 4:02 p.m.

What other parents are reading

Celebrate your pregnancy milestones!


Enter your details below and receive weekly email guides on your baby's weight and height in cute illustration of Filipino fruits. PLUS get helpful tips from experts, freebies and more!

You're almost there! Check your inbox.


We sent a verification email. Can't find it? Check your spam, junk, and promotions folder.

Trending in Summit Network