Sugat at Peklat 101: Doctors Clarify Use of Bandage and Alcohol in Kids

Plus, kailangan ba pahanginan ang sugat para gumaling?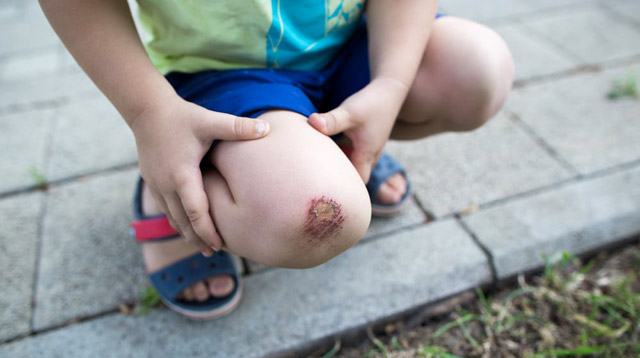 'Di maiiwasan -- kids will get cuts and wounds. It's all part of childhood and growing up. But every wound has a risk of infection because bacteria naturally lives on the skin. When that bacteria gets inside the wound, it causes an infection leading to swelling, pain, redness and pus. You can avoid infection with proper wound care and treatment. 

Wound care 101
Clean the wound from any dirt or debris by washing the area with running water and soap, says pediatrician Dr. Empress Carlos, who was a speaker at the press event for Fucidin, an antibiotic cream and ointment for treating wounds. A mild soap will do -- it doesn't have to be an antibacterial one. Then, apply a thin layer of antibiotic cream to keep the wound from getting infected while it's healing.

Dr. Irene Gardiner, an ob-gyn and medical engagement manager for Leo Pharma South Asia, recommends using a cotton bud to apply the cream. If you don't have one, make sure you wash your hands thoroughly and use your fingertips to apply the cream to the wound. Wash your hands immediately after as well. "If there's blood or pus on the wound and you've applied medication with your fingers, touching other things or other people might transfer the infection," said Dr. Gardiner. 

What other parents are reading

Re-apply antibiotic treatment on the wound at least twice a day, depending on the severity of the wound, added Dr. Carlos. If the wound is still moist, use antibiotic cream. And, if it's dry, use an ointment. "A good acronym to remember this by is MCDO. M is for a moist wound. If so, use Cream. D for Dry and then Ointment," she added. 

Keep applying the antibiotic to the wound for five to seven days, said Dr. Gardiner. "It's best to ask your doctor as well because you want to treat the infection completely before you stop medicating." 

ADVERTISEMENT - CONTINUE READING BELOW

When to call a doctor
The wound is infected if you notice swelling and redness around the area, which might make the wound warm and painful to the touch. There may be pus as well. "If there's limitation of movement, 'di mo na magalaw yung binti mo, then it's severe," said Dr. Carlos. See a doctor if the wound isn't healing within two to three days, she added. 

"If the infection is really bad, a doctor will provide oral antibiotics. If it still doesn't get better, hospitalization is required. You don't want that. So even with just a simple wound, don't be lax. Practice proper wound care," the pedia advised. 

What other parents are reading

When to go to the ER
A gaping wound or one that won't stop bleeding, even after applying pressure, warrants a rush to the emergency room. "Cleaning and washing a wound will give you an idea of how deep or severe the condition. If it's just a small nick, then you can treat it at home. But if it's continually bleeding, you might have a severed artery or vein. That wound might need suturing," said Dr. Gardiner. 

You also have to consider how your child got the wound in the first place, added Dr. Gardiner. An animal scratch, a wound contaminated with dirt or feces, or caused by a puncture from a nail or needle can cause tetanus. Your child will need to go to the hospital for shots. 

What other parents are reading

FAQs
Should you use alcohol on wounds?
If you've already washed the wound with running water and soap, alcohol isn't necessary. What comes after washing a wound should be antibiotic cream and a bandage. 

Only use alcohol for disinfecting and cleaning a wound if you can't wash it with water, said Dr. Carlos. "And we don't use Hydrogen Peroxide (agua oxigenada) for cleaning wounds anymore."

Plus, we know that applying alcohol to a wound hurts. Using it to clean your child's sugat will only discourage him from getting a wound treated the next time around. 

Deep wounds shouldn't be washed. Is this true?
"No. Even if the wound is very deep, you should wash it to remove any foreign or contaminated objects that might have gotten inside the wound," said Dr. Carlos. The doctor named firecracker injuries, usually severe in nature, as an example. People tend to be hesitant to wash these wounds, but washing it is a necessity. 

ADVERTISEMENT - CONTINUE READING BELOW

Recommended Videos

What other parents are reading

Should you cover the wound with a bandage? 
"It's definitely better if you do," says Dr. Carlos. "The reason is still to prevent an infection. Bacteria can get into an open wound and harbor beneath the skin, so it's best if you provide a layer of protective covering."

It's also not true that "kailangan pahanginan ang sugat para gumaling." A wound can heal well enough under a bandage. And, with a covered wound, you lessen the chances of your child picking or scratching at his sugat which can cause the wound to open up again or expose it to bacteria. 

Not overlooking the fact that kids usually like bandages, too. Having to choose from a colorful selection of bandages can lift your little patient's spirits and make her feel better about her boo-boo. 

How do you prevent a peklat?
Worried about scarring -- or a peklat -- after a wound has healed? Don't worry too much. Proper wound hygiene and care can mean the wound won't leave a trace on your child's skin. "If there's no infection, then walang peklat," said Dr. Carlos.

What other parents are reading

Celebrate your pregnancy milestones!


Enter your details below and receive weekly email guides on your baby's weight and height in cute illustration of Filipino fruits. PLUS get helpful tips from experts, freebies and more!

You're almost there! Check your inbox.


We sent a verification email. Can't find it? Check your spam, junk, and promotions folder.

Trending in Summit Network