Make Working At Home Fun, Comfortable, And Productive With These 9 Essentials

Your return of investment includes happiness, health, and greater productivity.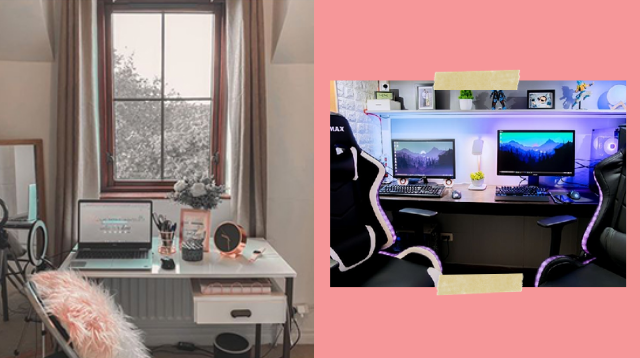 While you were busy setting up your kids' bedrooms and even their study spaces for online learning, you might have realized the need to have a proper work at home setup if you're planning to pursue an online job full-time.

Working from home can be beneficial because you can check up on your kids from time to time and still be on track earning money for the family. But it comes with its own set of challenges, including the need to maintain productivity as you will be working alone.

To help you overcome that challenge and ensure maximum efficiency whenever you log in for work, we're listing down the essentials you'll need when setting up your workstation. These small upgrades will make work (and life!) easier.

Why you need a proper work at home setup

Having a dedicated space for your online job not only serves as motivation, it also establishes a boundary between the comfort of home and your work space. This way, you'll be able to focus on your tasks and lessen the temptations of lazing on the couch, for example.

More importantly, an improper work at home setup can put a strain on your health. These can include blurred vision, headaches, carpal tunnel syndrome, neck and back strain, poor body posture, and more.

Home office essentials

Feeling inspired now? Here are 9 home office essentials worth investing on for better productivity. 

1. Ergonomic chair and desk

You might be worried about office chairs ruining your home aesthetic, but investing in one can make a difference so you can work comfortably and be in good shape. An ergonomic chair can give you proper lumbar support and prevent backaches. 

ADVERTISEMENT - CONTINUE READING BELOW

You might also consider investing in an ergonomic desk if you're buying an ergonomic chair because these two work hand-in-hand. Using an ergonomic desk allows you to adjust from a sitting to a standing position so that you will not be constricted to just sitting all day working which can be bad for your health.

2. A proper and working system

You should have a laptop or desktop that is more than capable of handling your workload. A poor computer can slow you down, make you impatient, and add to your stress.

For working moms with multiple clients, adding more monitors can also make multitasking more efficient. Just watch out for eye strain.

An example of a proper working system. It also maximizes productivity!

PHOTO BY

Courtesy of Carla Delas Alas

3. Ergonomic keyboard

If you're cooped up in your home office and typing all day, consider buying a keyboard that offers comfort for your wrist and hands to avoid getting Carpal Tunnel Syndrome. You can also supplement it with a palm rest, which has become popular in online stores.

CONTINUE READING BELOW

Recommended Videos

4. Speaker and headset

Listening to music can help you feel more energized or "pumped up," which in turns improves productivity. Investing in a good Bluetooth speaker and playing your favorite tunes in the background while working can set a nice tone. It can also drown any distractions and improve focus.

If your work requires one-on-one conversations (as an online tutor, for example) or you attend online conferences and video call meetings, investing in noise-cancelling headphones is also a must.

5. Desk lamp

When working, it's also important that you have enough and proper lighting so you don't strain your eyes. Instead of opting for a bright desk light, you should opt for a desk lamp which emits a soft light — not too bright, and not too dim.

Get home office inspo from Leann Carullo, a virtual assistant and accounts manager whose hubby also works from home.

PHOTO BY

Courtesy of Leann Carullo

ADVERTISEMENT - CONTINUE READING BELOW

6. An area with a source of natural light

While setting up your own work space at home, you should consider positioning it near a window so you can get natural light and good air ventilation during the day. Based on a study, natural light has a positive effect on our mental and physical health, especially since we will be indoors most of the day.

Take a look at this aesthetic home office set-up.

PHOTO BY

Courtesy of Jill Evitt

7. Recreational or fitness tools

To keep yourself physically fit and healthy despite being home all day and working on your computer, you can keep some recreational or fitness tools within reach in your work space.

Place a yoga mat just beside you which you can use to do some stretching whenever you're waiting for a file to be downloaded, or you're waiting for an upload to finish. Make it a habit to do some stretching and exercises in between your work from home to stay fit and on top of your game everyday.

ADVERTISEMENT - CONTINUE READING BELOW

8. Plants

Placing plants in your workspace not only adds color and life to it but it also gives off positive vibes. It will help reduce stress and ease your anxieties with its therapeutic nature.

You can start off with low-maintenance indoor plants like a cactus which does not require daily watering.

This work space has such relaxing vibes!

PHOTO BY

Courtesy of Marilyn Balbontin

9. A good working environment

It's very important that you consider your work space environment. Keep it as simple as possible. Create enough room for your basic essentials and for your other work things in a cabinet storage. Keep it organized — less clutter, less distractions.

Being able to work at home is a privilege for some especially now that we're in the middle of a pandemic. However, we also owe it to ourselves to have an uplifting environment that will make 'going to work' fun and comfortable. 

ADVERTISEMENT - CONTINUE READING BELOW

Happy decorating and have fun setting up your workstation!

Find more work office inspiration from actual work-at-home moms here.




Trending in Summit Network