At 31, Mom Finds Courage To Walk Out Of Her Marriage, Was Told To 'Suck It Up' For Years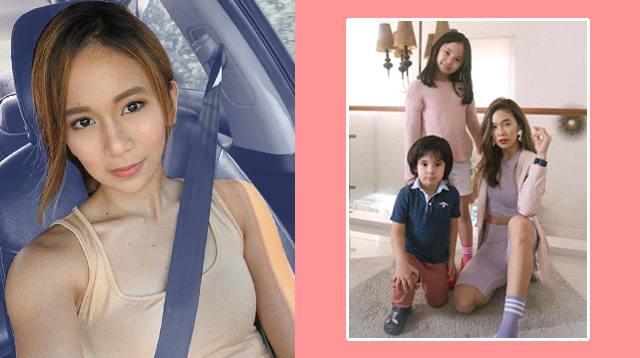 Growing up, we've all been taught that marriage is forever. For generations, women's dreams and aspirations remained mostly the same. Graduate from college, get a job, get married, have a family, and live happily ever after. It's the commas, the in-betweens, in this often long list of milestones that they rarely talk to us about and many of us don't know how to navigate.

Shari Poquiz, known to her almost 40,000 Instagram followers and 1,400+ YouTube subscribers as @themistymom, has always been the picture of beauty and grace. As an influencer, she regularly shares parts of her life online — her kids' birthdays, their day-to-day moments, her current workout routine, her favorite makeup or skincare.

These posts and everything in between get likes, comments, and views in the upward hundreds and thousands across platforms. Besides being a content creator, she's also a hardworking entrepreneur; and, most importantly, a doting mother to her children Selene, 8, and Tristan, 4. A few years ago, she was also a happily married woman.

How her marriage ended

PHOTO BY

Instagram/themistymom

ADVERTISEMENT - CONTINUE READING BELOW

On her birthday in March 2019, just as she turned 30, Shari shared a very intimate post to her followers on Instagram — not to air dirty laundry or to scorn others as many are prone to do, but to use her growing platform to inspire other women.

"Thirty, single momma of two kids," she captioned her posts. "I've endured the darkest storm without even mentioning it on social media. What you didn't see behind the curated photos and random Instagram stories is that I have been through hell, high water, and back 10 times in the past few years."

She was referring to the end of her marriage.

Shari went on to recall in her lengthy caption how she was "confronted with an unimaginable situation that broke [her] heart again and again," to which she was advised to "suck it all up."

Sounds familiar? How she approached the situation is possibly one of the most dignified ways to ever confront a situation like hers. She sucked it up, alright, but that's not to say she took everything lying down as well. She showed up to court, shared her truth, and seized her power back.

Despite this heartbreaking time in her life, Shari never once compromised her values and powered through the ups and downs like strong women are wont to do — on her own, with the help of other strong women in her life. What we saw on social media may only be a fraction of the harrowing experience she went through; but in this, we saw just how big being the "bigger person" can get in times like these.

Annulled at 31

PHOTO BY

Instagram/themistymom

In February 2021, Shari bravely shared she's already been annulled since February 2020 and in a "really good, happy and content place for years now." She's also had many realizations about relationships and marriage that she generously shared in a 20-minute vlog she uploaded on her channel. 

Here are some of the more poignant lessons we took away from her experience:

1. You can end an unhappy marriage.

"There are a lot of married couples who are unhappy and who want out, but they stay because society is, like, 'Ugh, she's separated, she's annulled.' It's still taboo in our country. We still don't talk about it a lot, but it actually takes a whole lot of courage to step out of a toxic, manipulative relationship," Shari states.

There are valid reasons to walk away from a relationship. If what other people are going to say is the only thing that's stopping you, you may want to think again.

ADVERTISEMENT - CONTINUE READING BELOW

2. Trust the timing of your life.

In Shari's case, proceedings went on without her participation for a few years before she decided to show up in court to tell her side of the story. "It was on [February 13], two years ago, when I had the sudden urge to respond and to say my truth," she shares.

The next day on February 14, Valentine's Day, she went to court to get the documents she needed and prepared her response to the annulment. The case was decided and granted, and it ruled in her favor. Sometimes, you just have to wait for the right time to come.

3. It's okay to talk about annulment.

"During the time [of the annulment], I felt so lost," Shari shares. "When I was researching, there was very little [information]. Who would talk about this openly, right?"

When she received a few direct messages asking her about her journey, she realized she can use her platform to help other women who may be going through the same experience by talking about it more candidly.

PHOTO BY

Instagram/themistymom

4. Find the right support system.

An annulment isn't an easy decision to make, but having the right people beside you as you go through it matters. "What got me through day in and day out were the two little faces I sleep next to and wake up to every single morning and evening," she writes.

She credits her family and friends for supporting and encouraging her, but she also emphasizes her faith in helping her cope throughout this difficult time.

5. Getting annulled doesn't mean you're a failure.

In her vlog, one commenter shares, "Getting together and breaking up/getting annulled is normal. It is not a failure. It's a process of learning and growing, and people shouldn't have the stigma attached to them if they didn't do anything wrong."

6. There is freedom in forgiveness.

Once you've decided to go through with annulment, letting go and letting God is one of the first steps you can take in the right direction. "When my anger, bitterness, and resentment turned into a certain calm; when I found it in my heart to forgive, I felt God's blessings pour in — affirming my decisions even more," Shari writes.

While we all grew up with the same notions about marriage, your journey is your own. Shari is the first to admit, "we all have different ways of coping with stressful and difficult situations," but you have to do what is best for you so you can do what is best for the people around you.

ADVERTISEMENT - CONTINUE READING BELOW

She writes, "I didn't really feel like a piece of paper would make any difference [in my life], but I just felt like sashaying down the kalye after reading the decision [to our annulment]."  

Editor's Note: Quotes have been edited for clarity and brevity.

Trending in Summit Network