Lose Weight With This Fitness Routine That Requires Only 7 Minutes Of Your Time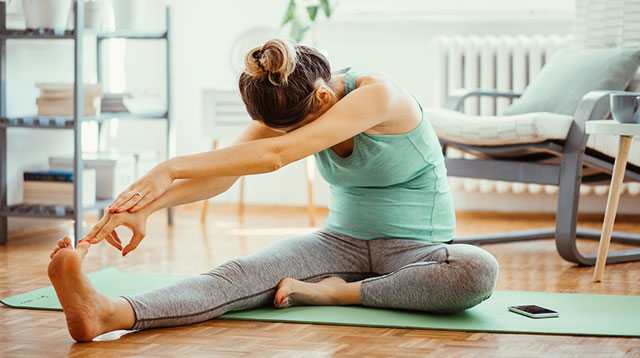 We've all been there, looking at our current physique and wondering where the years went. We always promise to do something about it, but for one reason or another, we find ourselves not being able to put in the work to exercise as we should. But with advancements in research and physical exercise techniques, there comes a new workout regimen that uses the whole body within a short time: seven minutes in total.

First introduced in the May/June 2013 Journal of the American College of Sports Medicine, the 7-minute workout uses 12 different exercises that utilize different areas of the whole body as a type of high-intensity circuit workout. Though by no means a miracle workout, if done correctly, this workout can help improve overall body fitness. Remember that when working out, it is crucial not over to exert yourself, and with high-intensity exercises like this to have a day of rest in between sessions.

The trick is to follow the diagram of workouts (you can find it here) is to do as many reps as you can for 30 seconds. Rest then for 5-10 seconds between each workout. The whole exercise lasts for seven minutes, but for optimal results, repeat the circuit at least two to three times.

What other parents are reading

Workout 1: Jumping jacks

This standard workout is good to build intensity and heart rate. Start by standing with your legs shoulder-length apart, then jumping, swinging your arms and legs towards an X position and landing. Jump again back towards the initial starting position and repeat.

ADVERTISEMENT - CONTINUE READING BELOW

Workout 2: Wall sit

The wall sit is a good workout for glutes and calves. Lean towards a wall. Slowly slide your back down like you're about to sit on a low stool. Hold that position for 30 seconds and then stop, shaking your legs as part of your rest.

Workout 3: Pushups

You know this classic workout. Go into a prone position, then keep your arms slightly wider than your shoulders in width. Push yourself up until your arms are straight, then go down until your elbows form a 90-degree angle, or your chest is about to reach the floor (don't go completely down).

What other parents are reading

Workout 4: Abdominal crunch

Contrary to popular belief, you don't necessarily need to have your entire body rise up from the start position when doing an abdominal crunch. Lie on your back with your knees bent upwards, then use your abdominal muscles to lift your body until your shoulder blades are off the floor. Control yourself as you go down and repeat.

Workout 5: Step-up onto a chair

This exercise is designed to work out your calves and thighs. Find a sturdy and leveled chair and place it on a leveled floor. Have one leg up on the chair and one on the floor. Lift yourself up with the leg on the chair, and control yourself going down. Switch legs and repeat.

Workout 6: Squat

Stand with your legs shoulder-width apart, then lower your butt down as if sitting on a low stool. Stop just shy of a foot or two off the floor, all while making sure your knees don't pass the tips of your feet when going down. Stand up straight, then repeat.

ADVERTISEMENT - CONTINUE READING BELOW

Recommended Videos

What other parents are reading

Workout 7: Triceps dip onto a chair

Use the same leveled chair from the step-up exercise, sit down on your chair, and grab the top corners of the chair. Slowly slide yourself off the chair until your butt is off it, but your hands are still grasping the corners. Then dip yourself down until your elbows form a 90-degree angle, then up again until your arms are straight. Repeat until 30 seconds are done.

Workout 8: Plank

Lay on your stomach then prop yourself up by your forearms. Keep this position for 30 seconds, then rest.

Workout 9: High knees running in place

Start running in place, and try to have your knees reach your chest. Make sure to run on the balls of your feet, rather than having your entire foot smash on the floor.

Workout 10: Lunges

Stand tall, then take your right leg and take a big step forward, bringing your knee to a 90-degree angle. Move your feet back to starting position and do the same with your left. Repeat until 30 seconds are done.

Workout 11: Pushup with rotation

Start with a fully straight pushup position, then perform a standard pushup. When you get to the straight pushup position again, shift your weight to your left arm and twist your body so that your right arm starts pointing up. Go back to the start position, perform your pushup, and do the same but with your left arm now.

Workout 12: Side plank

Instead of lying on your stomach, this variation on the normal plank starts on your side. Prop yourself up only with one arm. Keep this position for 30 seconds, then rest. You can repeat the same with the other body side if you choose to repeat the total workout.

ADVERTISEMENT - CONTINUE READING BELOW

And that's it! Keep this up for a few weeks, making sure you get rests in between, and you should be feeling the effects of a full-body workout in no time.

Pregnant? Click here to learn about a 4-minute prenatal exercise you can try out.

What other parents are reading

Celebrate your pregnancy milestones!


Enter your details below and receive weekly email guides on your baby's weight and height in cute illustration of Filipino fruits. PLUS get helpful tips from experts, freebies and more!

You're almost there! Check your inbox.


We sent a verification email. Can't find it? Check your spam, junk, and promotions folder.

Trending in Summit Network