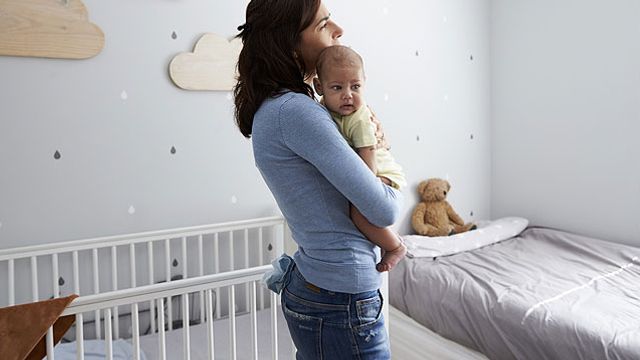 Kung gusto mong basahin ang nakasulat dito sa Tagalog, mag-click lamang dito.
Experts encourage parents to carry and hold their babies all the time — it does not spoil your child. That skin-to-skin contact when your cuddle offers your little one lifelong benefits. And, for sure you've noticed it a few times, he tends to stop crying almost instantly the moment you pick him up (unless he is in pain, of course). But do you notice he wants you standing up when you carry him when he is being extra clingy?
According to a study published in Current Biology, "infants under 6 months of age carried by a walking mother immediately stopped voluntary movement and crying and exhibited a rapid heart rate decrease, compared with holding by a sitting mother."
When a mom stands up to attend to her baby, it puts into motion a series of "coordinated set of central, motor, and cardiac regulations," which helps soothe her baby. The baby calms down when he sees his mom's face, smells her scent, hears her voice, feels her heartbeat when she places him against her chest, and reacts to her whole body rhythm as she rocks or sways.
"The calming responses may increase the survival probability of the infant in cases of emergency escape by the mother-infant dyad," the researchers added.
After nine months of being in mommy's womb, the baby will always feel safest with his mom who, on the other hand, finds it extremely difficult to resist her child's crying. Her maternal instinct practically dictates her to pick up her child to calm him, especially when he's sick or feeling a little vulnerable. And when your embrace just feels better for him when you are standing. It even has the same instant calming effect on animals, particularly in mammals (the study was done on mouse pups).
Of course, it doesn't change the fact that when your baby does not want you to sit down while you carry him it can be tough on your back, legs, and arms. Think of it this way: maybe it's nature's way of telling you that you and your baby need each other the most, especially during the first months of his life.
Now, it is another story when your little angel catches on that his cries get your full attention and wants it all the time.