'My Husband Went Through Online Counselling To Save Our Marriage'

They say couple fights are healthy, but how do you know when it is hurting your relationship?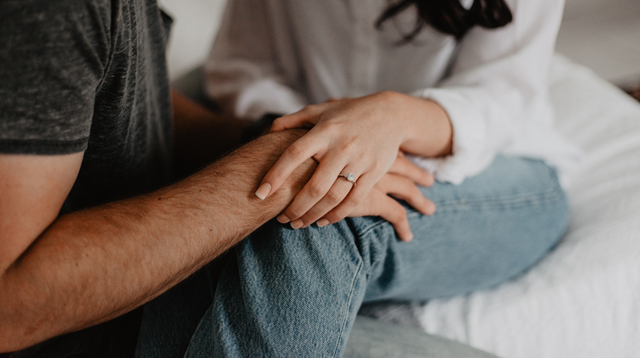 Like any relationship, Sara* and her husband, Rex* would have couple fights. "It was a clash of personalities," Sara admits to SmartParenting.com.ph in an email. "I'm a kind, calm, and positive sort of person. On the other hand, my husband is short-tempered, and he has a lot of baggage from his childhood."

Despite the arguments, the two worked on their personalities. Rex stopped cussing when they got married while Sara quit smoking and her "pagalit magsalita" attitude. 

Sara says that it was hard for her to admit that they were having issues because they looked so picture perfect as a family. "He's a good dad and a supportive husband, too. I blog so I wrote about these good parts all the time. But there were ugly parts that I didn't talk about and made me cry alone. His angry outbursts was my elephant in the room," she says.

But as the years went on, Rex's anger issues became evident and he would get annoyed at the littlest things. "He would often tell me that he looked at me as his 'kaaway,'" Sara recalls. "Sometimes, I'd give advice and he would say I'm 'mayabang.' When he realizes I am right, he will take it against me."

"I felt like I needed to be less smart and less kind to make him happy." 

Sara didn't want to acknowledge it, but Rex's outbursts deeply affected her. "One time, I got into a minor car accident and instead of asking if I was ok, he was angry at me while we were talking on the phone. I was so traumatized; I did not drive for a month. I couldn't even drive home that day and a friend had to come and take me home," she shares.

ADVERTISEMENT - CONTINUE READING BELOW

"He hated that I was too smart, too kind, and too calm. I felt like I needed to be less smart and less kind to make him happy. Whenever I make a mistake, he would laugh at me in a satisfied kind of way," Sara says.

An endless cycle of fighting

 Rex would often tell Sara that he will change. When he threatened to leave last year, Sara got scared and they decided to give their marriage another shot. "I cried because I didn't want to separate. I thought the solution would be better people," she shares.

"I don't feel like his wife anymore. He doesn't make me feel like I am his wife."

"Every time we fight, he would always say he'll just go back to his parents, as if that will make him kinder when returns. But it became a series of waking up, fighting, apologizing, and hoping he won't do it again," Sara says.

The last straw for Sara was when Rex wrote him a love letter on Mother's Day, saying that he would really change this time around. But come nighttime, they were fighting again. "I was eating dinner and water flooded the dining area and he started shouting at me. I asked him calmly if we can just clean up quietly but he told me, 'Wala akong dapat ipag-sorry sa'yo!' as if I asked for it," she says.

"I don't feel like his wife anymore. He doesn't make me feel like I am his wife. I don't understand how he hurts me mentally and emotionally over the pettiest things," she adds.

CONTINUE READING BELOW

Recommended Videos

Seeking help

 Rex was not blind to his issues. Sara knew it stemmed from an abused childhood, where he would get beaten up, blamed, and left alone. "His parents are often angry even until now, blaming and making up excuses to justify their behavior. I witnessed this. Rex knew he didn't want to be like his parents, but unconsciously, he was becoming them."

"We're not supposed to hurt our children because we were hurt as kids. We're supposed to do better."

She adds, "I actually spoke to his mom a few years ago and told her that Rex is bringing negativity to our home because of how he grew up. She told me that they were raised with 'kamay na bakal' and so they raised Rex that way, too. I said that we're not supposed to hurt our children because we were hurt as kids. We're supposed to do better."

Sara was afraid that their 5-year-old son would emulate Rex's personality so she invited her husband for a heart-to-heart talk. "The negativities should end with him. I was afraid that if he continues to be this way, he will pass it on to our son. I didn't want my son to hurt his future family the way I am hurting right now," Sara says.

"[My husband] loves us but is just having a hard time controlling himself and being consistent with the changes that he says he'd make," she adds.

What other parents are reading

Sara convinced Rex to seek professional help. They thought it would be hard to find a doctor because of the community quarantine, but luckily, they were able to find one after Sara asked for recommendations from a mom group.

ADVERTISEMENT - CONTINUE READING BELOW

So far, Rex has had four sessions with his therapist. He was diagnosed as a negative person — his default reaction to situations is negative. The therapist said that it stems from his childhood: Since he was not capable of defending himself and was often invalidated whenever he would speak up, it affected his response as an adult, according to Sara. He would justify his actions even when he is in the wrong and by always trying to find someone to blame.

Sara shares that a big factor to Rex's improvement was when he was taught to find his "happy place." "He would do the butterfly tap whenever he feels like he's about to explode. They did an exercise where they tried to replace the bad memories with his 'happy place' and bad thoughts with peace and calm."

"He was also advised to leave their family home — he stays there during the work week — since it's where his issues are coming from and it's still happening there," Sara adds.

What other parents are reading

A better man

 Rex now has once-a-month follow-ups with his therapist. Sara says he has improved a lot. Even his therapist says that his aura has changed since their first consultation.

"If I'm going to describe our relationship now, I'd say he seems to love me a little bit more each day. He has become kinder and more loving toward me and our son," Sara says.

Of course, Rex would still have off-days. "He'd have a slip of the tongue and say something not nice, but now when I give advice, he's more accepting. He knows how to calm down," Sara says.

ADVERTISEMENT - CONTINUE READING BELOW

Best of all, Sara feels that they have become a team, not competitors. "We're stuck at home because of the pandemic but he's surprisingly more patient and understanding. This is the longest that we've been together under a roof and the longest that he has been ok."

Rex has also taken a big step toward mending his family issues. He had a heart-to-heart with his mom, and she apologized for all the hurt that they've caused him. He also encouraged her to seek professional help.

Counseling and therapy helped save their marriage, but unfortunately, not all couples are open to the idea. Sara wishes, however, that more partners go for it. "Admittance is the first step and willingness to do something about it is the second," Sara says. "It was for my husband first and foremost, but in the long run the entire family benefits from it. I will no longer be hurt as a wife and our son will not need to inherit his negativity."

*Names have been changed at the couple's request

Looking for professional help? Click here for a list of centers that offer counseling online.

What other parents are reading




Celebrate your pregnancy milestones!


Enter your details below and receive weekly email guides on your baby's weight and height in cute illustration of Filipino fruits. PLUS get helpful tips from experts, freebies and more!

You're almost there! Check your inbox.


We sent a verification email. Can't find it? Check your spam, junk, and promotions folder.
Trending in Summit Network