With P20K, This Single Mom Started Her Business 2 Months After Her Partner Passed Away

She runs an online baby clothing store and designs all the collections in it.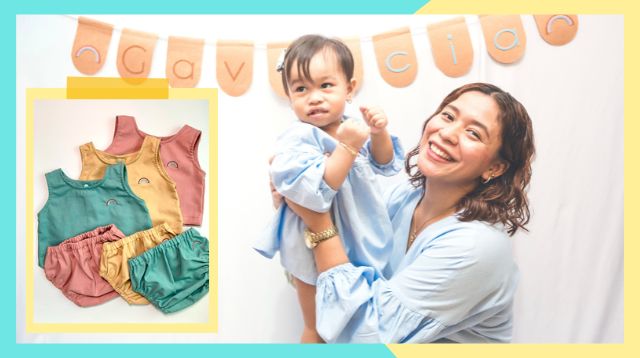 Alaine Dalton has always dreamed of having her own clothing shop. But when she graduated from college, she soon "got caught into working in the corporate world," and admittedly, "enjoyed it."

Looking back now, the 27-year-old single mom of a 2-year-old girl admits to never having "the guts" to start a fashion line, and perhaps "lack of confidence and money," as well.

"Then Covid 19 happened," Alaine tells Smart Parenting in an email interview, referring to the global health and economic crisis that began around March 2020. She was having her own crisis.

"I was pregnant, I needed to resign from my job 'cause I had spotting and needed bed rest. Oct 2020, my partner died. I had no work. I had no income. I'm living with my mom she supports all our needs.

"My baby was only 3 mos old. I was lost, depressed and miserable. Questioning everything that has happened in my life. Why me? Of all people why me? Mabait naman akong tao. Hahaha! I think I am. But why me?"

She goes on narrating the turning point in her life: "Then one night, I told myself, what does Dong (my partner) would like me to do? If he's alive what will he say? Ever since he wanted me to find something that I'll love aside from working.

"'Cause I don't have a hobby, I don't have a sport. I have no talent. And he would tell me that you have to discover yourself. You can't stay like this."

ADVERTISEMENT - CONTINUE READING BELOW

She adds, though, "Every night when everybody is asleep I'll cry. 'Cause first I'm a single mom, with no work and money. I thought to myself, I need to do something to get busy but I have to involve my daughter whatever it is. 'Cause first I'm breastfeeding. She needs me. I always think, I need to be present 'cause she doesn't have a dad."

Finally: "Then one night, I was scrolling through Pinterest, dreaming to buy these gender neutral clothes for her one day. Everybody knows I'm this aggressive and bold. And I thought, why not build my own baby clothing shop?

"But I have no idea how. I didn't study anything about fashion. Zero knowledge. But I thought, I had to do this for myself and for my daughter. I didn't want people pitying us. I had to do something for Icia and for myself."

Alaine's very own kiddie clothing line has her daughter Icia (L) as a model, too. It also sells bags and hats.

PHOTO BY

Courtesy of Alaine Dalton

CONTINUE READING BELOW

Recommended Videos

Setting up a business

Alaine confesses "everywhere was rushed" in the way she started Gav + Icia Apparel, which is described in its Instagram account as the "1st baby brand in the PH that clothing labels are stitched outside to protect your baby's soft and delicate skin." She named her clothing label after her nephew Gavin and her daughter Icia.

The newbie entrepreneur explains, "I rushed everything cause I'm really an impulsive type of person. When I want to do something, I need to do it. Also, I want to get things off my mind. I can't be idle cause all the memories will kick-in."

So with her life savings amounting to Php20,000, she launched her very first collection on December 6, 2020. That was just two months after her partner Dong succumbed to "stage 5 kidney failure" and merely a month since "looking for some pegs," joining "fabrics for sale groups" on Facebook, and searching for sewers also on the same social networking site.

Alaine recalls not earning right away from her business venture. She averaged two orders a week, with the first ones placed by family and friends. A year-and-a-half later today, June 2022, she says, her shop "isn't earning that much too right now 'cause of course I have many competitors." But she manages to earn from it around Php10,000 to Php15,000 a month.

Recipe to success

Alaine admits running Gav + Icia Apparel and raising a child all by herself is no walk in the park: "The biggest struggle was time management."

ADVERTISEMENT - CONTINUE READING BELOW

She explains, "I was breastfeeding my baby and she was only 4 mos when I started. I had no yaya. I was doing everything my own and mother was the only help I had."

So her tactic at daytime, with her daughter Icia sleeping, she'd answer to queries, pack orders, and shoot her products. At night, she'd make posters for Instagram and Facebook. In between, she studied how to use the editing tools Adobe Illustrator and Photoshop through YouTube. She also learned photography on the side.

By 2022, Alaine has gone back to working for a company, this time at a digital bank, and to school in pursuit of her Master of Business Adminstration (MBA) degree. So she's become busier than ever, with Sunday as her only free day.

She points out, "It's a matter of time management and knowing my priorities." How? "I would really research about everything when Icia is asleep. I don't work when she's awake. So at night, I will be awake until 2-3AM."

"What kept me going was her," she says of her only child Icia. "She's the reason of my everything. Honestly, I don't want her growing up and say that her mommy is weak, or her mommy didn't do anything. I want to provide for her in my own way cause I already feel bad about my family esp my mom providing everything for her.

"I never imagined my life to be like this. I never imagined my life being a single mom. Everyday, I ask myself what can I do to make our life better? Many people already judged me and was disappointment at me when I got pregnant. I know that. And I want to prove everyone wrong. That I can do this.

ADVERTISEMENT - CONTINUE READING BELOW

"Even though I'm a single mom, even though I'm struggling. Someday, one day, I'll make my mom proud. I'm strong as my mom cause she's a single mom too. I'll make Icia proud and say that's my mom. She's strong."

 Here's Alaine's message to aspiring mompreneurs: "I think the number 1 tip I can give is go out from your comfort zone. If you do that, everything else will follow. Even if you're afraid, even if you think it wont work, you have to try. You need to try.

"It's ok to be afraid and have second thoughts, but you'll overcome it and gain confidence. Especially to first time moms, you will feel yourself again. 'Cause after giving birth, you'll feel lost in some time. A new version of yourself will be birthed, this new you, a mom and an entrepreneur. It's different, trust me. You'll love it."

 

Celebrate your pregnancy milestones!


Enter your details below and receive weekly email guides on your baby's weight and height in cute illustration of Filipino fruits. PLUS get helpful tips from experts, freebies and more!

You're almost there! Check your inbox.


We sent a verification email. Can't find it? Check your spam, junk, and promotions folder.

Trending in Summit Network