BBM On Food, Teachers, Health: 'Ang Pangarap Niyo Ay Pangarap Ko'

"You will get no excuses from me," said the President Bongbong Marcos at his inaugural ceremony.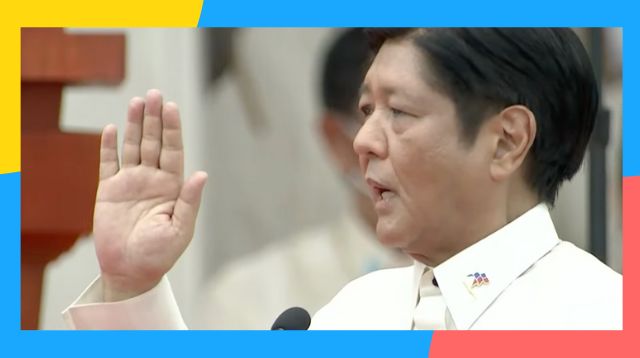 The 17th President of the Philippines, Ferdinand "Bongbong" Romualdez Marcos, Jr., took his oath and addressed the nation during the inaugural ceremony held at the National Museum on June 30, 2022. He won by landslide with over 31 million votes in the May 2022 elections.

"You and your children want a good chance at a better life in a safer, more prosperous country. All that is within reach of a hardworking, warm, and giving race. Your dreams are mine. Pangarap niyo ay pangarap ko."

Bongbong is the son of the 10th President and late dictator, Ferdinand Marcos, Sr., who held the presidency from 1965 to 1986. As he began his speech, he acknowledged his mother, saying, "I cannot proceed without a greeting to the former First Lady Imelda Romualdez Marcos."

Known as the "Steel Butterfly" for her political acumen and opulent flair, Imelda sat behind the first family, which was made up of now First Lady Liza Araneta Marcos, Congressman Sandro of the 1st district of Ilocos Norte and his brothers, Simon and Vincent.

PHOTO BY

/BONGBONGMARCOS.COM

BBM, as the president is also referred to, broke his silence from the campaign period by delivering a compelling speech that spoke of the future, not the past. "I listened to you and this is what I heard," he said, "We all want peace in our land."

ADVERTISEMENT - CONTINUE READING BELOW

BBM On Food, Agriculture, and Basic Resources

"We will find a way."

According to the World Bank, the Philippines has been plagued by undernutrition for over 30 years. This causes children to experience stunting, or being small in size for their age, as well as for pregnant women to become anemic. BBM acknolwedges this ongoing battle.

"Food self-sufficiency has been the promise of every administration," he said, before adding the reality of the war in Ukraine and the global food shortages it is causing because of the country's importation model. "The most vulnerable when it comes to food are the countries furthest away from the conflict: those bearing no blame when it comes to provoking," he said, "Yet they bear the greatest risk of starvation."

"Agriculture damaged and diminished by unfair competition will have a harder time or will have no prospects at all of recovering," he added, saying he is giving serious thought towards free-trade policies.

He said that he is also considering a similar approach for the country's power supply. "We will find a way," he claimed, "We are not far from oil and gas reserves that have already been developed."

He is likely to discuss this in detail during the State of the Nation Address on July 25, 2022.

Look back at the former President Rodrigo Duterte's SONA in 2016. Read here.

BBM On Education and Teachers

"I'm not talking about history. I'm talking about the basics."

With peace, hope, and rebuilding a better path foward as his main messages, BBM delivered this speech in English, highlighting what appears to be an agenda for the education system to include the national language alongside a global language.

CONTINUE READING BELOW

Recommended Videos

"What we teach in our schools, the materials used must be re-thought," he said. "I am not talking about history. I am talking about the basics. The sciences. Sharpening theoretical aptitude and imparting vocational skills, such as in the German example. Alongside the national language with equal emphasis and facility in a global language — which we had and lost."

The concept of a unifying national language is not a Marcos legacy. According to the National Commission for Culture and the Arts (NCCA), it was in 1935 that President Manuel Quezon initiated the development of a national language from the major languages of the Philippines, namely: Ilocano, Pangasinan, Pampango, Tagalog, Bicol, Cebuano, Hiligaynon, and Waray-Samarnon. It was in 1987 that Filipino was consitutionalized and implemented into instruction and mass media as an evolving national language.

BBM also acknowledged the plight of teachers and the education system. He said, "Our teachers from elementary and up are heroes fighting ignorance with poor paper weapons. We are condemning the future of our race to menial occupations abroad. Then they are exploited by traffickers."

Meet Soraida Kinjiyo, a teacher that drove her students to and from school during the pandemic.

According to LETPasser.com, the starting salaries of public school teachers range from P23,000 to P28,000/month while teachers in state universities and colleges can receive between P26,000 to P30,000/month. In 2021, reports surfaced about teachers from the Philippines being lured into contracts and recruitment firms in the United States, only to be threatened to be reported to immigration if they don't comply.

ADVERTISEMENT - CONTINUE READING BELOW

"Once, we had an education system that prepared coming generations for more and better jobs," BBM said, "There is hope for a comeback." He then mentioned Vice-President and "soon-to-be Secretary of Education," Sara Duterte-Carpio, who sat beaming alongside the first family.

Inday Sara is a mother of three. She welcomed her youngest in 2017. Read here.

BBM On Public Health and Nurses

"Our nurses are the best in the world."

PHOTO BY

YOUTUBE/ABS-CBN News

At the height of the coronavirus pandemic, BBM was among the first to get COVID-19. "It was not a walk in the park," he shared. Moving forward, he aims to address the capabilities of the healthcare system and problems from the COVID-19 responses, saying, "We will fix them out in the public. No more secrets in public health."

He also went on to say, "The last major upgrade of a public health system exemplified by the resources poured into PGH predates the current shambles by three generations." He is referring to the 1981 renovation of the Philippine General Hospital by Architect J. Ramos, commissioned by the former First Lady Marcos.

ADVERTISEMENT - CONTINUE READING BELOW

He did not forget to mention the overwhelming effort of medical frontliners, especially nurses, during the pandemic when he said, "Our nurses are the best in the world. At home, they just get by. They are out there [abroad] because we cannot pay them for the same risk and workload that we have back here."

He continued, "There will be changes starting tomorrow. I am confident because I have an Ople in my Cabinet." Former Labor Undersecretary Susan "Toots" Ople handles the Department of Migrant Workers (DMW) under this administration. The Department of Health secretary has yet to be determined.

BBM's Closing Notes

"The potential of this country is not exhausted."

BBM also went on to talk about development, infrastructure, OFWs, and tourism. He mentioned that the Philippines is the third largest plastic polluter in the world and that we would be taking accountability for that.

Before he stepped down from the stage, he cited that each of the 110 million Filipinos are his reasons for confidence in the coming 6-year term of his presidency. "Believe," he said, "Have hope."

What other parents are reading

Celebrate your pregnancy milestones!


Enter your details below and receive weekly email guides on your baby's weight and height in cute illustration of Filipino fruits. PLUS get helpful tips from experts, freebies and more!

You're almost there! Check your inbox.


We sent a verification email. Can't find it? Check your spam, junk, and promotions folder.
Trending in Summit Network