Why Kangaroo Mother Care is the Best First Gift for Your Newborn

Bare your skin and hold your baby close! Here are 7 benefits of kangaroo mother care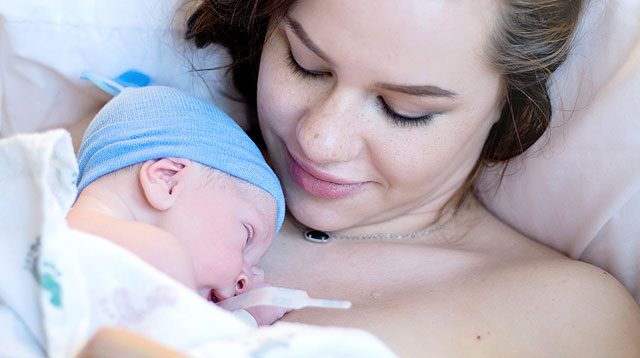 Kangaroo mother care (KMC) is not just continuous and prolonged skin-to-skin contact. Apart from holding your child against your bare skin, KMC involves frequent and exclusive breastfeeding and the goal of early discharge from the hospital, according to the World Health Organization (WHO).

The practice was initially used for the neonatal care of preemies or babies with low birth weight. WHO explains, "Conventional neonatal care of low-birth-weight infants is expensive and needs both highly skilled personnel and permanent logistic support. Evidence suggests that kangaroo mother care is a safe and effective alternative to conventional neonatal care, especially in under-resourced settings."

KMC can also be traced to neonatologists Edgar Rey and Hector Martinez. In 1979, a shortage of infant incubators in Bogota, Columbia encouraged the doctors to instruct new moms to strip their newborns to their diapers, hold them upright and close on their bare chests, and breastfeed them exclusively.

The two doctors took inspiration from kangaroos who kept their young in their pouch as soon as the little ones were born. The mother's body temperature helped keep their offspring warm and snug. Being in their mom's pouch also gave the young kangaroos freedom to latch and feed whenever they want.

KMC is now part of Essential Newborn Care practices around the world. Locally, it's known as the Unang Yakap protocol, which requires KMC to be done not just for premature infants but also for healthy full-term babies. Ideally, it should be done soon after birth long enough for the newborn to latch and finish his first breastfeeding session. And experts recommend that parents continue the practice at home for at least an hour every day as long as you and your child can.

ADVERTISEMENT - CONTINUE READING BELOW

Research has shown that KMC is not only safe for babies but that it works better for the infant's health than any other technological advancements such as an incubator, according to public health physician Nils Bergman, a research affiliate of the South African Medical Research Council and co-founders of Kangaroo Mother Care.

"Depriving babies of skin-to-skin makes alternative stress pathways in the brain, which can lead to ADD, colic, sleep disorders, among other things," Dr. Bergman told Parents.

Why kangaroo mother care is the best first gift for your newborn

Apart from the primary reasons behind KMC's implementation around the globe, experts have discovered more reasons why it's simply the natural and one of the best first acts of love moms (and dads, too!) can do for their new bundle of joy.

1. Kangaroo mother care helps newborns adapt to their new environment.

A mom's womb has been a newborn's home for the past nine months. Doula Ros Padua of the Pinay Doulas Collective explains that when the baby is suddenly exposed to bright lights in the delivery room, and there's a lot of other people holding him, your little one needs a familiar environment. After all, until his birth, he has only known his mom's heartbeat, voice, scent, and warmth. KMC  gives him comfort and security.

2. KMC helps initiate and establish breastfeeding.

Newborns are instinctively drawn to the smell of breast milk, so placing your newborn on your bare chest allows him to seek your nipple and latch after birth. The first latch is crucial because babies receive the rich, thick, breast milk called colostrum. Nursing directly also helps increase the supply of breast milk, which contains all the nutrients your baby needs and the antibodies that help protect him and improve his immunity. It also helps promote babies healthy weight gain. (Know more about breastfeeding here.)

ADVERTISEMENT - CONTINUE READING BELOW

Recommended Videos

What other parents are reading




3. Newborn care like KMC boosts brain development.

Preemies whose parents practiced KMC grew up to perform better in school, register higher IQs 20 years later, according to a Pediatrics study. The kids who experienced KMC also logged fewer absences, reduced hyperactivity, aggressiveness, externalization, and socio-deviant conduct.

4. The skin-to-skin contact lessens the stress and eases the pain in infants.

KMC helps release the cuddle hormone oxytocin, which helps lower levels of the stress hormone cortisol in your baby. Studies have also shown that KMC can help ease babies' pain during an immunization.

5. KMC may mean more sleep for you and your baby.

When a baby is happy and relaxed, he can better familiarize himself with his sleep pattern and get into it. A Pediatrics study showed that infants who had KMC had more quality sleep than those who were put in incubators.

6. KMC may help with postpartum mental health

New moms cuddling with their newborns even for just an hour a day also eases mothers' anxiety, lowers their stress level and helps facilitate bonding. With improved sleep, established breastfeeding, KMC can also help prevent postpartum depression and other mental health conditions.

7. Kangaroo mother care allows fathers to play a more significant role in caring for their newborn.

The term kangaroo mother care may single out moms, but dads and the baby's older siblings can do it, too. Those who practiced KMC creates a bond between them and their baby. They ended up more protective and nurturing of the baby.

ADVERTISEMENT - CONTINUE READING BELOW

What other parents are reading

Celebrate your pregnancy milestones!


Enter your details below and receive weekly email guides on your baby's weight and height in cute illustration of Filipino fruits. PLUS get helpful tips from experts, freebies and more!

You're almost there! Check your inbox.


We sent a verification email. Can't find it? Check your spam, junk, and promotions folder.

Trending in Summit Network