Newborn Breastfeeding: 12 Crucial Things You Need To Know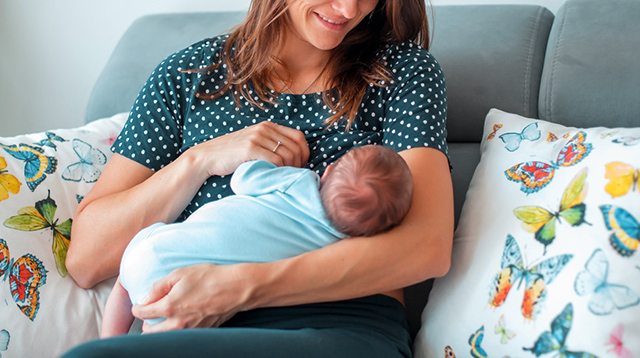 Breastfeeding your newborn will not be as easy as you think it is, but we assure you that it's also not going to difficult forever. 

There is no question that breast milk is best for baby up to six months and beyond. But breastfeeding does not always come easy and natural to moms. It is daunting, but many of the nursing struggles can be avoided by being well-informed. Moms armed with the knowledge and know-how (and okay, leveled expectations) are more equipped to start the nursing journey on the right foot.

"Saan nag-uugat yung difficulty ng breastfeeding? We can almost always trace it back to the first 24 to 48 hours around the birth," says doula Noelle Pollack of the Pinay Doulas Collective during the Smart Parenting Convention 2018. Instead of dealing with the many breastfeeding issues due to mistakes and misconceptions when beginning your nursing journey, it'd be easier to try and prevent them from ever coming up.

Pollack laid out the key things to keep in mind to start your breastfeeding journey in the easiest way it can be possible.

1. Remember: You are enough, mom. 

Dr. Grant Dick-Read, author of the book Birth Without Fear which reads, "A newborn has only three demands: the warmth and the arms of its mother, food from her breast and security and the knowledge of her presence. Breastfeeding satisfies all three." There are many mothering tools on the market today, but what your baby ultimately needs is you. 

2. Understand why you want to breastfeed. 

ADVERTISEMENT - CONTINUE READING BELOW

"The health and the nutritional condition of a person during the first one thousand days of life is an indicator of the long-term health that comes from our child," Pollack said. It starts at pregnancy when your baby is still in your womb, the first six months of life, and until age 2. Breastfeeding has a critical role in building the foundation for your child's ability to grow, learn, and thrive. 

We all know that breast milk contains antibodies and is the only complete food a baby needs. (Click here to discover in detail the benefits of breastfeeding for your baby.)

3. Establish your circle of support. 

Breastfeeding, while best for baby, is still a mother's choice, and a commitment. "Daddies, partners, please do not be the voice that doubts the mom's ability to feed your baby," Pollack emphasized. Get your mother-in-law on board, too, even your obstetrician, birth team, your baby's pediatrician, medical team and care providers. Have a strong support team and get everybody on the same page.

If you're a working mom, make sure your employers know that there is a law granting you 40-minute paid lactation break on top of pain breaks whether you work for the private or in public sector.

4. Ensure skin-to-skin contact after birth. 

Pollack said that many problems stem from separating the baby from the mom after birth before he or she could latch. Kangaroo care, or "skin-to-skin contact allows the baby to regulate their temperature, allows the baby to regulate breathing and such also encourages healthy breastfeeding behavior," she stressed. It is also known to be beneficial for emotional regulation and even better sleep. 

"When your baby comes out, maingay, maliwanag, malamig, at ikaw [moms] lang yung source niya talaga ng security," the breastfeeding doula explained. Skin-to-skin contact is already an essential part of the global and local campaign Unang Yakap. Make a note of it in your birth plan to ensure you and your baby stay together. (Click here to read more about the lifesaving steps for newborns.)

What other parents are reading
5. Don't think that you don't have milk — all new moms do. 
"Once the placenta detaches from the uterus, the woman's body gets the signal to start making milk, so there is always milk," Pollack stressed. "Hindi lang siya yung tumutulo na milk as we see in cartons na very fluid and white," she clarified. 
In the first two to three days after giving birth, your body will produce colostrum. "It's very sticky, very thick, and very difficult to express. If you tried pumping it, you will not get anything or maybe just a couple of drops on the tubing of your breast pump," Pollack described. After a few days, your body will transition to make mature milk or the flowing, white-ish milk that we all know.
6. You don't need to produce a lot of milk during the first few days. 
Low milk supply is the most common nursing issue, and sometimes putting too much pressure on yourself can be a cause. Remember, on day one, a newborn has a stomach capacity of a calamansi. That's for every feeding, and which is why newborns feed every one to three hours. After one month, his stomach would be big as a chicken egg.  
ADVERTISEMENT - CONTINUE READING BELOW "If your baby's stomach capacity is that small and you are preparing four ounces right away, then we are stretching the baby's stomach capacity, and then they want more and more and more and then it becomes difficult to regulate and catch-up," Pollack explained. 
7. Learn to count your infant's soiled diapers. 
How do you know that you're feeding your baby? How do you know your baby is not starving? Counting wet diapers is okay, but Pollack says counting dirty ones is a much better gauge. "Within the first 24 hours, we're looking for at least one poop," she said. "Because colostrum is full of oligosaccharides, it has a laxative effect. This is why the babies need to poop."
After two months, if the baby's growth is okay, his or her stomach is not distended or matigas, and baby doesn't poop every day, you can relax. Hindi na siya supply issue," Pollack assured moms. (Click here to know more about counting wet and dirty diapers during the first weeks)
ADVERTISEMENT - CONTINUE READING BELOW
8. It is all about the baby's latch.
The nursing baby should be taking into his mouth more breast tissue from under the mom's breast. "The baby's tongue works like a wave [when breastfeeding]" Pollack said. The mom's nipple should be right at the soft part of the roof of the mouth, so the baby's tongue can freely move like a wave and feed properly. 
"'Pag si baby ay breastfeeding at hindi pa maganda yung latch, then maiipit lang yung nipple mo at masakit. Kung tama ang latch, hindi dapat masakit," Pollack said. When you want to correct around the latch, don't pull the baby away from your nipple while latched. Break the suction fist by inserting a finger on the side of your baby's mouth and then pull away and restart again. 
Another sign that our baby has a good latch is if his or her upper lip and lower lip are flanged out and wide open to accommodate the nipple all the way up to the back part of the mouth. Pollack added that if the baby is having trouble latching on a large breast, hold the breast like a sandwich, and then we shoot into the back part of the baby's mouth. 
What other parents are reading
9. Get comfortable with these nursing positions.
You have a variety of breastfeeding positions that you can use: cradle hold, the football hold, side-lying positions, and more. Take note that in all of these nursing positions, the baby is tummy with the mom. "Let the baby confer to the curves of your body. Hold your baby close," Pollack advised. (See and learn more about breastfeeding positions here.) 
ADVERTISEMENT - CONTINUE READING BELOW
For side-lying position, Pollack reminds mom to put a pillow between her legs to prevent her from accidentally rolling over the baby. The baby should also have a rolled-up towel behind his back, just underneath the nape, to keep him in position as well. The baby's body should be is entirely on its side, that his or her spine is in one straight line, so that any excess milk would drip on the side of the mouth and the baby can suck and swallow properly. 
10. Learn to decipher your baby's hunger cues. 
"Don't wait for the baby to reach the late hunger cues when the baby is crying," Pollack stressed. "When the baby is stirring, putting his or her hand to the mouth, making a suckling effect, then offer the breast," she advised.  If the baby is already crying, calm him or her down first before you offer the breast. (Click here to learn more about your baby's hunger cues.)
11. Growth spurts will come and pass. 
"Sometimes moms think that they don't have milk anymore because the baby doesn't want to separate from them. Usually, it's because of a growth spurt. During the growth spurt, which lasts for about two or three days, the baby seems to be nursing non-stop, and this is normal," Pollack explained. Just remember, you can get through it. 
12. For every problem, there is a solution so you can continue breastfeeding. 
"Some moms want to bottle-feed because they wanted the dads to help and be more involved. There are so many other ways that dads can help; they can bond with baby without never having to offer a bottle," Pollack said. If you do need to wean the baby from the breast because you're returning to work, try cup feeding first. Click here to learn more about expressing and storing breast milk. 
ADVERTISEMENT - CONTINUE READING BELOW
Visit Pinay Birth Doulas's website or follow them on Facebook, Twitter, and Instagram. You may also contact them via 0920.9380963 or via email at pinaydoulascollective@gmail.com.
What other parents are reading

Trending in Summit Network