Sanayin Matulog Kahit Saan, No Pacifiers, And Other First-Time Mom Mistakes From Kryz Uy

She also includes other traditional practices she had to figure out the hard way were not good for baby.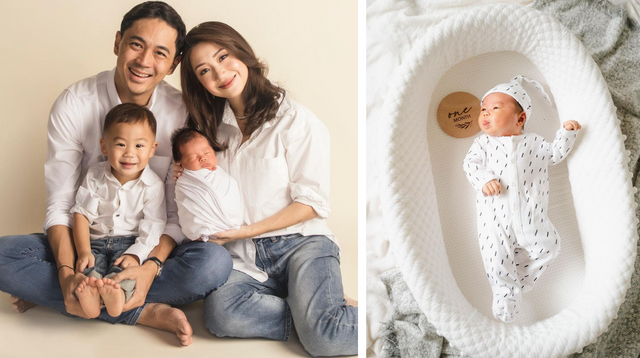 Newly-minted mom-of-two boys and Skyfam momma Kryz Uy candidly shared and dropped a number of truth-bombs in her latest vlog. From following advice from the older generation to getting a hold of one's anxieties, the digital creator doesn't hold back on her mistakes as a first-time mom and how she's doing it differently it with her newborn, Sevi.

First-time moms and even moms of newborns who need a refresher will find her tips useful. Read it below!

Four first-time mom mistakes

1. Sanayin matulog kahit saan.

"When Scottie was a newborn, a lot of moms told me: 'You know what, you should make your kids sanay to sleep anywhere even it is a noisy environment so don't let him coop up in the room so you don't have to tiptoe around him when he's sleeping. You should keep him like in the broad daylight so that he can sleep anywhere," she said.

ADVERTISEMENT - CONTINUE READING BELOW

"You should talk even when he is sleeping, even with a normal voice. He should hear the vacuum, the coffee machine, everything should be normal so that you could train him to sleep wherever and he's not gonna be a picky sleeper,'" she added.

What Kryz did: Create an optimal sleep environment for baby.

The new mom of two realized that adults can't follow the advice she received. Why should we expect babies to do so?

"Even us adults we can't sleep na nga if it is a noisy environment. If it is super bright, it is harder for us to sleep, what more these kids, these babies who are so used to the dark of our wombs? she said.

The Sky Fam's popular glasshouse does seem like a challenge for naps, because it allows for much natural light.

"When Scottie was a newborn we were always in the living area, we were making breakfast and he was just there. We were watching TV, he was right there. It was super duper bright because our house was a glass house which is probably why he never slept. 

CONTINUE READING BELOW

Recommended Videos

RELATED: How A Flat Tire 'Saved' Kryz Uy's 'Lucky' 2nd Baby Boy

The Youngs just chalked it to up to Scott's personality. "Slater (her husband) and I always said Scott is not a sleeper lang talaga. He is just a baby who is having a hard time sleeping.

"No wonder because his sleep environment was not optimal at all. So with their second-born Sevi, Kryz corrected this mistake by ensuring that he sleeps in an environment conducive for sleep

They also swaddle Sevi, something they didn't do for Scottie because "we wanted to the chill, easygoing experience. We wanted to be the cool parents who could bring their baby anywhere, this baby could sleep anywhere, this baby is super adaptive. That's not the case, Kryz said.

"You can't force your baby to be adaptive because it just doesn't work that way!

What other parents are reading

2. A crying baby is a hungry baby.

"Gutom siguro yan!" Is what many moms hear when their newborn cries. And it seems Kryz heard the same things.

"It was always 'feed the baby, feed the baby, feed the baby'. And that fed into the anxiety in my head that maybe my milk is not enough. Why is he always hungry? And guys, that is completely wrong pala, Kryz said in her vlog.

What Kryz did: Find out why the baby is crying–dirty diaper, sleepy, gassy?

"We just assume that the baby is hungry but a lot of times he is not. If you just fed him and his diaper is well, he could be crying for a myriad of reasons. 

ADVERTISEMENT - CONTINUE READING BELOW

Kryz explained, "He could just be uncomfortable, he [might] just want to be held, he [might] just need attention."

RELATED: 12 Questions That Will Walk You Through Every Possible Reason Your Baby Is Crying

Getting Sevi on a schedule has helped Kryz manage her days better compared to when she was taking care of Scottie whom she allowed to "unli-latch" as many advised her then. She explained that the schedule is also helping Sevi learn to "eat full meals" when he nurses rather than "snacking" or feeding for five to ten minutes frequently.

Short, frequent feedings is what caused Kryz to feel like she had no time for anything else but the baby and doesn't ensure that baby will thrive or receive the right nutrition because baby is only drinking fore milk and not the more nutritious hind milk. 

Kryz also allows Sevi to fuss without intervening or "saving him" from his discomfort right away, because she's since learned that babies can also sort it out for themselves sometimes too.

ADVERTISEMENT - CONTINUE READING BELOW

RELATED: Kryz Uy Describes 'Painful' Mastitis As Like Having 'Little Pebbles Inside Your Boob'

3. Don't use a pacifier because it's hard to wean them off it eventually.

"I got advice from a lot of oldies,  aunties, moms, and midwives that we shouldn't use pacifiers or get the babies to use pacifiers because it could be so hard to wean them when the time comes. 

But Kryz stumbled on a daily schedule she's testing on Sevi by Moms on Call authors Jennifer Walker and Laura Hunter who advise to soothe babies by jiggling the baby, shushing the baby, and patting the baby. 

"And if it does not work give the baby a pacifier to kind of hold him off until his next feeding and to extend the time to when he's supposed to get his feedings.

What Kryz did now: Gave Sevi the pacifier and chose what works for her family. 

ADVERTISEMENT - CONTINUE READING BELOW

Kryz said a pacifier for Sevi helpful. "That has been super duper helpful for us because instead of the baby wanting to suck on your boob for comfort, he can suck on the pacifier instead. 

"Sucking is actually very calming for a baby, especially a newborn and so giving a pacifier isn't actually all that bad based on my research because if you give a baby a pacifier, if you want to wean him off you can just take it out," she said.

RELATED: Our Experts Reveal When a Pacifier Is a Good Thing 

The mistake she made with Scottie was allowing him to soothe using his thumb instead because they were avoiding the pacifier. "But what we did with Scottie was we didn't give him a pacifier. We let him suck his thumb instead and that's even harder because you can't detach his thumb from his body. 

Kryz and Slater's oldest son is now two years old. "Until now, he is two years old, he still sucks his thumb. But with a pacifier you can wean him out of it," she said.

ADVERTISEMENT - CONTINUE READING BELOW

4. Overanalyzing everything.

"This is something that I'm super guilty of, Slater always tells me that I'm overanalyzing again. Such as when Sevi sleeps through night one night and then doesn't do it again the next night, which leaves Kryz wondering "Why? I don't understand what's wrong!"

Kryz said, "Slater always reminds me that, 'This is normal. Babies cry. Sometime they have a good night, sometimes they have a bad night, just like adults. Sometimes we can soothe them, sometimes we can't. And that's just life.

"You can't overanalyze every single thing. It gives us less anxiety if we just let things happen.

What Kryz did: Trying to let things just happen.

Kryz giggles when she remembers how Slater balances her tendency to want everything to be planned and on track while he's "super chill," something she says first-time moms can likely identify with.

ADVERTISEMENT - CONTINUE READING BELOW

"I'm reminding you to take it easy, do not overanalyze. Take it a day at a time. And don't beat yourself up for every little mistake that doesn't go your way.

For example, following the daily schedule. Kryz explains that it's helpful, but if it doesn't work out that day, it's okay.

RELATED STORIES ON BABY SCHEDULES:

It's okay when things aren't perfect

"I've realized now that having a perfect life for your kid is actually not so good for them. Because if you schedule out everything for them, if you map out everything for them… how will they deal with life's adversities?

"Life isn't perfect, right? They need to be able to learn that sometimes their routines need to get broken. Sometimes, maingay talaga yung bahay. Sometimes, mahihirapan talaga sila, mapapawisan sila. 

What other parents are reading

She adds, "They're going to get hurt, they're going to feel hurt, they're going to feel bad. Sometimes, wala si mommy, wala si daddy. And that's okay. They need to learn how to cope with that, so that when they're older, they're better able to cope with life's challenges.

"Because if you're always there for them, if you let them live in a bubble, you're actually doing them a disservice. You're actually making it harder for them to be resilient.

ADVERTISEMENT - CONTINUE READING BELOW

What other parents are reading

Celebrate your pregnancy milestones!


Enter your details below and receive weekly email guides on your baby's weight and height in cute illustration of Filipino fruits. PLUS get helpful tips from experts, freebies and more!

You're almost there! Check your inbox.


We sent a verification email. Can't find it? Check your spam, junk, and promotions folder.
Trending in Summit Network