First-Time Mom Shares What It's Really Like To Go To The ER In The Time Of COVID-19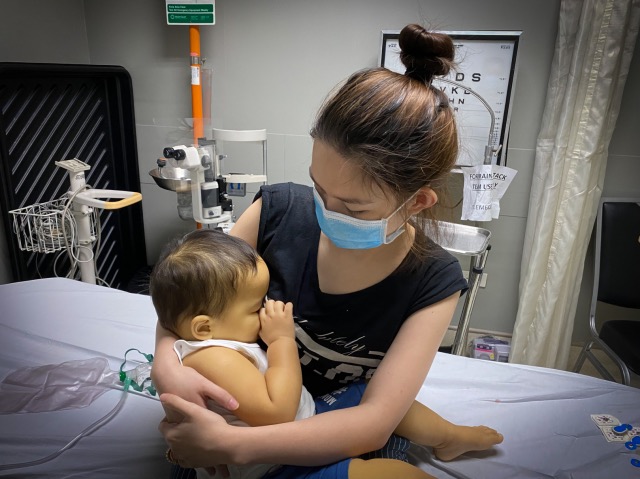 It was just an ordinary day for mommy Bea Capili Pablico and her family when she noticed her son Blake had a slight fever. She said, she thought her baby was just teething. It was Friday.

"His gums were swollen as three of his molars were about to erupt. I had an inkling something was wrong, but I brushed it off thinking it was just my paranoid mom brain," she wrote on a blog post she shared with us.

It wasn't until the next day, Saturday, when Bea noticed that Blake was lethargic and his skin and eyes started turning yellow. "His pee was more orange than usual, too," she said.

Bea contacted her baby's pedia, "She advised us to avoid orange-coloured food that are high in beta-carotene, but he has not been eating those kinds of food lately."

Sunday came and they knew something was wrong. "Blake was crying incessantly, like he was in so much pain," Bea recounted. "He also did not have an appetite and he just wanted me to carry him," she added. So Bea texted her baby's pedia.

"Normally I would ask you to go to the ER since there is fever and jaundice. Are you comfortable going to ER?" the pedia asked.

"I was scared to go to the hospital but I knew something was wrong and he needed tests. My husband, our helper, and I packed our bags and off we went to St. Luke's BGC after confirming that they can accommodate us," Bea shared.

ADVERTISEMENT - CONTINUE READING BELOW

What it was like to go to the emergency room

"St. Luke's BGC looked eerily different. There were a couple of military trucks near the entrance of the ER and the ramp entrance going there was closed with barricades on both ends," Bea remembered.

"My husband did not know where to drop us off so we just went down at the main lobby. It was surprisingly empty aside from the two guards who checked our bags and our temperature." Bea said you can walk through the barricade to enter the ER.

When they reached the door leading to the exit to the hallway, Bea said it was locked and one of the nurses had to press a button, which rang a loud alert. "It was like everyone had to be notified that someone was coming in," she observed.

"The ramp going to the ER was blocked. They turned it into a triage where nurses in full PPEs assessed the walk-in patients. We were not allowed to go inside because they turned it into a ward for COVID-19 positive patients," she added.

The consultation process

Bea said instead of an immediate face-to-face assessment, you need to wait for a call from the doctor assigned to your mobile number. "They will ask you what happened and the symptoms your child is showing based on what you have initially relayed to the nurse at the front desk," Bea said.

"Once they deem that your child needs lab work done, that's the time they go outside to see him and do further assessment."

ADVERTISEMENT - CONTINUE READING BELOW

Recommended Videos

These were the tests administered to baby Blake:

Blood tests (CBC, Hepa profile, Bilirubin, Procalcitonin, Coombs test, SGPT, SGOT)
Chest X-ray
Ultrasound (whole abdomen, prostate)
Urinalysis
COVID-19 swab testing

"The circumstances have made it so much harder for them to do these basic procedures that may have been muscle memory for them before," Bea shared.

"Imagine, they had to draw blood from a patient outside, with just monoblock chairs and all of their tools randomly lying on the table," she added.

"They had to do it wearing full PPEs. The heat was also terrible that day. They must have been sweating profusely and having difficulty breathing while they were inside that thick suit and layers of masks."

My baby became a COVID-19 PUI

"We were placed in a small isolation room inside the ER while waiting for the result of the initial tests. They also did the abdominal ultrasound there and they also re-did the blood tests," Bea said.

Bea said they got a call from Blake's pedia, "His chest x-ray result showed beginning stages of pneumonia on his left lung. This means he might have coronavirus. As a standard procedure, we will also be doing a swab test to him to make sure."

"My heart dropped to the ground," Bea revealed. "After that call, the in-house pedia reassured me that we would get the results quicker because their hospital was accredited as one of the COVID-19 testing facility that same day," she said.

"There was no need for them to send the test to a different hospital, we can do it here and have the result in 1-2 days. In the meantime, my son was considered as a COVID-19 Patient Under Investigation (PUI)." (The Department of Health has since changed the classification of patients to 'Suspect,' 'Probable,' and 'Confirmed.')

ADVERTISEMENT - CONTINUE READING BELOW

Baby Blake's hemoglobin count was critically low. They needed to do blood transfusion as soon as possible.

"At the time of hospitals being one of the most unsafe places to be in, looking for blood donors was more difficult than usual. We had to act fast and pull as many strings as we can because time is ticking," Bea shared.

Bea said blood transfusion on Blake was done four times and he responded well during the first round and continued to get better as the treatment progressed.

Since Blake was considered a PUI, they had to stay in an isolation room. "I was the only caretaker allowed to be with Blake and I was not allowed to meet nor switch roles with anyone else until Blake gets a negative result from his swab test," Bea said. She was, in a way, lucky that she was allowed to stay with her son during the entire process.

"He was hooked on a lot of machines because they were closely monitoring his heart rate, BP and oxygen levels," Bea said.

"My main job, therefore, was to make sure he does not get upset. I became his human pacifier, fast food (breast milk) provider, and tsimay (maid) that runs at his beck and call."

Eventually, Blake's heart rate slowly returned to normal. "Because of his quick recovery with the treatment and his cooperation in taking his oral medications, we were discharged after being in the PICU for four days."

"As for his COVID-19 swab test result, I can still recall how we found out that he is virus-free—the PICU pedia-in-charge went in the room without the bunny suit (she was only wearing a face mask) and she said that I should probably know the reason why she is not wearing PPE, and I knew! The greatest news I've heard and seen," Bea happily shared.

ADVERTISEMENT - CONTINUE READING BELOW

What really happened to my baby?

"Blake had an Autoimmune Hemolytic Anemia. It happens when the body produces antibodies that destroy the red blood and the immune system does not work properly," Bea shared. "It mistakes red blood cells for unwanted substances and attacks them, causing them to die early. This leaves a person without enough red blood cells," she added.

"In Blake's case, it was triggered by his fever and diarrhea. His fecalysis result showed that he had an E. Coli cyst—this was caused by an undercooked meat that he had consumed, according to our pedia. It was treated by antibiotics that he took for four days (as per pedia's advice). He was back to his normal, hyper self after a couple of days so we thought it was already a closed case, but it actually triggered a change in his antibodies that led to this," Bea explained.

The world has changed

"I sincerely hope no one would experience what we have gone through during this scary time, but I am sharing our story here to alleviate moms of their paranoia and fear of going to the hospital when their kids get sick," Bea explained.

Mommy Bea and her family quarantined themselves after their trip to the hospital just so they're sure that they don't have the virus.

What other parents are reading

Celebrate your pregnancy milestones!


Enter your details below and receive weekly email guides on your baby's weight and height in cute illustration of Filipino fruits. PLUS get helpful tips from experts, freebies and more!

You're almost there! Check your inbox.


We sent a verification email. Can't find it? Check your spam, junk, and promotions folder.

Trending in Summit Network