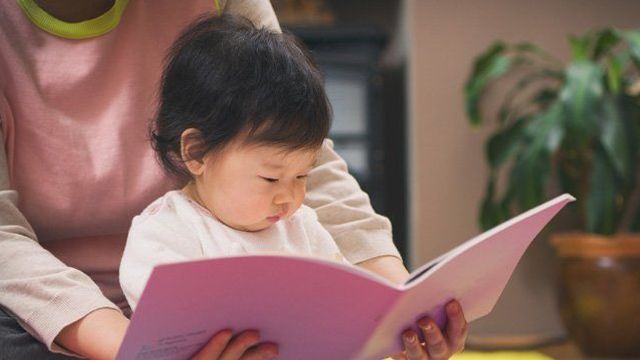 Reading is a basic life skill that instills even more competencies in your child, such as comprehension, vocabulary, and better academic performance. Parents know reading books to their kids from birth is essential in raising a reader, but until when and for how long should parents be doing it?
READ MORE STORIES ON LITERARY HERE
"It is never too early and in fact, it is never too late — hanggang seven years old po binabasahan ko 'yung mga anak ko," shares Vanessa Bicomong, director of the Learning Library, an enrichment and tutorial center that specializes in reading and Filipino language skills, on the fourth episode of SmartParenting.com.ph's How Po online webinar titled "Become Your Child's Best Teacher! How To Do Preschool At Home."
She adds that reading to your child at a young age is crucial because it activates an important part in the left side of their brain, which involves understanding the meaning of words and helps your child learn concepts tied to memory. "Kahit 'yung bata hindi pa marunong magbasa, basta binabasahan ninyo… then you are activating an important part of their brain and you're helping them understand the meaning of words and remember them," Vanessa says.
To make it easier for you and your kids, Vanessa suggests incorporating it in your daily routine. After all, you only need 20 minutes a day to boost your child's brain with the help of reading.
"Maganda po meron kayong [parang] 8 o'clock habit, 'yung alam ng anak ninyo, kahit anong mangyari, drop everything at 8 o'clock [dahil] mag-be-bedtime story tayo," Vanessa says. "Kahit po pagod kayo, mommies and daddies, kaya ninyong bigyan ng 20 minutes 'yan."
The benefits of reading to your child
Vanessa says that according to studies, if a child reads 20 minutes a day at home starting at kindergarten, then they would read, hear, and learn 1.8 million words per year. And by the time they reach the end of grade school, they will be scoring better than 90% of their peers.
But the director also reminds that it's important for children to understand the meaning of words rather than just relying on context clues. She suggests having a dictionary nearby (or you can also look up the meaning of words online) to help your child learn as they read.
Lastly, it's a must to make your reading routine fun. If your child sees that you are enjoying reading them a bedtime story, then they will start to look forward to it every time.
"I-enjoy natin ito, hindi po 'yung napipilitan tayo," Vanessa says. "Mga mommies, kayo po ay magkakaroon ng performance level, kunwari professional storyteller kayo. Kaya ninyo yan!"
If you have questions on reading or if you're struggling with teaching your kids at home, watch our webinar below and let our experts help you plan better and teach your children confidently!
READ MORE STORIES ON LITERARY HERE
Want to learn how to tell a story like a professional? Click here to watch our Read Aloud series!