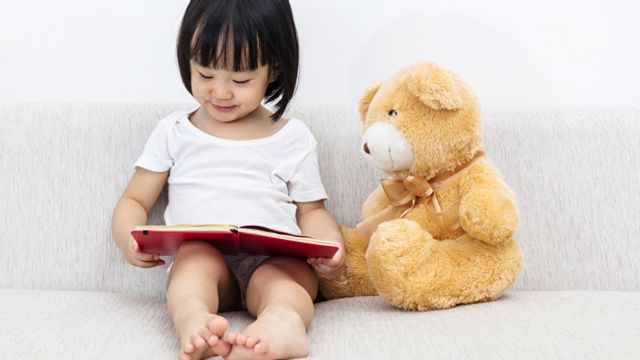 We've covered all the ways reading to your child can benefit both you and your little one. Doing this from birth not only enhances their vocabulary and literacy skills, but it also helps develop their imagination and discipline. But have you ever wondered at what age a child should learn to read by themselves?
Nature and nurture
A simple type and click on search engines would tell you that children are more likely to develop their reading skills at 6 years old, although there are cases when children start to read at age 4. The age when a child starts reading depends on their readiness.
Two things affect the growth and development of a child: nature and nurture. Nature refers to the innate abilities of children that have been with them from the time they were born. It can be inherited from relatives and is in their DNA. On the other hand, nurture is the environment that children are exposed to while they are growing. So, a child talent's that is in their nature would not develop if you, the parent, do not help nurture it.
How to encourage your child to read
Parents play an important role in the early stages of childhood. It's in your hands what your child will grow up to be, or in this case, how early they will develop their reading skills.
The developmental stage of infancy to childhood is when a child learns to acquire concepts and language to describe social and physical reality. This is also when children are best prepared for reading, as intelligence at this stage is intuitive in nature. However, you should be aware that even with the best of intentions, you may do more harm than good if your approach to assisting in accelerating their reading development is not appropriate.
Take note of the following appropriate practices that help develop the reading skills of your child, adapted from a list by Lesia Oesterreich, M.S., a Family Life Extension Specialist at the Human Development and Family Studies Department of Iowa University.
Try to talk to your children as often as possible using short sentences. It is also encouraged for you to ask them questions and listen to them as they express themselves.
Provide them with children's books, and read those same books to them. Then, encourage them to repeat the story and try to discuss the ideas and events of the story. (Check out our expert-recommended list of children's books for early literacy here.)
Encourage them to tell stories to younger children.
You may also read them poetry and nursery rhymes to them and with them.
Read titles of stories and point to important words on pages, packages, as well as street signs.
Read aloud each day and encourage them to look at books on their own.
Provide alternative reading material for your children with a collection of outdated coupons, junk mail, newspaper ads, and old cereal boxes.
Add drama to your reading sessions and use different voices for different characters.
When reading a familiar story, stop before the end and let them add their own end to the story.
Things to remember
Is your child already at a certain age but he has not developed his reading skills yet? Do not be discouraged and keep your efforts consistent in helping your child achieve the reading milestone. Development is a complex process that takes place gradually. It involves growth, maintenance, and regulation.
While it's true that other children may start reading at a tender age of 4, most children may start reading later than that. It is because the outcomes of the developmental process and the rate of development vary among children.
A child's experiences shape their motivation and approach to learning. In one of SmartParenting.com.ph's previous articles, we mentioned that parents should not force their child to read as it becomes more of a chore than a pleasurable activity.
You should also keep in mind that a child's learning and development in one domain, whether it's physical, social, cognitive, or emotional, are influenced by what takes place in other domains. Many aspects of a child's learning and development follow well-documented sequences. Later abilities, skills, as well as knowledge, build on other skills that the child has already acquired.
Do you suspect that your child has a reading problem? Click here for the signs and what you can do about it.