This Teacher Created A Routine Schedule For Kids So You Don't Go Crazy, Mom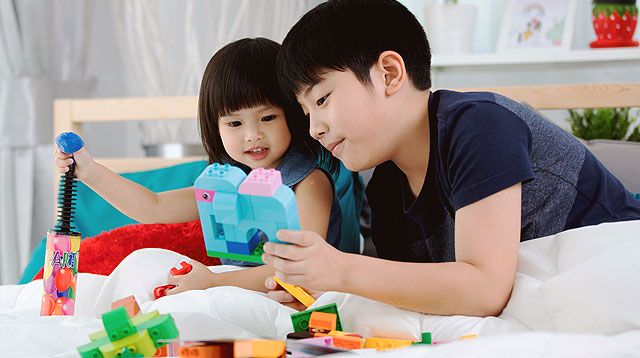 March 9, Monday, felt like an ordinary day in school. While the students were learning about how to avoid getting the coronavirus along with their regular lessons, it hadn't occurred to them (or us) that it would be the last day of the school year.

Apart from the need to stock up the pantry with the main essentials, while sifting through all the news and directives, there was that little nagging question in the back of parents' minds: What will kids do for one whole month at home?

No parent wants to see their children glued to screens. So some of my teachers suggested we make a Daily Home Routine. So we sent it out through our Viber groups to help parents find a groove during class suspension at the time.

Daily routine schedule for your preschooler during community quarantine

We got instant likes, and some thank you's for our routine schedule. One parent even took the time to send a private message to say how much her son enjoys following it, and what a big help it is for them. For some children, having a schedule that they can follow is excellent for keeping organized. (Read here to know more about the importance of a routine.) 

Here are two routine schedules we created.

 

Now that we are not rushing to get to school, children can learn to make their beds, help prepare breakfast, and other household chores. Make it part of the routine.

PHOTO BY

courtesy of Thumby Server-Veloso

ADVERTISEMENT - CONTINUE READING BELOW

The best part about doing these things now is there is no pressure that they will be graded or judged.

PHOTO BY

Thumby Server-Veloso

 

Let kids continue to wake up early in the morning

Make the most out of your child's day, maintain an excellent rising time for his body clock, and sleep early at night as well. Part of the Good morning! routine includes not just the use of the bathroom. Children can learn to tidy up or even make their beds, help prepare breakfast, and relish their first meal of the day with the rest of the family.

Make time for physical activity

Hello Heart! encourages families to go out under the sun (while practicing social distancing, of course). We need that Vitamin D!

If you would rather stay indoors, then do physical activities to get your heart rate up. Playing some music and dancing together, doing exercise or dance videos or games, or stretching and doing some yoga poses are some great ways to get in shape. Exercise is not just good for losing weight and a healthy heart, it also helps strengthen your lungs. Don't forget to hydrate!

ADVERTISEMENT - CONTINUE READING BELOW

Recommended Videos

Let the kids play and learn

If your child's school is sending work to do, we have Work with Me for young children. This can also apply to parents who want to do some playful learning activities with their kids. (Check out this list of 50 activities you can do at home.)

The School Time routine is for students who have to work from home. We've also put there a reminder for children to take a break in between since we want them to keep drinking water.

Free Play and More Free Play are when kids get to play with their toys. Allow your child to pick one or two at a time, encourage them to pack away when they are done, or before getting another toy.

You can give them a little space to play, so their mess will not take over the whole house. Set reasonable limits, so that all family members have their own area, especially if you have to share a room and parents have to work from home.

Bond over meals

Tummy & Yummy Times and It's Dinner are eating times. Depending on your child's age, there are chores you may want them to learn (check out our chore guide here according to age).

The best part about being stuck at home with your family is to have meals together and share stories. Studies show that children from families that eat together often not only are less likely to have weight problems and addiction issues but tend to perform better academically, too. Don't forget to wash those hands!

ADVERTISEMENT - CONTINUE READING BELOW

Set a quiet time 

After lunch, we recommend Hush Little Baby. Some children are just about ready to take a nap. While others need to settle down with quiet activities like storytime or sensory play. Sometimes a tray loaded with cups, a plastic pitcher of water, and a sponge, can be a great way to keep kids engaged while Mama and Papa tidy up the house or take a little breather.

Quiet Time for older kids is your opportunity to help children fall in love with reading. Allow them to pick books that look interesting for them. If your child picks something you feel is too easy or too silly, just let them. Reading should be fun.

Let your child choose his boredom buster

This is also a great time for older kids to work on projects they are interested to do but never have the time. Let them go scrapbooking, do science experiments, bake, make videos, paint, sew, or keep a journal. The best part about doing these things now is there is no pressure they will be graded or judged. You will also want them to help out with certain chores like sorting or folding laundry, sweeping or wiping furniture.

The h-APP-y Hour for older kids is a one-hour of screen time not related to schoolwork. Parents should be reminded to keep those security systems up, keep kids away from any online games where strangers can chat with your child, and be wary of video content on YouTube.  

ADVERTISEMENT - CONTINUE READING BELOW

By this time in the afternoon, however, children are itching for what we call Romp Time, or I Like to Move It! Let them release that energy!

Create a bedtime routine

Bed, Bath, and Beyond is the time to get ready for ending the day. Some families take this time to read quietly, others might use it to play board or card games. Teaching children how to play games like Mastermind or Chess can help them learn skills in planning and strategizing. Games like Charades, Taboo, and Pictionary, help families not just bond but develop communication skills. There's been a sudden interest among my students to solve the Rubik's cube, and it's a fantastic way for them to be introduced to algorithms.

For Goodnight Moon, some people might say 8:00 p.m. is too early. But turn off the lights and all the screens anyway. In our house, this is when the lavender-infused diffuser with dim light comes on. Some children need it to be perfectly quiet, while others ask for soft music or Mama's singing, and some ask for sleep sounds, whether it's a soundtrack of the rainforest or the soft hum of an airplane. The benefits of sleeping early are immense.

After one month, with a routine like this, the community quarantine will feel like an extended staycation. Hopefully, years from now, when you talk about the community quarantine of 2020, the stories you will tell will be happy ones.

What other parents are reading

Celebrate your pregnancy milestones!


Enter your details below and receive weekly email guides on your baby's weight and height in cute illustration of Filipino fruits. PLUS get helpful tips from experts, freebies and more!

You're almost there! Check your inbox.


We sent a verification email. Can't find it? Check your spam, junk, and promotions folder.

Trending in Summit Network