Throw These 20 Questions to Siblings to Ask Each Other (Get a Real Conversation Going!)

Bring back the fun of face-to-face interaction with these cool conversation starters!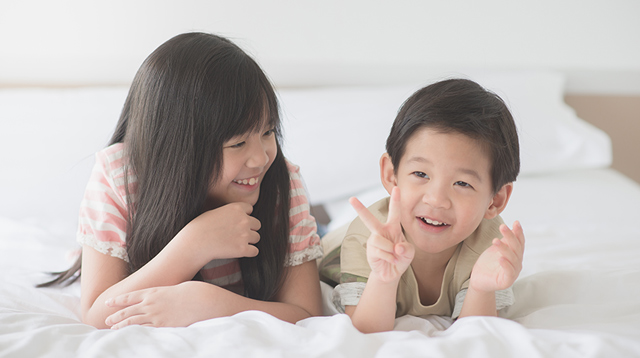 Now that gadgets have become such staples for adults and kids alike, it seems as if it has become much more difficult for families, especially siblings, to have real conversations with one another. However, conversations are incredibly crucial for children.

Conversations are a great way to connect with others. According to Verywell Family, conversations help develop different important characteristics, allow you to get to know people more deeply, and make children feel like they are important parts of the family. But more than anything, simply taking the time to sit down and talk with the people closest to your heart is one of the best ways to bring everyone closer together.

20 conversation starters to get your kids (and the whole family) talking

These 20 fun questions from Aha! Parenting can help lay down the foundation for an interesting, possibly even hilarious, conversations not only between the siblings but even between the entire family. These conversation starters encourage kids to get creative and can really get the wheels in their minds spinning!

1. "What do you want to be when you grow up and why?"

We always ask children what they want to be in the future. However, the key part of this question is the 'Why' because that will give you a clue about what your child is thinking when talking dream jobs. 

2. "What is your favorite thing about your sibling?"

In a house where there is more than one child, it can be easy to get accustomed to so much fighting all the time. A conversation starter like this can pave the way for your kids to actively seek things they appreciate about one another. It will not put fighting to an end, of course, but their love for each other grows each time they make peace.

ADVERTISEMENT - CONTINUE READING BELOW

3. "What are three traits you look for in a friend?"

It is good to encourage kids to articulate what they like about their friends. Helping them talk about it will let them discover the preferences and values they seek in friends.

4. "If you had to lose one of your five senses, which one would it be and why?"

It would be interesting to hear which senses each of your kids would prefer losing, wouldn't it? You might even have a good-natured debate on your hands!

5. "What is your worst fear?"

This might be a bit of a touchy subject for your kids because it is never fun to talk about your fears. However, this can also be a great way for your kids to get to empathize with and know one another on a deeper level.

6. "What is your biggest pet peeve?"

Here's another way to keep the fighting to a minimum! As Romper notes, "When your kids understand the things that they each find annoying, it can help them learn how not to push each other's buttons and assist in reducing the number of petty disagreements."

7. "If you could go back in time, which time period would you go to and why?"

This question doesn't necessarily require your kids to say they want to visit a certain period in history. It might just be a particularly fun day you spent as a family or even the time when Mom and Dad were kids themselves.

ADVERTISEMENT - CONTINUE READING BELOW

Recommended Videos

8. "What is one invention you wish existed?"

Encourage your kids to get creative and come up with an ingenious item they wish existed. Maybe you'll hear them suggest robots that can make their bed for them or a machine that would allow them to teleport anytime, anywhere!

9. "What is your favorite family tradition?"

Your kids' answers to this question can be a way for the whole family to start reminiscing over those precious memories (or recall the ones they don't like!)

10. "If you were stuck in a deserted island, what three items would you want to have with you?"

This age-old game is sure to inspire your kids' creativity. To make things more interesting, you might want to try imposing certain rules, such as not being allowed to include any gadgets or food items in their answers or only being allowed to pick clothing items.

11. "What place should we visit on our next family vacation?"

Vacation is something the whole family looks forward to. Include your kids in the process of planning the trip, including making suggestions on where you can go.

12. "If you could switch lives with a famous person for one day, who would it be?"

You can do it in categories: living or dead, scientist or mathematician, fictional character in book or a movie, among others. 

13. "Tell us the funniest joke you know."

Time for the kids to bring their best jokes to get the whole family clutching their sides in laughter! If your little ones don't have their own jokes, use the opportunity to encourage them to come up with jokes on the spot. The cornier, the better!

ADVERTISEMENT - CONTINUE READING BELOW

14. "If you were president of the Philippines, what would you want to do for the country?"

Kids are much more observant than we give them credit for, not just when it comes to the things the people around them do but perhaps even the things they hear or watch about the country they live in. They just might have great ideas for how to make the nation better.

15. "If our family had a theme song, what song would it be?"

Nowadays, it seems there is a perfect song for nearly everything, even families! Prepare to get musical as your kids try to decide which song they think best describes your family.

16. "What is something you want our family to do more?"

As fun as your family traditions, maybe your kids have fun ideas about activities you can do altogether that can be turned into new traditions! Let your kids' creativity go wild — children can really come up with the coolest ideas.

17. "If you could change one thing about the world, what would it be?"

All of us have at least one thing we want to change about our world today, even kids. Let them surprise you with their answers. And maybe even pursue it as a family project?  

18. "When you are sad or upset, what do you do to cheer yourself up?"

People have different ways of comforting themselves when they are feeling blue. Aside from your kids learning about various coping mechanisms from one another, this can also be a way to encourage them to open up about the things they might be struggling with at the moment.

ADVERTISEMENT - CONTINUE READING BELOW

19. "Where do see yourself in 10 years?"

This might not be a question you normally think of asking children, but it will be fun to hear how they visualize themselves in the future!

20. "What is something you are thankful for today?"

Encouraging your kids to find something to be thankful for is a simple way for you to foster an attitude of gratitude. This is something you can turn into a daily thing as well so that the motivation to find the good in every day becomes a habit for them.

What other parents are reading

Celebrate your pregnancy milestones!


Enter your details below and receive weekly email guides on your baby's weight and height in cute illustration of Filipino fruits. PLUS get helpful tips from experts, freebies and more!

You're almost there! Check your inbox.


We sent a verification email. Can't find it? Check your spam, junk, and promotions folder.

Trending in Summit Network