A Family Garden Can Be a Great Way to Have Fun with Your Loved Ones At Home

Having fun as a family doesn't have to involve going outside of the house!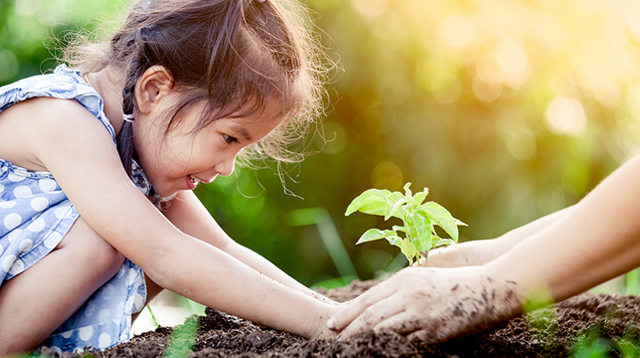 Some might think that a 'fun family activity' has to involve a vacation or going to the mall to eat or watch a movie, but even at home, there are lots of things you can do to bond with your family. One example is creating your own family garden — the benefits of gardening can have a lasting impact on the kids!

How gardening helps the family

For some, gardening may not seem like something you do for fun. But when you do it with the people you love most, it can feel like less of a chore and more of a laid-back, relaxing activity! Here are different reasons to convince you to start your own family garden.

It teaches kids important values

In a world where it seems everything can be acquired instantly, one of the benefits of gardening is that it helps teach children an important life skill: the value of patience.

"It teaches delay of gratification," psychologist Dr. Barbara Tarkin tells the Hartford Courant. "Everything is immediately at our fingertips; if we don't know something, we Google it and find the answer. With a garden, we plant today and don't harvest tomorrow. We have to wait until it grows and learn to wait for the fruits of our labor."

Today's Parent also says that through gardening, children can develop an appreciation for the hard work that goes into planting food, caring for plants, and eventually harvesting them.

It gives you a chance to engage in physical activity

ADVERTISEMENT - CONTINUE READING BELOW

Physical activity is important for the health of not only kids but also adults. Gardening is a great way to keep you and your tots up and moving. While it is not as rigorous as activities like running or playing sports, it does involve stretching and fine motor skills.

It gets you to spend time outdoors

As Verywell Family points out, children are prone to spending majority of their time inside the house and watching videos or playing games online. However, this can be just as applicable to adults. By creating a garden outside your home, you have a great reason to leave your couch or bed and experience the natural world.

It improves your well-being

Aside from the fact that by growing your own fruits and vegetables, you and your kids become more inclined to eat a healthier diet, gardening has also been proven to be a great stress reliever as it involves being exposed to sunlight and fresh air, engaging in repetitive tasks, and even making contact with harmless soil bacteria that can help release serotonin, a chemical involved with feelings of happiness, in the brain.

You spend time as a family

Finally, perhaps the best benefit of creating a family garden: It allows you to spend some time with your family! The garden can serve as a project for you to collectively work on, from planting to tending to harvesting. As a result, your family bond is strengthened and developed further.

"A family garden gives us an opportunity to put our phones down and engage with each other, face to face. And that's a really nice thing," Dr. Tarkin tells the Hartford Courant. She also elaborates that a family garden requires active participation from everyone, as opposed to more passive activities like watching TV, which don't always encourage interaction.

ADVERTISEMENT - CONTINUE READING BELOW

Recommended Videos

How to get started on your family garden

Finally convinced to make your own little garden at home? Here are some tips to consider when starting one. Make sure to involve the whole family in each step and just have fun!

Go on a shopping trip

First thing for you to do is make a list of everything you will need for your garden — tools, pots, gloves, seeds, and more — then going on a family trip to the closest gardening store.

Jena Barretta, co-owner of an American garden and landscaping company, tells the Hartford Courant, "It's important for children of various ages to pick out their own gardening tools. It creates excitement and teaches your children to be involved. They need to be a part of the garden because they learn responsibility and structure; it's a good process to go through."

What other parents are reading

Test your soil

The next step is to test your soil to see if it has the nutrients needed to grow plants. If you don't know how to do it yourself, you can have the soil tested in your nearest garden center then adjust it accordingly.

Pick the right plants

The right plants are those which are not as difficult to tend, because if you choose plants that are harder to grow, gardening can quickly turn into a frustrating or discouraging experience for you and your kids. Take into consideration the condition of your soil and how much sun you get at home as well.

Just have fun

ADVERTISEMENT - CONTINUE READING BELOW

Finally, don't be too pressured when working on your family garden! One of the benefits of gardening is that whether your plants turn out well or not, the important thing is that your family is able to learn new things. Being too concerned about having a 'perfect' garden can also take the joy out of the activity.

Dr. Tarkin advises, "We can say it's an interesting thing we tried and we learned from it. A garden is a safe way to let people try some things, make some mistakes, because what's the worst that can happen — nothing will grow?"

What other parents are reading

Celebrate your pregnancy milestones!


Enter your details below and receive weekly email guides on your baby's weight and height in cute illustration of Filipino fruits. PLUS get helpful tips from experts, freebies and more!

You're almost there! Check your inbox.


We sent a verification email. Can't find it? Check your spam, junk, and promotions folder.

Trending in Summit Network