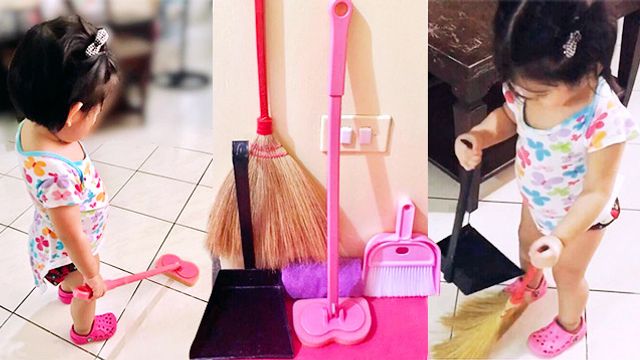 Children need to know how to do things by themselves to grow up to be capable, responsible, and successful adults. And, learning is best done with hands-on experience, practice, most helpfully, kiddie-sized items. 

Mom Cherdyn Mojica wanted to teach her 18-month-old daughter Ceana household chores and self-care activities, so she diligently scouted for mini-sized items as her teaching tools.

"Right now we're practicing kitchen activities like rolling dough, whisking fresh eggs, squeezing citrus fruits, peeling a banana, and slicing fruit," Cherdyn shared with SmartParenting.com.ph. "Sometimes we have a little trouble because she eats the fruit before we finish the activity. Magana kumain!"

The mom works in shifts as a full-time medical technologist at a major hospital in the metro, which makes her determination to teach Ceana herself even more impressive! (She makes her homemade baby food from scratch, too. See more than 20 of her recipes here.)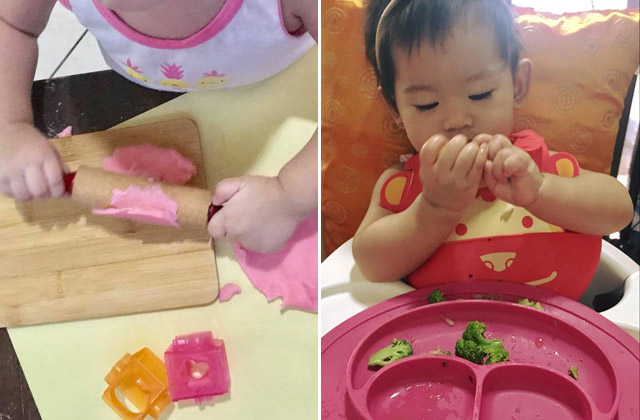 The mom started instilling an "I can do it!" mindset in Ceana when the little one started eating solids. "We practiced baby led weaning at 7 to 8 months old," she shared.

Moving on from spoon-feeding, the mom gave her daughter her plate so she can use her hands and eat on her own already. Everything on the plate was pre-prepped — mushed, sliced, shredded — so the food posed no choking hazards. Eventually, at 10 months old, Ceana started scooping mushy and soup foods with a small spoon! 

And from there, the "I can do it!" activities came one after the other. "Ceana had her first set of teeth at 13 months, and that's when she started brushing by herself. I do brush them again afterward to make sure everything is clean," said Cherdyn. "She started mopping, sweeping the floor with a walis and dustpan, watering the plants using a mini sprinkler, and feeding our aquarium fish when she was already walking."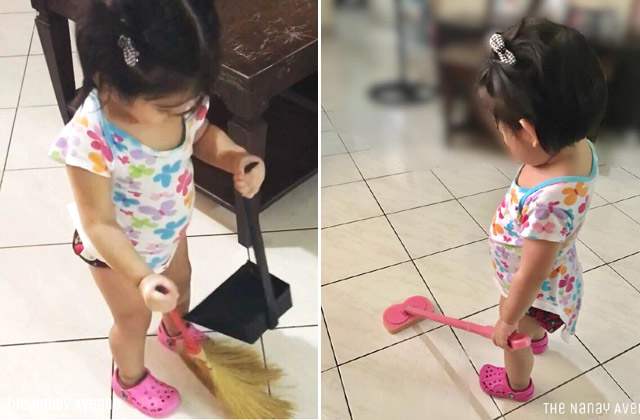 "It wasn't easy finding baby-sized cleaning tools. That's why I was so happy when I finally completed the set at low cost. All for Php350!" said the mom. You could also find toy cleaning sets in toy stores, added Cherdyn, but they're more expensive at prices above Php900. "Better have the real stuff than toy ones and mas tipid pa rin yung finds ko!"  

Cherdyn was inspired by the Montessori approach where "the teacher's job is to provide the materials and environment which will aid development, and to be ready to respond when help is needed," according to the Montessori Institute website. It can also be applied outside of the classroom and at home. 

Here's a rundown of the Montessori-inspired items Ceana already owns and uses: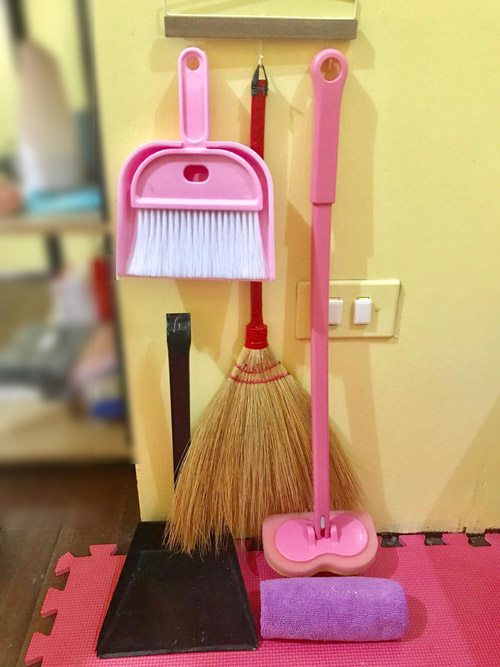 Short-handle broom and dustpan set (pink) bought for P88 at Japan Home Centre
Walis and dustpan bought for Php150 at Dapitan Arcade
Mop bought for Php88 at Daiso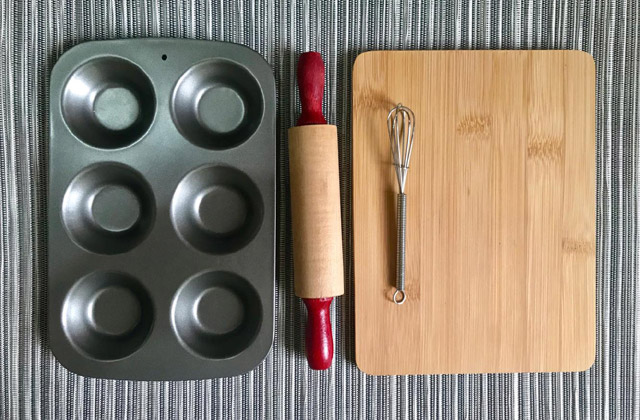 Cupcake tin bought for Php88 at Daiso
Rolling pin is a vintage store find bought for Php200 ("They also have it at Cooks Exchange branches in SM Megamall and Powerplant Mall," said Cherdyn)
Whisk bought for Php88 at Daiso
Chopping board bought for Php160 at All Home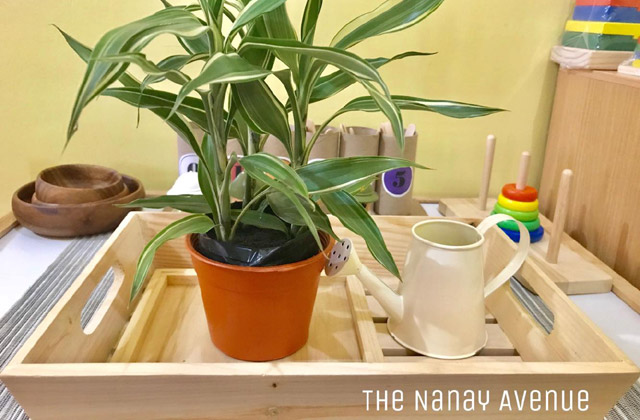 Watering can bought for Php88 at Daiso
"What I love about Montessori is that children learn at their own pace," said Cherdyn. "They interact and get involved with the objects and situations you give them."

She has yet to encounter any problems with their Montessori-inspired setup. Ceana has shown interest in cleaning the house on her own, shared the mom. "We don't have a kasambahay or a yaya so she always sees her dad or me doing the chores," she said. 

Mars Medina, a former Montessori teacher and school owner, explained to SmartParenting, "Allowing children to be around us while we do chores and other things around the house, doing things with them instead of to them is the first step [to teaching children to be independent]. Model and children will naturally want to do the same things by themselves."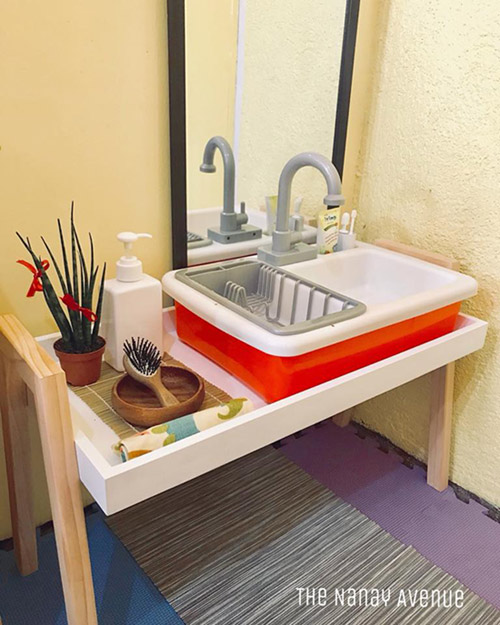 Kitchen sink set (comes with accessories) bought for Php1,499 at Toys "R" Us

Cherdyn's latest project is Ceana's mini sink set that has actual running water! The sink sits atop a low table and in front of a mirror. It has Ceana's toothbrush and toothpaste, a mini hair brush, a colorful hand towel, and baby wash for handwashing. The sink already comes with child-sized dishes to wash (not seen in the photo above) and a dish drying rack. 

"There still a lot of activities we're planning to make," said Cherdyn, "like cutting paper with baby-friendly scissors, folding clothes, paglalaba and pagsasampay, gardening, and a lot more.
Above is Ceana's Montessori-inspired play area posted on The Nanay Avenue Facebook page run by mom Cherdyn Mojica. It's where she also shares baby food recipes which have been featured on SmartParenting.com.ph.