Don't Make an Angry Child Feel Better Right Away Just to Avoid a Meltdown

Learn about reflective listening so you can help your child figure out her emotions.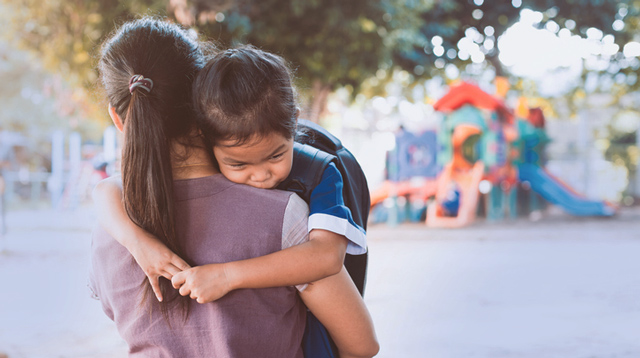 You're looking forward to your preschooler's stories after a school day, but as soon as she comes home, you notice she seems upset, frustrated, and angry. You try to comfort her and fix whatever's bothering her. But she still proceeds to have a full-blown meltdown. What did you do wrong?

Trying to make a child feel better right away whenever she's upset might also be a form of pressure. "Parents are taking so much responsibility for their children's mood and spirit that it feels like it's your job to reset as soon as possible," Wendy Mogel, a clinical psychologist and author of The Blessing of a Skinned Knee: Raising Self-Reliant Children tells The Washington Post.

She adds, "It deprives them of the opportunity to be crabby and cross when they finish school or at the end of a day of camp."

When parents try to fix everything for their kids, the kids do not learn how to solve problems on their own.

Mogul explains that one of the reasons kids get upset at home is because it is their "soft landing." It's a safe space where they know they can let all their feelings out.

For kids, going to school can be exhausting because they spend a lot of energy self-regulating and trying to sit still and behaving. "When their bodies are craving either rest or outdoor play, many children are stressed by the need to stay alert and maintain 'good behavior,'" explains Dr. Carla Marie Manly, a clinical psychologist, to Romper. "Children are often emotionally exhausted at the end of the day, and their growing ability to regulate their emotion simply starts to deteriorate."

ADVERTISEMENT - CONTINUE READING BELOW

Kids look forward to going home after a harrowing day, but if they see their parents hovering, studying their facial expression, and trying to reassure them, it may only make them feel worse. "This is, in some ways, an intrusion of their natural recovery time," Mogel says.

How to cheer up a frustrated and angry child

Sometimes, the best thing to do is to listen. Just like adults, children also need to vent. "If we rush in too quickly, we may make the issue seem bigger than it is, or that they aren't capable of handling it," Robbye Fox, an independent consultant, and certified parent educator, tells The Washington Post.

Instead, Fox suggests that parents try practicing "reflective listening." It's when you try to understand the speaker's idea, then offer the idea back to the speaker to confirm that you really understood what the speaker is trying to say.

For example, your child goes home upset because she couldn't finish an activity in school. Try saying, "Oh, so, schoolwork was a little tough today, huh?" When she answers, try and reflect their feelings. "Each time they feel heard, it brings the emotion down and they can see it for what it is," Fox says.

Let your child vent, but let her figure out emotions on her own

Harper West, a licensed psychotherapist from Michigan, USA, shares on her website that parents can spend too much time "lecturing, offering solutions, inserting their opinions, and urging correct behaviors" instead of listening. When you practice reflective listening, you are leading the conversation to an emotion.

CONTINUE READING BELOW

Recommended Videos

"Honor those emotions and let the child see that it is ok to express and discuss emotions calmly," West shares. "By staying calm and emotionally regulated during these discussions, you model this skill for your child. However, it is appropriate to use facial expressions and tone of voice that model the emotion you are labeling."

She adds, "It is also fine toward the end of the conversation to mention your feelings: 'I feel sad that you believe no one likes you at school.'"

It can be hard for parents to see their children angry and frustrated, but their role is to show their children "that the best feeling in the world doesn't last forever, and neither does the worst one," shares Emory Luce Baldwin, a marriage and family therapist and certified parent educator, to The Washington Post.

"Show that you're affirming that this was today, this is now. Don't use a global 'I'm sorry you're so upset,' or 'It's terrible that you hate school," Baldwin says. "Respond in a way that helps kids hear this isn't a permanent thing."

Instead of trying to fix your child's feelings, let her figure out how to make herself feel better. But feel free to remind her what those things are. Baldwin suggests saying, "I've noticed you like to play with the dog when you feel like this, or put that music on that you love."

"The more they think, become frustrated, and try out different ways of doing things, the more they become an "expert" at figuring things out on their own," writes psychologist Ma. Araceli Balajadia-Alcala in an article for SmartParenting.com.ph.

ADVERTISEMENT - CONTINUE READING BELOW

The next time your child is upset, remind yourself that your role as a parent is to help your child build problem-solving skills. And don't worry, this will pay off as your child also learns grit and resilience this way. So keep calm and hold their hand while your child figures things out. She's got this.

Is your child prone to meltdowns after school? Click here for ways to deal with her attitude.

What other parents are reading

Celebrate your pregnancy milestones!


Enter your details below and receive weekly email guides on your baby's weight and height in cute illustration of Filipino fruits. PLUS get helpful tips from experts, freebies and more!

You're almost there! Check your inbox.


We sent a verification email. Can't find it? Check your spam, junk, and promotions folder.
Trending in Summit Network