Bored, Hindi Mapakali? These Preschool Activities At Home Will Keep Kids Busy And Happy

Your preschooler will learn a lot, too.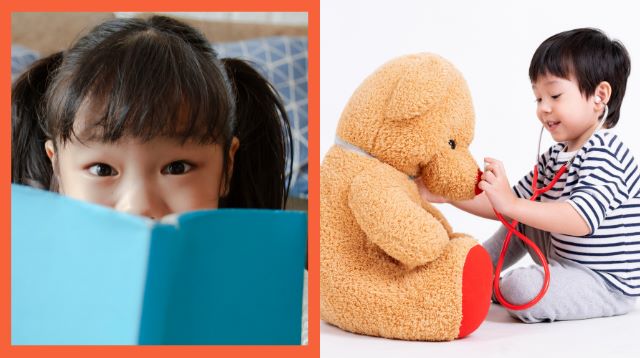 Aside from preschool reading activities and preschool writing activities, your child can do other preschool activities at home that can be both educational and enjoyable.

Smart Parenting has asked Charissa O. Osorio, who's been teaching for 19 years, for recommendations. She's one of the Kinder 1 (4 to 5 years old) teachers at Creative Explorers School for Children, a progressive school located along Visayas Avenue in Quezon City. Additionally, she has either taught or assisted in the older and younger class levels.

Teacher Cha, as her pupils call her, is also Mommy Cha. She and her husband Albert Osorio have two children: Kalil, 8, and Kaleb, almost 3. She shares in this article some of the activities that her preschool child Kaleb gets busy with, and that may help other parents as well.

Preschool activities at home

Using manipulatives

Manipulatives are objects that a student is instructed to use in a way that teaches or reinforces a lesson. Examples are Lego bricks, blocks, domino tile, shapes sorter, and the like.

PHOTO BY

freepik/fwstudio

ADVERTISEMENT - CONTINUE READING BELOW

Materials like manipulatives encourage children to make their own, and be imaginative and creative with their output, explains Teacher Cha. As a result, children are "able to build using their hands, which is good for developing their fine motor skills or the use of their small muscles."

She adds that children are "given the chance to explore when they use accessories like toy cars and other vehicles, animal toys, and people toys together with the manipulatives used."

Moreover, she says, "there is language development when the kids make up their own stories and situations while at play." Her son, for instance, builds a parking lot with his toy vehicles, which he calls the rescue team, as inspired by a show he watches on TV.

Doing a dramatic play

Materials to use can be cooking toys and kitchen set, dolls, stuffed animal toys, community helper tools, and costumes.

Teacher Cha explains, "Doing pretend play allows children to act out what they see in their environment, maybe from children's shows that they watch, or probably their own experience at home. They get to play different roles like family members, or community helpers.

"It could be pretending to cook like mommy or daddy does at home. Taking it up to the next level, the parents and siblings could set up a pretend restaurant, and take on roles as the cashier, chef, manager, and customer."

Teacher Cha says her son enjoys feeling like a superhero while riding this toy car and sometimes, a police officer or a traffic enforcer. She herself joins in the dramatic play as the citizen who is not following the traffic rules. She adds that parents can also be "imaginative and creative when putting together props and costumes for their child to be a community helper."

CONTINUE READING BELOW

Recommended Videos

She points out, "It is important to get the child involved in choosing if he or she likes to be an engineer, an animal doctor, or a chef. There is no limit. There is no need to buy because some props like hats can be made."

Other props: Toys bought previously, such as cooking tools (for a make-believe restaurant), stuffed toys (as a doctor's patients), or whatever is available at home could be very useful, fun, and safe to play with.

Teacher Cha explains that language development is also a big part when engaged in dramatic play. Kids enjoy learning about animals when they imitate their movements and sounds, and that is science as a subject area.

Playing musical instruments

Besides musicality, this activity also helps hone creativity and develop fine motor skills. It can also involve numbers when, for instance, you tell them to tap the drum and count to five. Another example is to count every monggo seed they put inside the water bottle.

ADVERTISEMENT - CONTINUE READING BELOW

This activity is the perfect opportunity to use the toy piano, guitar, xylophone, or even microphone that your children have received as gifts. You can also encourage them to get the other members of the family to join in their band and let them choose the song you can all play and sing along to.

If they don't have toy instruments, you need not buy any. You can just help your children come up with their own homemade versions. They can turn a big milk can into a drum or they can put monggo seeds inside a water bottle to make it a shaker. They will even enjoy decorating their instruments using different materials.

Reading books

Finding time to read to your children has been proven to be beneficial and advantageous to them. While at it, let them point to pictures and, if they can already, identify those in the pictures.

You can also ask simple questions to check you children's understanding of the story.  Examples: What animals did you see in the story? What colors did the little girl wear?

Teacher Cha explains, "Children learn by repetition. Reading the same book, or singing the same songs over and over is not boring to them. Eventually, they can tell the story in their own words, or sing songs they have heard many times while playing."

Bath time

While giving preschoolers a bath, let them explore the water and different materials around them. These include the containers of different sizes for pouring and transferring water, or vehicle toys.

ADVERTISEMENT - CONTINUE READING BELOW

Teacher Cha explains, "When doing water play, whether during bath time or at a separate place and time, rules may be mentioned and  concepts may be taught such as pour LOW only and not high (so the water will not spill on the floor). It could be having a.child learn about big and small, using containers."

She adds, "Bath time could be an opportunity to remember how to take care of the body, and learning body parts. There are songs  like 'This Is The Way' (we brush our teeth, wash our hair, scrub our body) which make it more fun. 'Head, Shoulders, Knees, and Toes' makes it easy to remember body parts."

Eating time

This a good way to help picky eaters enjoy their food. For instance, you can ask your preschoolers to count how many pieces of food to put on their plates. The food could be grouped according to colors (using fruit loops cereal) or shapes (chicken nuggets).

Another activity could be collecting the things needed for eating, such as spoon, fork, bowl or plate, cup, etc. To make it more fun, you can ask beforehand for your children to make a list of objects found in the kitchen and a drawing of each item on the list.

Preparing food

In letting your children help you with simple food preparations, such as making a sandwich or cooking pancakes, you are also teaching them other lessons.

These include identifying the tools and ingredients; following instructions and steps (first, second, third, and so on, last); and remembering shapes (a piece of bread is square in shape, and could be sliced into two triangles). This activity may also involve counting slices or pieces of a food ingredient.

ADVERTISEMENT - CONTINUE READING BELOW

Doing physical activities

When children are doing physical activities, they use their big muscles that are needed for gross motor development. Here are a few examples:

1. Ball games—catch and throw, kicking the ball in the basket, basketball (and counting points - one point for each time the ball gets in the hoop or basket)

2. Daily activities with adult supervision, such as going up or down the stairs could be a counting activity (counting with one to one correspondence for each step)

3. Depending on the space available at home, a simple series of tasks may be set up for the child to jump over, a box or chair to go around, a hula-hoop to go through

4. Action songs are fun to sing along to, and require using big muscles in following the movements

5. Draw or use colored tape to make different kinds o lines for the child to follow by waking on the line (straight or horizontal, sleeping or vertical, curved, or slanting)

Playing guessing games

In playing guessing games with your children, you can incorporate math concepts like color, or science concepts.

Examples:

1. What sound is it?—Let your children guess the sound they hear that would pass by, such a garbage truck, car, motorcycle, and so on.

2. I Spy With My Little Eye—This activity encourages children to use their sense of seeing ("I can see with my eyes") and entails using their words to describe something they sees around, and making mommy or daddy guess the object. It is very good for language development and helps widen vocabulary, says Teacher Cha.

ADVERTISEMENT - CONTINUE READING BELOW

Playing bring me

This is another activity that helps with language development, says Teacher Cha. You can collect things around at home and place them in a container and then, using descriptive words, have your child pick or identify which it is among the things in the container.

Doing a letter hunt

PHOTO BY

freepik/rawpixel.com

For this activity, you can put letter cards in different places in the house for your preschooler to look for, or you can just put the letter cards on a table. Then, depending on your child's skills, you can tell your child to simply look for the letter you're asking for.

You can ask in sequence (beginning from A to Z), or randomly call for your child to hunt around an area in the house, or to get from the work table. You can also sing along with your child with the ABC song to make this activity more fun.

ADVERTISEMENT - CONTINUE READING BELOW

Playing touch/tell the color

This activity never gets old. You can ask other members of the family to join in the fun as you all help teach your preschooler recognize and identify colors. You just have to take turns in asking which color to touch, and you can all use toys and all other objects around, including the clothes you're wearing.

Doing self-help tasks

Self-help tasks for your preschooler include putting on clothes and shoes or slippers; brushing teeth; and the like. These will help children identify the things they need, as well as distinguish which is left and right, up and down, inside and out.

Doing art activities

PHOTO BY

freepik/tirachard

Letting your children do art activities will encourage them to be creative and use various implements that will help develop their small muscles. You can try these several of the many possibilities:

Drawing—using pencil, colored markers, colored pencils
Painting—using water color or poster color
Hand printing
Leaf rubbing
Using cut-out shapes and glue them together to form, for example, a house
Tearing paper, crumpling the torn pieces, and then sticking them on paper to create, for instance, a flower or a tree
Mixing colors—using  poster color

ADVERTISEMENT - CONTINUE READING BELOW

Taking care of a pet

Teacher Cha explains that your children will have a good learning experience about what a particular pet needs to live and how to care for it.

Planting

In letting your children help you in the garden, you will teach them how to follow instructions and steps in planting. Teacher Cha adds that it is interesting to learn about plants and how they help people and animals. Taking care of a plant will give children a hands-on experience in observing changes that happen as it grows.

ADVERTISEMENT - CONTINUE READING BELOW

Playing weather watcher

In this activity, you will ask your preschooler to look out the window and tell if it is a rainy day, sunny day, cloudy day, or windy day. You can also ask your child to collect things at home that are worn or used depending on the weather. When done daily, this activity will help your child remember the days of the week.

Looking at the mirror

In this activity, you can ask your preschooler to make different kinds of faces in front of the mirror to show feeling happy, sad, angry, scared, or surprised. You can also sing together the song "If You're Happy and You Know It" in talking about feelings.

Sorting things

This activity can also help teach your preschooler some responsibility.

Children can learn math concepts in doing this activity. It happens when you ask them to put things together that are the same (kind, color, shape, size). You can do this when packing away their toys, as well as folding and then sorting clothes before putting them back in their place.

ADVERTISEMENT - CONTINUE READING BELOW

Using Play-Doh

This activity allows children to be imaginative and creative, says Teacher Cha. Playing with such modeling compound is very good for strengthening the small muscles (for fine motor development). It's also fun to explore the material as it is or with the tools that come along when bought at the store. Teacher Cha says her son uses his cooking tools, too.

With this long list of preschool activities at home, your children won't have many opportunities to say they're bored and behave restlesslessly (di mapakali).

Read also: Learning Activities To Prepare Your Toddler For Preschool

Celebrate your pregnancy milestones!


Enter your details below and receive weekly email guides on your baby's weight and height in cute illustration of Filipino fruits. PLUS get helpful tips from experts, freebies and more!

You're almost there! Check your inbox.


We sent a verification email. Can't find it? Check your spam, junk, and promotions folder.
Trending in Summit Network