Educate, Don't Judge! Expert Warns Against Sharing CSA Bullying Video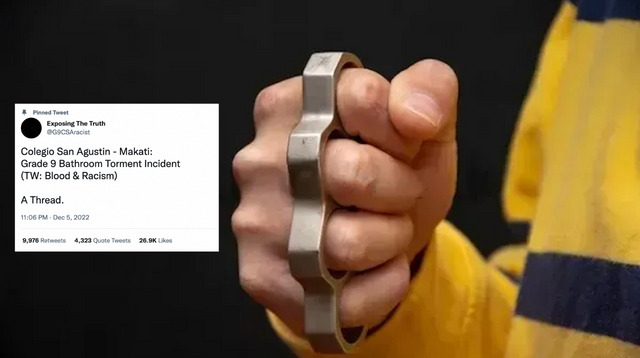 On December 5, 2022 a viral video of two male students fighting inside a restroom went viral. Photos and videos of the fight, alleged posts from the involved students' social media accounts were captured and reposted, and screenshots of private conversations surfaced online, all likely trying to make sense of the incident. 

The next day, on December 6, Colegio San Agustin (CSA), a private school in Makati City issued a statement on its Facebook page outlining the details.

What we know

The statement confirms there was a 'fighting incident' inside the campus at 9:15 AM which was initially reported to school authorities as an accident. The security guard who responded found two male students who needed medical assistance and were brought to the school clinic immediately. 

Social media users allege one student used a brass knuckle during the incident.

In an interview with One News PH on December 6, Atty. Joseph Noel M. Estrada, Colegio San Agustin's spokesperson stated that the initial report from the student was an accident and it was only later on that the school authorities learned that it was not, but rather it was a fight. 

"Nabigyan na rin po ng kaagarang medical assistance bago po tayo mag-move down sa disciplinary proceedings na kailangan, said Atty. Estrada.

CSA's official statement confirms that Grade 9 students were involved in the incident and informs the public that "the school is taking this matter seriously and has since launched an ongoing investigation.

"The school does not tolerate or condone violence. We have institutionalized child protection policy and guidelines and constantly updated our student handbook emphasizing the importance of positive student discipline and compassion for others.

ADVERTISEMENT - CONTINUE READING BELOW

Atty. Estrada tells One News PH, "Lahat po ngayon dito sa school ay involved doon sa nangyari, we are taking this matter seriously with extreme urgency. Ang unang-unang pong tinignan ang kalagayan po ng mga estudyanteng involved.

While the school has already launched a private investigation, Atty. Estrada confirms to One News PH that there were more than two students who were involved in the incident.

"Apparently hindi lang po dalawang estudyante ang involved, I think more or less 10 estudyante ang involved.

RELATED: 4 Ways You Could Be Raising A Bully And Not Know It

Atty. Estrada reminds the public not to aggravate the situation by sharing and circulating the videos and other online content. 

"Gusto ko lang po paalalahanan na 'yung involved po ay estudyante at minors, hangga't maaari po sana huwag po tayong makisali sa pagpapakalat ng videos na ating pong natatanggap. 

"Because we may be contributing to further violations of their rights, hindi lang po 'yung posibleng may kasalanan, kung hindi din po yung bikitima. Dapat po hindi po natin ito ipinapakalat.

Pause–separate fact from interpretation

A Twitter account entitled 'Exposing The Truth' with the handle @G9CSAracist was also created shortly after videos and screenshots were surfacing online. Its first tweet is a thread detailing the incident. It also stated that the account would share updates about the incident. 

Netizens claiming to be alumni of the school have expressed similar sentiments about how difficult it may be for justice to be served because based on their experience, past incidents were not dealt with accordingly. 

'Bullying may have many causes but there is never any right reason for it.'

A similar event in 2018 involving Ateneo High School students comes to mind when thinking of "bullying" and "viral video". While the online content that has circulated uses heavy words like racism and bullying, it would be prudent to pause and sift through what is fact and what is opinion and interpretation.

However, what isn't open to interpretation is the use of violence. As a previous Smart Parenting article on bullying says, there may be many causes but there is never any right reason for it. 

Official investigations will make the motives, reasons, and details of the events clear, but it is already safe to say at this point that even without the findings, violence in any form must never be tolerated.

What can parents of a child who has been bullied do?

While the public has access to many different details of the incident, we are in no place to label minors, their family, or speak definitively about the incident. 

In the light of concerns social media users have raised on bullying, Smart Parenting reached out to its resident experts.

ADVERTISEMENT - CONTINUE READING BELOW

Dr. Michele Alignay, family psychologist and member of the Smart Parenting Board of Experts advises parents whose children have been bullied to "Be there and provide the support needed. Getting the law implemented, or getting back at the other teen/family may not always be the route.

RELATED: Two Pinay Moms Make a Book to Help Bullied Kids Fight Back

"Gauge your priority–supporting your child, plus getting the needed help (therapy/family counseling) is critical at this age.

She adds that parents of children who have been bullied can help their kids by having better emotional connections and more relatable communication. "Allow them to grieve, express themselves or be vulnerable to you (if needed). They do not need judgments or comments when they share what they are going through. They need emotional supporting utmost understanding.

"If their mental health state is at risk, then get help from professionals," advises Dr. Alignay.

What can parents of a child who has bullied another child do?

Dr. Gail Galang, child expert and another member of the Smart Parenting Board of Experts says "the behavior captured in the video suggests four dimensions that should warrant professional intervention: dysfunction, distress, deviance, and dangerousness.

"If you are a parent of a child who exhibits these four Ds, please see a psychologist or a psychiatrist immediately. Since a family is a system, what happens to one member affects all members. Get the necessary social support to facilitate the family's healing and recovery.

RELATED: 7 Rason Kung Bakit May Mga Nambu-bully

ADVERTISEMENT - CONTINUE READING BELOW

She adds, "Parents work hard and make all kinds of sacrifices to send their children to good schools with full trust that their kids are kept safe. When such horrible incidents happen in schools, it's best to revisit programs and policies to ensure that bullying will have no place in it."

What can you do now?

As Atty. Estrada reminds the public, avoid sharing and resharing the video to keep from aggravating the situation. This lesson we have learned from the 2018 incident.

Dr. Alignay also reminds those who may have already seen the video, "Use this media as a tool to educate and not to judge. We do not know and we cannot judge what really happened to the teens involved. We were not there and we are not them.

"We can only keep processing this to our kids, teens, young ones. Keep grounding your family in the culture of peace despite being assertive, respect despite differences, and be in the helm of ensuring their socio-emotional development."

'Anger is an emotion we need to learn to healthily integrate. We need to learn how to use it as a tool to teach us to move better.'

We are easily angered and shocked by the violence in the video and other similar incidents, however, we can also assess where do we tolerate violence in our everyday life? Maybe it is verbal abuse or microaggression at home or in our parenting. When do we experience anger and allow it to cause hate?

"Anger is an emotion and we need to [learn] to healthily integrate it. We need to learn not to use it to cause hate. But rather as a tool to teach us to move better," advises Dr. Alignay.

ADVERTISEMENT - CONTINUE READING BELOW

She adds, "Parents, listen to what your anger is teaching you about yourself."

To know more about parental rage, read this story.

Trending in Summit Network