How I Raised My Sons to Have High 'FQ' (or How to Be Better at Money)

She made sure her kids grew up having a healthy attitude towards money.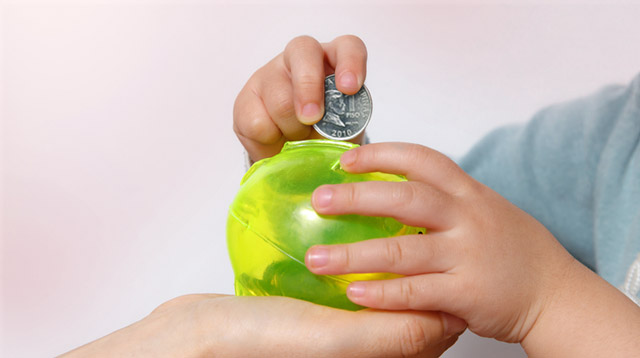 Rose Fres Fausto was an investment banker turned full-time homemaker and now a writer and speaker. She wrote the best-sellers Raising Pinoy Boys and The Retelling of The Richest Man in Babylon (English and Filipino versions). She's also a behavioral economist and Gallup Certified Strengths coach. Below is a letter she wrote to her three sons.

To my dearest Martin, Enrique, and Anton,

I am so pleased that you have all grown up confident, optimistic, kind, and of course, with high Financial Quotient (or FQ for short!). You are indeed God's greatest gifts to me and Papa and our greatest gifts to the world.

We have come a long way since you were born, and I look back with fondness at how we raised you boys through some not-so-conventional ways. I now realize that way before I discovered Behavioral Economics, I was already practicing its principles on you without the label.

1. Once you were born, we opened savings accounts. This was where we deposited your ang paos and other cash gifts. The process made it easier for us to avoid the commingling of funds.

2. And because you were in no position to need those cash gifts yet, we invested them for you, both in fixed income and stocks. When you started asking about money, we already had something to show you under your name. You understood that your money should not be kept in your savings accounts (which you called small accounts) because the interest earnings were too small. You were thrilled to see how your big accounts (fixed income investments) gave you earnings as much as double in five years! (Gee! I miss those times.) You were always excited to open your mail to see your cash dividends from easy-to-understand stocks like Jollibee, SM, Meralco, and the like.

ADVERTISEMENT - CONTINUE READING BELOW

"We didn't want you to grow up thinking that your having or not having the money is the factor that decides in buying stuff."

3. When you entered Grade 1, we used your weekly allowance as your training ground for regular saving and budgeting. Do you still have those treasure boxes where you kept your Php100 per week allowance? I remember how you set aside at least P20 in an envelope every Sunday night, right after you received your allowance. Little did we know that you were practicing the principle "pay yourself first."

Enrique, I still remember how your eyes lit up when you first saw my simple Excel file showing the power of compounding! It blew you away how your 20% regular saving and investing could make you a millionaire in no time!

4. Remember those times when we would go to toy stores and you would ask us to buy you unreasonably expensive toys? Papa and I never said, "We don't have money for that!" Even if that would have made life easier for us, we thought it would be a disservice if we used that lazy reasoning. We didn't want you to grow up thinking that your having or not having the money is the factor that decides in buying stuff. We wanted you to exercise control over money instead of the other way around. It wasn't easy, but we did pretty well.

5. We knew it wasn't going to be easy for you to exercise this control over money all the time. Heck, even Papa and Mama find it hard sometimes! That's why your nerdy mom taught you how to make your own balance sheet. Nothing intimidating — just a simple listing of your cash and investments. It helped you delay gratification because you could see how your total assets grew. I remember hearing you say, "I can buy many pieces of that toy, but I'd rather buy stocks. I'll wait for my birthday so I can have that toy without spending my own money!" Little did we know that you were learning firsthand what opportunity cost is all about. You were able to delay gratification because you were getting gratification seeing your assets grow in your balance sheet! Pretty nifty tool to teach something abstract in a more tangible way, huh?

CONTINUE READING BELOW

Recommended Videos

I dream that someday, all individuals will know their Total Net Asset Value (NAV) the way they know their height, weight, and other vital signs. And just like how we don't have to announce these stats to the whole world, we can keep our NAV confidential; well, unless you decide to be a public official, in which case, you would need to report your SALN every year.

6. Do you remember our dinner conversations about money, and how Papa and I would get valuable insights from your young minds? Anton, you once said, "I will put all my money in the stock market" while you were still in grade school. When I warned you about the volatility of the market, you said, "You and Papa always say that in the long run, stocks will give me the highest earnings. You see, even if my stocks go down, my lifestyle will not change. It is when your stocks go down that my lifestyle will change, right?" You just blurted out the concept of risk appetite articulately!

7. And of course, it's always a joy to reminisce your summer jobs. Martin, your experience as crew member in a restaurant didn't only give you extra cash but also taught you how it was to be on the service-providing side. Enrique, wasn't that a great summer when you taught someone how to play the guitar for a fee? Anton and Enrique, your summer dance class was a hit! It was a great idea to end it with a recital concert with the help of Kuya Martin who sold the tickets.

ADVERTISEMENT - CONTINUE READING BELOW

8. Martin, when you graduated from college and we told you it was already the end of receiving allowance from Papa and Mama, you exclaimed, "Ouch! You're cutting my financial umbilical cord!" Hahaha! But hey, look where you are now. You did great! No unnecessary delay in getting a job. It also helped that your allowance was a lot lower than the starting salaries out there. So we're now two down (as Enrique joined you recently as a working boy) and one to go. Right, Anton?

I really thank you all for being such wonderful kids. I savor each moment I spent and continue to spend with you — triumphs, failures, heartaches, and all. Thank you so much for spending time to help Papa and me spread this advocacy of financial freedom and happiness, one family at a time. Now that you're all grown up with schedules more hectic than ours, you know it's pure bliss for Mama when I can contain all of you in one room.

I'm excited to see you raise your own kids to be loving and confident, and of course, with high FQ. You don't have to hurry, okay? Have them at the right time. I pray that you marry women who share the same values, including money values. Should you end up falling in love with a gastadora (spendthrift), just go through those eight points with her. Convince her that you can only raise your children well when you are united in values. Employ choice architecture and design something that would make it easier for your family to practice high FQ. I'm sure your kids will be as kulit and precocious as you were, so make it fun and easy!

ADVERTISEMENT - CONTINUE READING BELOW

I love you all so much.

Love,
Mama

This letter was originally published in the book Letters to My Children, a compilation of heartwarming notes penned by public figures and celebrities for their kids. The book is published by Summit Books.

Are you ready to start saving? Click here for practical advice from multi-millionaires.

What other parents are reading




Celebrate your pregnancy milestones!


Enter your details below and receive weekly email guides on your baby's weight and height in cute illustration of Filipino fruits. PLUS get helpful tips from experts, freebies and more!

You're almost there! Check your inbox.


We sent a verification email. Can't find it? Check your spam, junk, and promotions folder.
Trending in Summit Network