Should Your Kids Watch Pixar's Lightyear? Parents Weigh In

A two-second scene put on headlines got parents asking, should we watch? Some moms who did share their experiences here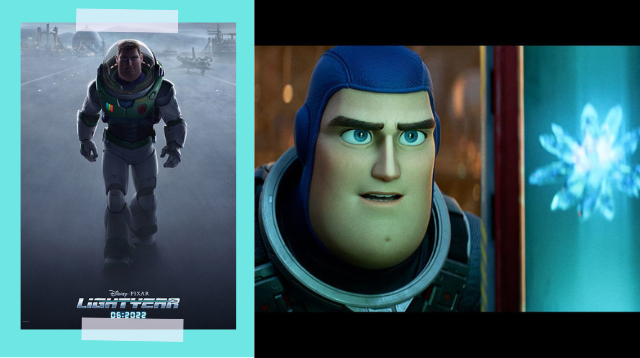 Welcome to Real Parenting, a space where parents can share the joys, pain, and the mess of parenthood. Want to get something off your chest? Share your parenting journey? Email us at smartparenting@summitmedia.com.ph with the subject "Real Parenting." Click here to read more 'Real Parenting' stories.

Three years after the release of the last Toy Story movie (Toy Story 4), Disney and Pixar Animations released the spin-off movie Lightyear. It's the origin story of Buzz Lightyear, legendary space ranger of the franchise.

Though this was a movie long-awaited by the kids and the kids-at-heart, its release came with a lot of "buzz".

For the first time in its history, Pixar included a two-second same-sex kissing scene. This resulted to some countries banning the movie including UAE, Malaysia, Saudi Arabia, Egypt, Indonesia, Lebanon and most likely China.

A parent asked in Smart Parenting Village what others thought about Pixar's Lightear.

PHOTO FROM 

FACEBOOK /SMARTPARENTINGVILLAGE

ADVERTISEMENT - CONTINUE READING BELOW

Arah Jane Olleres Martin sought the thoughts of other parents in Smart Parenting Village regarding it:

It's making a "buzz" in the parenting community because it is a family movie that portrays a same-sex relationship. While it is not the first family movie that includes same-sex relationships, parents may have had different expectations because it is by Pixar.  

The question on SPV was neutral, what are parents' thoughts?

RELATED: 8 LGBTQ-Friendly Books to Read to Your Child So They Can See Beyond Gender Stereotypes

Jean Cruz, watched the movie with her 12-year-old child and shared their first-hand experience:

"Hello, my kid is 12 years old, she has a good comprehension on gender sensitivity. She watched the film with my encouragement. 

"My expectation after letting her watch the film, she would want to discuss on the gender related scenario that is now a subject of discussion.

'Either you explain to your kid, or the Internet will teach them about it. Malalaman at malalaman nila.'

She continued, "To my surprise, when I asked my kid what can she say about the film, she discussed teamwork, how important it is. She also mentioned perseverance and learning to accept that we make mistakes."

RELATED: Want To Raise A Child Who Can Overcome Failures? Avoid Saying These 5 Phrases

Apparently, her daughter picked up the life lessons of the movie, not the same-sex relationship.

Mommy Jean then asked her child about the scene and her daughter answered, "It is part of the film though it is not the essence of the film."

She concluded, "Kids today when guided about inclusivity, become more discerning that they see beyond genders instead. Our children are able to give emphasis on the values of a character or a film itself.

CONTINUE READING BELOW

Recommended Videos

Are parents ready to shift mindsets?

The "buzz" around the movie can be approached with a different mindset that doesn't zero in on LGBTQIA+ alone, but how parents can guide and educate children about sensitive topics parents may not know how to discuss with kids. 

Topics such as sex, substance abuse, death or suicide, and separation are not easy conversations to have and also not a one-time talk with a child. Rather, it can be a continuous one.

'To my surprise, when I asked my kid what can she say about the film, she discussed teamwork, how important it is.' –Jean Cruz

"Conversations about gender and sexuality change over time, which is why this talk cannot be done only once. A conversation with a 5-year-old will be very different than that with a 15-year-old," advises Children's Hospital of Philadelphia in a 2020 article 'Talking to Kids about Gender and Sexual Orientation'.

Filipino family culture often sets aside sensitive topics because we would rather not talk about anything that is too difficult to explain. Many parents today likely did not receive guidance from their own parents.

Maybe it's high time to shift our mindset as parents.

ADVERTISEMENT - CONTINUE READING BELOW

Parents say their kids learned the value of teamwork after watching Lightyear.

PHOTO FROM 

DISNEY PHILIPPINES

3 lessons from real parents on talking about LGBTQIA with your child

1. Education begins at home, including education on sensitive topics.

Sam Leuterio shared this cold hard truth in the discussion thread in SPV, "Either you explain to your kid, or the internet will teach them about it. Malalaman at malalaman nila."

With the technology our children are growing up with, any information is just a click away. 

RELATED: I Caught My Child Googling Sex Phrases Because Of Online Games! What Should I Do?

Like what Mommy Sam said, if we don't discuss sensitive topics with our children,  know that they will eventually learn it from the Internet and other people. The danger of not discussing difficult topics the kids is that they could develop a twisted or false view. 

Build their knowledge foundation at home—not only ABCs—but also how the world works.

As soon as they can understand, try having discussions about sensitive and difficult topics with the children. Don't push it off, and say, "Let's not talk about it." You're doing more harm than good by avoiding it.

2. Teach kids about tolerance and respect.

Karlyn Rosenberg said, "Not all countries embrace the idea of LGBT, I respect the LGBT community, but I also respect other people's belief and culture. You can believe what you want to believe, and others are allowed to do so as well."

ADVERTISEMENT - CONTINUE READING BELOW

While freely discussing sensitive topics with kids, it must also come with lesson of tolerance and respect. 

Merriam Webster online defines tolerance as "sympathy or indulgence for beliefs or practices differing from or conflicting with one's own". Respect on the other hand is defined as "high or special regard".

Children need to know that not everyone will agree with them and that it's okay.

RELATED: 'All My Children Are Perfect': Miel Pangilinan Comes Out, Sharon and Kiko Respond With Love

Another SPV mommy highlighted the lesson of respect in this issue, Mommy Fritzie said,"Let's respect those 14 countries—they are mostly Muslim/Arab countries like Indonesia, Malaysia where same-sex relationships are not really allowed by the law."

Respect for the law, other cultures, and beliefs should be learned by kids, so they may not grow up showing disrespect or even disdain for others who may differ from them.

The same article reminds, "As parents, you can role-model acceptance of people's differences by what you do and say—and what you don't do or say.

ADVERTISEMENT - CONTINUE READING BELOW

Teaching kids respect and tolerance starts with the parents.

PHOTO FROM 

DISNEY PHILIPPINES

3. Lead kids in loving and caring for others.

The world is already a little cruel lately, and it will be a big difference when kids know how to love and care for others. 

Again, parents can approach this without focusing on LGBTQIA+, but also thinking about people from a different race and color, people with disability, people from different ethnicity, and religion.

"Parents and caregivers, whether they have an LGBTQ child or not, should be aware that children are always listening and paying attention to their caregivers' words and actions, which can positively or negatively influence their child's views on LGBTQ topics," writes Rose Perry PhD and Stephen Braren for The Social Creatures, a US-based not-for-profit organization that supports families.

RELATED: How to Teach Our Kids One of the Most Important Values of Success: Empathy

"As such, it's important to constantly check your own biases, by being mindful of the language you use and how you treat people of different genders and sexual orientations.

We as parents need to lead them in a manner that they can naturally love and care for others, without looking for criteria to be deemed lovable. 

Start showing love in the family, avoid making comments to others that are discriminatory in nature. This lesson must be modeled by the parents and the family's lifestyle, not only taught in words.

Whether you decide to watch the movie with your kids or not, the lessons here are always available to take away.

ADVERTISEMENT - CONTINUE READING BELOW

May we, parents, raise our children to let them go out in the world someday. And hopefully, when they go out, they will only spread love and care for everyone.

What other parents are reading

Celebrate your pregnancy milestones!


Enter your details below and receive weekly email guides on your baby's weight and height in cute illustration of Filipino fruits. PLUS get helpful tips from experts, freebies and more!

You're almost there! Check your inbox.


We sent a verification email. Can't find it? Check your spam, junk, and promotions folder.
Trending in Summit Network