How to Raise Your Kids to Be Brave, According to Someone Who Has Lived in Fear

This woman who inspires to say hello to their fears offers lessons even grown-ups need.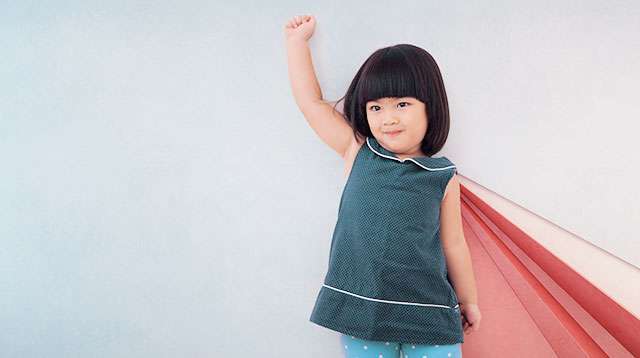 Here at SmartParenting.com.ph, we've always emphasized the importance of teaching your kids grit. As parents, we want them to know the concept of failure and help them get comfortable with the idea so that they can grow up to be confident, brave, and resilient individuals.

Of course, the truth is it goes against your instinct as a parent. You want to protect your child and prevent her from getting hurt or being afraid. Unfortunately, this overprotectiveness may do more harm than good; the "hovering" means they may miss out on essnetial life skills needed to navigate adult life. How? The kids become afraid of failure, so they quit easily without even trying.

Michelle Poler, 29 years old, said she was raised in fear — lots of it — by her parents. It was easy to imagine why. She came from a family of World War II survivors with half of her family killed by Nazis in concentration camps. Michelle also lived in Venezuela, which is one of the most dangerous countries in the world. It was easy to imagine why her parents might have insisted a sheltered life.

What other parents are reading

The kids become afraid of failure, so they quit easily without even trying.

It was when Michelle moved to New York in the United States to pursue a Master's degree that she realized fear dictated what she did in her life — she was crippled by it. So when her class was asked to start a 100-day project of their choice, Michelle chose to do the project that will eventually launch her career as a motivational speaker.

In 2015, Michelle began her school project, which she called "#100DaysWithoutFear." The mission was simple: Conquer one fear a day for 100 hundred days and post it daily on YouTube.

ADVERTISEMENT - CONTINUE READING BELOW



Her set of "fears" ranged in scope. She held a cat for the first time, went an entire day without her cell phone, and had a Brazilian wax. She also held a tarantula, went skydiving, posed nude for a drawing class, and accepted random hugs from strangers in Times Square in New York, United States. For her last challenge, she faced her fear of public speaking by participating in a TEDx talk in Houston.

Before long, the woman who lived in fear was speaking in public forums and was getting invited by schools and organizations all over the world to tell her story. Michelle also launched a website, Hello Fears, where people around the world share their stories of courage. Most recently, she empowered hundreds of young students from Miriam College in the Philippines through an inspirational talk as part of the school's "Girls Be Brave!"  campaign.

What other parents are reading

In a 45-minute talk, Michelle made a distinction between fearlessness and bravery. She says her experience showed her that there is no such thing as fearless — there is only bravery. Each time you step out of your comfort zone, that's bravery, and it's a process that teaches your kids resilience. Here are five more lessons we learned from Michelle's story:

1. The biggest challenge our kids face is when they become comfortable with fear.
Michelle classifies fears in three categories: universal, cultural, and personal. Universal fears are associated with feelings of being endangered, pain, and disgust and most of these are developed when you're asked to do something for the first time, like eating oysters or petting animals.

Fears that are related to embarrassment and rejection fall under cultural fears, which are directly influenced by society. Personal fears, on the other hand, are closely related to our self-esteem.

"In order to feel good about ourselves, we limit our growth. We hold ourselves back from taking risks because we know that failing is a possibility and we don't want to be held accountable for that," Michelle explains. "What I learned [through my journey] is that the enemy that affects us is not failure — it's comfort. It's what keeps us from raising our hands to suggest the next big idea,  it convinces us to stay with partners and friends we no longer love, and in places, we can't get much out of."

ADVERTISEMENT - CONTINUE READING BELOW

Recommended Videos

"The enemy that affects us is not failure — it's comfort. It's what keeps us from raising our hands to suggest the next big idea."

Most kids who are limited by fear ask the question, "What's the worst that can happen?" They predict the consequences in their heads, and if they feel that they are doomed to fail, chances are they'll no longer pursue it. 

Michelle urges us to switch the question. "Start asking yourself, 'What's the best that can happen?'" That's when you'll see the possibilities that can happen when you conquer the fear.

What other parents are reading

2. Show our kids how to embrace that fear.
Because her parents raised her in fear, Michelle had to discover how to conquer fears on her own. She hopes that parents can help acknowledge the fears that their children experience and help them face it instead of running away.

"When I was your age, I thought that when I feel fear it's a sign for me to back down, say 'no,' and walk away," she tells Smart Parenting. "But it's actually the opposite. When you feel fear, you have to convince yourself that now is the opportunity to discover something new, to try it and create an experience. I wish someone would have told me that when I was younger."

3. To help your kids face fear, parents, we need to be brave. 
While Michelle has been conquering her own set of fears to inspire others, she still acknowledges that having fears is healthy to a certain degree. "It's important to teach fear to kids so that they don't do crazy things that can harm them or they'll regret in the future. But I feel that the best way for kids to overcome their own fears is for them to see their parents be brave," she says. 

ADVERTISEMENT - CONTINUE READING BELOW

Kids look up to their parents. They want to emulate you, so seeing you conquer your fears is an inspiration. "Say 'Yes, I'm afraid, but I'm still going to do it,'" she explains.

What other parents are reading

4. Parents should learn to stop saying 'no' when you are afraid for your kids.  
"My mom is so fearful that she didn't want me to do this project. When I told her that I wanted to face 100 fears, her immediate response was 'NO.' It's her fear talking — what if something happened to me? In that moment, I had to step up and tell her that this is my life and at this moment, I want to become a brave person even though she doesn't support it," she shares.

Of course, one can argue that Michelle was already 27 years old when she decided to take on the project. But what her story tells us is we should support our kids, and let them discover how to be brave. That means letting go and letting them do things on their own, even if we're sometimes scared of what will happen.

"When I told my mom that I wanted to face 100 fears, her immediate response was 'NO.' It's her fear talking."

"After I finished with my 100th fear (doing public speaking for TEDx in Houston), they came to see me and they were so proud that I was changing lives, telling me that I became a better person," Michelle says.

5. Trust that your child grows stronger with every fear that she conquers.
In her talk, Michelle discusses that being comfortable and making "safe" decisions impedes growth.

"Life will always give us choices — some will take us back into comfort, others will challenge us and take us forward into growth," she says. "The 'growth choice' will probably be the scarier one.

ADVERTISEMENT - CONTINUE READING BELOW

"If you're thinking about your next move and you feel the fear, you are probably on the right path."

Watch Michelle Poler's 100 Days Without Fear project here.

What other parents are reading

Celebrate your pregnancy milestones!


Enter your details below and receive weekly email guides on your baby's weight and height in cute illustration of Filipino fruits. PLUS get helpful tips from experts, freebies and more!

You're almost there! Check your inbox.


We sent a verification email. Can't find it? Check your spam, junk, and promotions folder.

Trending in Summit Network