Noticing Your Child's 'Bad' Behavior? Check How You Talk To Him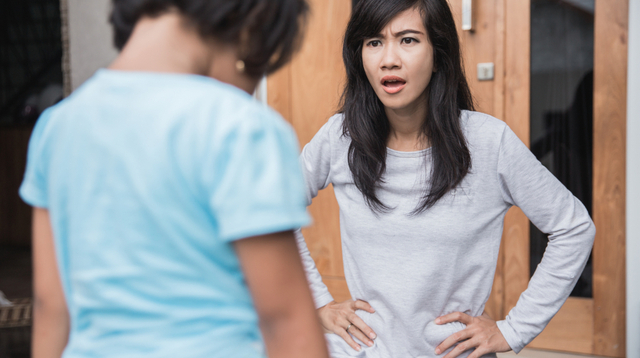 New parents have been told to watch out for the "terrible twos" and "threenager" stages, where their little angels suddenly become rude and defiant. This is all part of normal child development, but if you find that they continue to refuse to listen or not do as they are told, it might be time to evaluate how you are talking to them.

How negative language affects a child's behavior

Experts have said that the use of negative words as a form of discipline is not only ineffective, but it will  stay with your child as they grow. Blaming and shaming them using words like "madamot," "tamad," and pangit," hurts and they will believe it because it comes from you, their parent.

"Calling a kid 'selfish,' or implying there is something wrong with her is harmful," said clinical psychologist Melanie Greenberg, Ph.D., in an article for Psychology Today. "Kids internalize these negative labels and begin to see themselves as 'not good enough.'"

Research published in the journal Child Development found that adolescents who experienced harsh verbal discipline from their parents were more likely to foster anger, be irritable, show signs of depression and misbehave in school. The discipline strategy was also ineffective at changing the children's behavior problems.

Another study published in the Journal of the American Academy of Child & Adolescent Psychiatry showed that children who grew up with a lack of affection or warmth from their parents were more likely to show aggressive behavior.

Get your child to listen with positive phrases

ADVERTISEMENT - CONTINUE READING BELOW

Do you notice that your child becomes more stubborn and refuses to listen when you raise your voice? That's because yelling can trigger your child's fight-or-flight mode.

Toddlers have an underdeveloped prefrontal cortex, which is responsible for making choices between conflicting thoughts, as well as suppressing emotional or physical urges. So, when parents yell at their kids, their body interprets their resulting fear as danger.

"The kid releases biochemicals that say fight, flight, or freeze. They may hit you. They may run away. Or they freeze and look like a deer in headlights.

"None of those are good for brain formation," says Dr. Laura Markham, a child psychologist and parenting expert to Fatherly.

The next time your child misbehaves, pause and frame a gentle, disciplinary response. They will be more open-minded and likely to engage. Here are a few examples:

Say, "walk please," instead of "don't run."
Say "hands to yourself," instead of "stop pushing your sister."
Say "I know you want to talk to me. Please wait a moment," instead of "do not interrupt me."
Say, "Use your quiet voice, please," instead of "stop yelling!"
Say, "I can see you are not yet ready to share your toys," instead of "do not be selfish."
Say, "Take a deep breath and look at mommy so we can work through it together," instead of "calm down."
Say, "Would you like to help, mommy," instead of "you are so lazy."
Say, "If you really like that toy, maybe you can save up for it," instead of "You don't need it. I won't buy it."
Say, "I can see this is hard for you. Let's work together," instead of "stop crying!"

ADVERTISEMENT - CONTINUE READING BELOW

Recommended Videos

Using positive phrases not only reinforces good behavior, but it also communicates clearly the rules, expectations, and limits that you have set for your child.

The aim is to foster a child's independence and communication skills and hone her ability to get along with others, manage her feelings, problem solve, and take responsibility for her behavior. It also lets her have more confidence and feel competent when it comes to handling challenging situations.

Of course, no parent is perfect. At some point, you will find yourself shouting at your child (even if you don't mean it).

Becoming more mindful and taking the time to reflect on your own actions can help you from being frustrated and feeling like a mean mom all the time. Remember: keep calm and discipline with compassion — it's good for you and your kids!

Why does your child's behavior — including tantrums and meltdowns — trigger you so much? Click here for some of the reasons and how you can feel more in control.

What other parents are reading

Celebrate your pregnancy milestones!


Enter your details below and receive weekly email guides on your baby's weight and height in cute illustration of Filipino fruits. PLUS get helpful tips from experts, freebies and more!

You're almost there! Check your inbox.


We sent a verification email. Can't find it? Check your spam, junk, and promotions folder.

Trending in Summit Network