The Essential Do's and Don'ts of Potty Training Your Toddler

Moms share their cool tricks for a stress-free potty training with your toddler.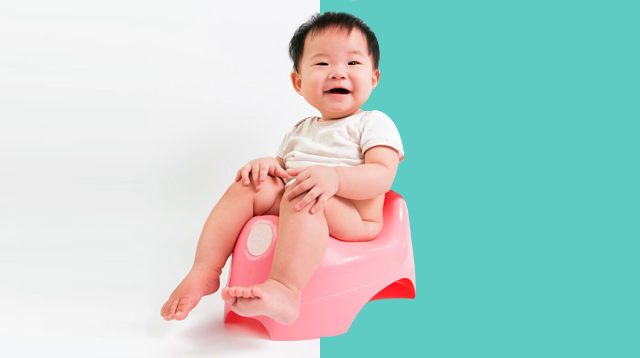 Ditching diapers, whether cloth reusable ones or disposable nappies, is a milestone many parents want to achieve by their child's third birthday. Some parents start their potty training earlier than their child's first birthday. (Read here and here how early they started and how they did it successfully.)

Remeber, however, that every child hits the milestone at his own pace, and it's best to start when your tot is ready for potty training. Usually, at around age 2, you tot's bowel movements are predictable and is showing interest in the potty. Here are more signs that show your toddler is ready:

He shows curiosity about the toilet.
He's curious about his bodily functions, too.
He might also start to prefer pull-ups or underwear.
His diaper is less full or stays dry for several hours.
He is uncomfortable with wet or soiled diapers and wants to change immediately.
He can understand and follow directions.
He can communicate his needs.

When you see all these signs present in your child, then it's time to begin. It's not as easy as 1-2-3, obviously. Potty training may take some time; your child isn't going to get it in his system overnight. To help parents here is a list of some do's and don'ts:

DO Focus on our child

Remove all distractions, stressed Lora Jensen author of 3 Day Potty Training. (Read more about Jensen's tips here.) Get your errands done, meals cooked, and get everything else non-potty related over and done with. Then, get ready to get cooped up at home to help your child learn when and how to use the potty. Focus on helping your child recognize his body's cues on when he needs to go potty.

ADVERTISEMENT - CONTINUE READING BELOW

DO explain what's happening to their body

Reading stories about potty training helps, but try to do this before or after your child sits on the potty and not while he's on it. Some parents use books to help their child sit on the toilet seat long enough to "go," as some experts suggest, and that's okay. However, try to wean your child off this habit as it may distract him from learning to recognize what's happening to his body especially when pooping.

Jamie Glowacki, author of Oh Crap! Potty Training, shares in her YouTube video "The Playdough Trick." It's a visual teaching tool to show kids what's happening to their bodies when they poo. It works great for kids who may be afraid to go poop or for kids who poop in their pants because they're too late to go to the potty.

Place some clay on your hand and form a fist. The small opening created when your fingers are held close by your thumb is an accurate representation of the anus where poop comes out. Gently squeeze out clay from that small opening. You can use that as a visual to teach your child when to go to the potty (before any clay gets squeezed out!)

DO provide child-size tools

Whether you choose to get a child-size potty or combination of a chair or stool and a child-size potty toilet seat, it ensures that your little one can go potty on his own eventually. A child-size potty should ideally be placed in the bathroom, so your child learns to go there when he needs to pee or poo.

CONTINUE READING BELOW

Recommended Videos

Here's a neat tip: line the potty with coffee filter or newspaper to make clean-ups easier. Make sure the stool is sturdy enough for your tot to use on his own without slipping or tumbling.

Don't forget to also provide child-friendly tools for your child to be able to wash himself properly. Make sure your child can reach them while sitting on his potty or toilet. Many parents forget to teach their tots how to wash up after peeing or pooping, so the little one ends up calling for an adult to wash up. Oh, and try to make washing up fun, too — it's can be easy for them to learn it that way.

DON'T ask "Do you want to go potty?"

Toddlers are all about exploring their boundaries, testing their limits, and asserting their independence. In short, they sometimes want to do the opposite of what you ask. Don't forget there's a difference between asking them to go potty versus reminding them about going to the potty. The latter option lets them feel that they're still in control of their own body.

So, instead of asking a question, make it a statement, Glowacki tells Good Housekeeping. "Come on, let's go potty" or, "I think you need to go potty" are good examples of how to encourage your tot to use the potty without really asking them to do so. Giving your tot a choice ("Would you like to go potty first or should I ") is also good. Posing a challenge ("I wonder if you can go potty by yourself now?") is even better.

ADVERTISEMENT - CONTINUE READING BELOW

DON'T let your tot use a diaper or even offer to use one

This is why it's crucial to start potty training only when your child is developmentally ready for it. Because once you hop on that potty training, well, train, there's no going back. It may be messy, but consistency is more crucial to successfully potty training your toddler at the shortest possible time.

Both Jensen and Glowacki agree. If your child has shown signs that he's ready for it but is still asking for nappies, then you have to address the issue. "They have some fear and anxiety, and they don't know what to do. You need to work through that," Glowacki explained.

DON'T bribe your child to use the potty all the time

Rewarding your child for a successful trip to the potty can help motivate and encourage them to do so every time they need to go, but note that there are many other ways to do that. Try this catchy song, for starters. Mom Stacia Wright the posted this ditty in the midst of potty training her 2-year-old, and it understandably went viral. Warning: It's hard to get the song out of your head.

Put up a real progress chart you can post on the bathroom door. This way, you can reward your child for his efforts and improvements in his potty training skills. It can also help him understand that the end goal is not to get candy but to use the potty correctly and timely.

ADVERTISEMENT - CONTINUE READING BELOW

Potty training can be challenging, and patience is key. But you don't force it when your child isn't ready. If your child is ready, then toilet training can be pretty easy-breezy. 

What other parents are reading

Celebrate your pregnancy milestones!


Enter your details below and receive weekly email guides on your baby's weight and height in cute illustration of Filipino fruits. PLUS get helpful tips from experts, freebies and more!

You're almost there! Check your inbox.


We sent a verification email. Can't find it? Check your spam, junk, and promotions folder.

Trending in Summit Network