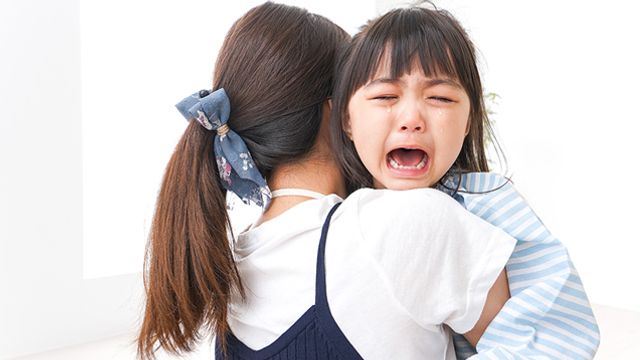 There is no escape from tantrums from a 2- or 3-year- old, which can be caused by a myriad of reasons including some that may be just plain weird or funny. Tantrums can be incredibly difficult to deal with calmly and mindfully.
In an article for Greater Good magazine, clinical psychologist Rebecca Schrag Hershberg, who is the author of The Tantrum Survival Guide, emphasizes the importance of being calm even when your child isn't.
"[T]he way you respond to your child's tantrum behavior is critically important and can have a big impact on both how long a tantrum lasts and how bad it gets," Hershberg explains. "The more you are able to keep your cool during your little one's emotional outburst, the more likely it will pass relatively quickly and painlessly."
How to stay calm and composed while your toddler is throwing a fit
Find your feet
Chances are, you're feeling quite stressed when your child is having tantrums. Are you calm? Most likely not. Or are you just as agitated as your child? Probably yes.
For a few seconds, close your eyes and take some deep breaths. You might even want to make use of some simple mindfulness techniques that can help you become more grounded and be aware of your surroundings.
One technique you can use is "finding your feet," which involves just focusing on the sensation of your feet pressing against the ground or your toes wiggling inside your shoes. After this, redirect your attention back to your child. Hopefully, you feel less tense than a few seconds to handle the situation.
Walk away if you need to
According to HealthyChildren.org, providing kids with distractions — such as moving to a new room, singing a silly song, or taking a walk — when they are throwing tantrums can help you both calm down. If it enables you to rein in your frustration, you can leave the room until your child stops crying.
If you don't feel comfortable leaving your child by himself, you may also decide to just stay close by, but occupy yourself with another task and try not to give your child any attention until he calms down completely. Parents writes, if your child sees that his tantrum is not affecting you in any way, this may give him the signal he needs to stop.
Give him a hug
It might seem strange to give your child a hug when he is throwing a fit. You might also consider it unthinkable since you feel frustrated yourself. However, hugging your child while he is having a tantrum can help him calm down.
In an article for Motherly, clinical psychologist Dr. Azine Graff explains, "When offering a hug or verbal reassurance to calm your child, you are not automatically reinforcing their behavior. You are actually helping them calm down so that they can hear you better."
The action of hugging triggers a hormone in the body called oxytocin, which helps regulate the emotions and can, therefore, ease your little one's stress. It can help calm you down as well.
But before wrapping your child in a comforting embrace, make sure that it is really what he needs at that moment. If your child is feeling very agitated, he might consider a touch from you intrusive, therefore making the action counterproductive. And you need to be calm yourself when you hug him, or you might just end up making him feel more stressed.
Be prepared
Take notice of the patterns to your toddler's tantrums: what time of day he starts getting cranky, what makes him lose his temper, Having that kind of knowledge, it will become more comfortable for you to make the necessary adjustments, so that the next time your child loses his cool, you know what to do.
For example, if your little one tends to become cranky when he is hungry, don't forget to put (healthy) snacks inside your bag before leaving the house. If your child becomes stressed out by unexpected changes in plans, consider informing him in advance so that he is aware of what to anticipate.
Reflect and accept
Whether we like it or not, tantrums are a natural part of a child's development. It allows kids to learn how to regulate and express their emotions, which then gives way for their brain to form the necessary cell connections that will help them handle stress later on in life.
Accepting that your child's tantrums are typical of his development and even desirable is another step towards managing them well. You won't be able to control how you respond to them all the time, and that's okay. Consider it a valuable learning opportunity for next time!