How Do You Do Toilet Training Without The Stress? We Ask Tips From Preschool Teachers

Nursery and preschool kids have some great advice you can use at home.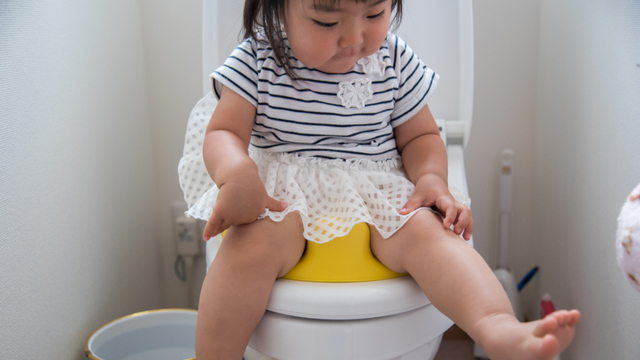 One of the significant milestones teachers witnesses in preschool is toilet training. Many parents would stress over their kids going to potty when there were face-to-face classes.

We teachers always try to give reassurance and a bit of advice. Here are tried and tested tips based on our experience.

How do you start toilet training

It's easier to start toilet training when your child is ready, and that can be seen in the way he acts.

Teacher Sharon Baritugo, a long-time pre-nursery level teacher, noted of her own children, "I waited until they seemed ready to use the potty. They would find it uncomfortable already putting on their nappy, or they would even say they didn't want to wear it anymore."

Other children indicate their potty readiness verbally. Teacher Jing Suarez, a senior nursery teacher and occupational therapist, shares about her son, "Cid just said he didn't want to wear diapers one day, and there was no turning back from then on. No accidents, too, even at night time."

How to get your kid to tell tell you when they need to go potty

Children need to know how they can easily communicate needing to go to the potty. Help your child establish ways that he can use to let you know when he needs to go.

Simple words like "poo-poo" or "wee-wee" can be said by most young children. Some children, however, use hand signals, like touching their stomach, tapping on their diaper, or tugging an adult's hand.

ADVERTISEMENT - CONTINUE READING BELOW

Teacher Erika Subang, a Kinder level teacher, found that talking to students naturally and matter-of-factly made it easy.

"I made sure to ask my students if they need to go potty, and I also made sure that they were comfortable enough to tell me if they need to go."

Sometimes they get so busy playing or working that a simple question or reminder makes all the difference.

Teacher Erika adds that it's not only words that let us know but also behavior and facial expressions. "I also try to be aware of each child and see if they are holding it in or not."

Over the years, we've noticed how parents, teachers, and yayas get really good at sensing when a child is about to poop. There's a split second when the child is really quiet and when their eyes sort of squint or tear up. Then it's a mad rush to the potty in the nick of time.

Let kuya or ate help with the potty training

When I potty trained my younger child, it seemed almost seamless. This probably was because she had often seen her older brother using the potty.

And little kids love wanting to be like their bigger siblings. Showing them how to use the potty, going over it step-by-step, and explaining how flushing works make it less stressful for your child.

Make going to toilet "easy"

When my children were potty training at home, I put them on training pants (thick undies). They would waddle around the house in their sandos and underpants, so when they had to go to the potty, it was so easy for them to pull down their underwear.

CONTINUE READING BELOW

Recommended Videos

Before at school, students had been more confident when they could undress. Belts, buckles, zippers are sometimes tricky for them, and usually, by the time it takes them (or their teachers) to get these undone, it's too late. So comfortable and easy to remove garments are the best during this period.

It's not just the clothes but the potty as well. If you have a potty that is easy to reach, then it makes it more inviting. Teacher Sharon says, "I just set out their potty in the toilet and let them use it when they felt ready to."

In our school, we have a urinal in the bathroom that is very low, and the little boys are very comfortable using it.

Get some assistance from children's books 

Teacher Sharon shares, "Books help a lot, too." When children can read about characters going through the same experiences, it builds their confidence.

Sometimes the books don't even have to teach them how to go but open up discussions on noticing when their bodies tell them it's time to go.

In my Kinder class, I would often read Terry Toots by Francesco Pittau. It's a story about an elephant that farts a lot! My students would laugh to the point they were rolling on the mat. But afterward, we would talk about farting, tummy aches, needing to poop, and even feelings of embarrassment.

How to respond appropriately during toilet training 

When you potty train, accidents will happen, both at home and outside. Words of encouragement are effective when a child makes potty mistakes. Getting mad or frustrated leads to potty-anxiety only. Shouting, getting angry, or punishing a child for accidents will simply add to the stress.

ADVERTISEMENT - CONTINUE READING BELOW

Focus on the positive experiences

When a child is successful at using the potty, words of praise work well. Some parents work out a reward system where the child collects stickers in a chart that leads to a treat at the end of the week.

Plan a routine

Having a routine helps you and your child work together. Some parents automatically take their children to the potty 30 minutes after a meal. A schedule also helps your child feel a sense of self-control and predictability.

"I remember my daughter always wanted to wear diapers when she slept because she was scared to have an accident at night." Teacher Erika recalls.

"Before going to bed, I made sure she would use the toilet. Then, I'd set my alarm to go off at around 12 midnight, so I could carry her to the toilet. In the morning, as soon as she woke up I brought her right away to pee. We did this until she was able to do it on her own."

Get the rest of the household involved

When you start toilet training, all the adults that help care for your child must be on the same page. They know the words, gestures, or expressions to look for, respond appropriately, and get an idea more or less what to expect.

Teacher Jing shared, "In our nursery class, parents bring them to the bathroom before going to class. Usually, thereafter, teachers ask or bring children every so often to the bathroom."

ADVERTISEMENT - CONTINUE READING BELOW

When we have foreign students, we ask their parents to write down their child's words to indicate toileting needs. It's crucial that all children feel their needs are understood by the adults they rely on.

Relax and be patient

Your child will eventually learn how to use the potty. Toilet learning age and how long it will take is not an exact science. While some are ready at 18 months, others start at 3 years old, while special needs children may start later at 4 or 5 years of age. However, most children are fully potty trained (even during nighttime) by 5 or 6 years.

Now that children are stuck at home, toilet training should be a little bit easier. You have less to worry about having pot-cidents while in the car or in a social gathering.

Don't forget doing the potty on his own is another milestone for your child. Even though children will not remember how they were potty trained, their lifelong bathroom habits and personal hygiene will depend on how much support and guidance you give during this time.

Barbara Server-Veloso is known as Teacher Thumby in her preschool, Toddlers Unlimited, and Ms. Thumby in her grade school, Thinkers Unlimited, Alabang. She is also a partner in Spark Discovery Center in Jupiter Street, Makati, where she teaches the Baby and Me Class. Teacher Thumby has a Master's degree from the University of the Philippines in Family Life and Child Development. She has been teaching since 1993. She is also the mother of Lucas and Verena.

ADVERTISEMENT - CONTINUE READING BELOW

What other parents are reading

Celebrate your pregnancy milestones!


Enter your details below and receive weekly email guides on your baby's weight and height in cute illustration of Filipino fruits. PLUS get helpful tips from experts, freebies and more!

You're almost there! Check your inbox.


We sent a verification email. Can't find it? Check your spam, junk, and promotions folder.

Trending in Summit Network