'Sabi Ng Husband Ko, Masyado Ko Daw Na-Baby Ang 11 Y.O. Namin: Paano Ituro Ang Independence?

Her daughter expressed sadness over long hours back in F2F classes and feelings of being left out by her classmates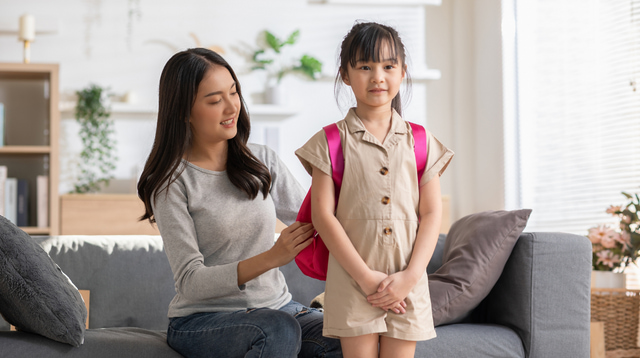 Parents, especially mothers, have a tendency to "baby" their children, even beyond the baby years.We can't help it - it's in our nature to look after them to check if they already ate, if they're sleeping well, if they're hurt or sick.

No matter how old they are.However, there is a silent tug about the right time to stop treating our children as babies. Eventually, we need to let them go out into the world and let them experience it firsthand.

A discussion was made in Smart Parenting Village after an anonymous mom shared her struggle:

PHOTO BY FACEBOOK /SMARTPARENTINGVILLAGE

With the return of face-to-face (F2F) classes, her daughter expressed her concern about her 8AM-4PM daily school schedule. She was hesitant because she's only experienced half-day classes pre-pandemic and about two to three hours of online class during the last two years.

Aside from this, the anonymous mom concluded that part of her daughter's hesitation is that she feels out of place with her classmates. As she described, most of her classmates are "parang dalaga na", and already discuss crushes, use some curse words, and subtle green jokes in their group chat, while her daughter enjoys drawing, arts, crafts and playing.

ADVERTISEMENT - CONTINUE READING BELOW

Anonymous mom felt that she treated her like a "baby" for so long which may be why she didn't grow up to be a dalaga.

Her husband is partly blaming her for this and she is torn about their situation.

On tween independence and maturity

Parents from Smart Parenting Village were quick to comfort her and share their thoughts. As of this writing the post already received 47 comments.

Here's what we picked up from the discussion:

4 lessons we're learning on tween independence 

1. Expressing emotions is not "being a baby".

In the anonymous mom's post, she pointed out that her daughter cried hard, "Umiiyak anak ko sakin dahil ayaw niya pumasok ng ganung katagal sa school." Which her husband quickly labeled as "being a baby".

Jai Dela Cruz Noriega, one of the SPV moms who joined the discussion, pointed out an important aspect of the story, "Let her cry and tell you her fears. Maganda nga na okay ang relationship niyo as mother and daughter. You can speak to her, comfort, guide, and encourage her."

She reminded the anonymous mom, and all of us who read the discussion, that if a child came to her parents crying, expressing something that pains her heart, it's not "being a baby". It only means that the child is expressing her emotions, and she grew up knowing that her mother is a safe space from whom she will receive no judgment. And that is one great accomplishment for a parent.

ADVERTISEMENT - CONTINUE READING BELOW

Recommended Videos

RELATED: Let Him Feel His Feelings: 4 Reasons Why Boys Should Learn To Express Their Emotions

In a previous Smart Parenting article, parents are reminded that children may face anxiety about returning to F2F classes after being together with their family for two straight years. It is similar to adults who face anxiety when their office calls for a "return to office" program.

It is understandable that children will miss being with their home and family. Being dismissive of their feelings communicate to a child that how they feel is not important to their parents. Instead, validate their feelings and allow them to express it.

To read more tips on helping your child adjust to F2F classes, read this story.

2. Negative peer pressure is negative.

Maria Ana Elopre Capaciete, another mom in the discussion pointed this out, "If talking about crushes, nagmumura and green jokes makes them dalaga, then it's okay not to be 'dalaga'."She continued and said an important reminder, "Not because everyone is doing it, you will do it also. Kasi you need to do the right thing. If she chose to do the right thing more than her peers, then she is not a baby. Napalaki mo siya ng maayos."

Even when we, parents, were in grade school or high school, negative peer pressure has always been present. We know the feeling of not belonging if we don't do the things cool kids do. What more in these highly technological times, when our children's generation is a lot different than ours.

ADVERTISEMENT - CONTINUE READING BELOW

Mamay Jane Badiola added, "Walang mali dun, mommy. Tama lang yung behavior niya sa age niya. Ang ibang bata kasi nagmamadali lumaki."Whenever there is pressure to do something we are not comfortable with, that is negative peer pressure. It is good if the child immediately recognized she doesn't want to do those things.

RELATED: Gaya-Gaya Sa Kaklase? Teach Your Child To Handle Peer Pressure Well

3. Independence without compromise.

A large part of a parent's job is to lead children towards independence.

We teach them how to walk on their own, how to speak, and how to eat by themselves. And as they grow old, it's only natural and appropriate that they do things independently.But being independent does not mean swaying away from the values you taught them.

Chin Zabat De Vera shared, "Hindi po porket hindi nakakarelate ang anak mo sa jokes ng iba ay "baby" na siya. Hindi healthy sa 11 years old ang nagmumura or nag-green jokes na. For me, bata pa rin yung ganyang edad." She mentioned that instead, we can always teach our kids independence, "Turuan mo lang na maging independent ang LO mo without compromising the values."T

rue independence is when our child recognizes wrong versus right, even without our guidance.

The term overparenting is used when parents with good intentions over-assist their children in their own responsibilities like their homework, says an article in CNBC published on April 28, 2022 on overparenting.

Another is when a parent is overly responsive to the child and the child is unable to take constructive criticism or regular need reassurance or praise.When parents assess whether they are "babying" a child too much or not, these markers of overparenting might be a good place to start.

ADVERTISEMENT - CONTINUE READING BELOW

RELATED: How To Encourage Independence + Clear Signs Your Child Is Learning It

4. Every child has their own pace.

Though it is very tempting to check our child's every milestone based on their peers or kids' friends, the reality is every child is different. Every child has their own pace, and even we as parents don't know how they will unfold.

"Iba-iba naman ang maturity ng mga bata. Hayaan ko siguro ang anak ko kung ano talaga ang personality niya, hindi dahil sa peer pressure. Hindi kailangan ng mga kids makipagsabayan sa ka-age nila. Let her be," Zalby Almoradie-Gianan added in the discussion.

A previous Smart Parenting article says comparing kids to other children can be damaging to them. "Constantly measuring your child against her peers is harmful to her self-esteem," says the article. It communicates to the child that they are not enough.

Another idea for parents to think about was shared by another mom, Dea Neil Abarquez, "Celebrate who your child is. Mas maganda na mag-grow siya according sa kanyang own pace. Maybe that's also how she wants to grow or mapalaki. She enjoyed it. And so kung yung ibang bata hindi katulad nya? She is unique and loved in her age."

We need to learn how to trust our child's pace, too.

And as a final reminder for all, Jelyn C. shared a different opinion from the the discussion, "I prepare my LO to be able to survive the outside world. Bakit? Kasi we will not be around always. Avoiding the ugliness of the world won't make them a stronger person."

ADVERTISEMENT - CONTINUE READING BELOW

While it is true that in our hearts, our children are our forever babies, parents also need to prepare them to face realities like negative peer pressure and bad influence once they are ready.

 Maturity and independence in children is not seen in adult-like behavior, rather it is in taking responsibility and being able to be confident in oneself.

RELATED STORIES: 

Celebrate your pregnancy milestones!


Enter your details below and receive weekly email guides on your baby's weight and height in cute illustration of Filipino fruits. PLUS get helpful tips from experts, freebies and more!

You're almost there! Check your inbox.


We sent a verification email. Can't find it? Check your spam, junk, and promotions folder.

Trending in Summit Network