5 Ways To Pump Milk Effectively So Baby Can Continue To Feed (Even When You're Away!)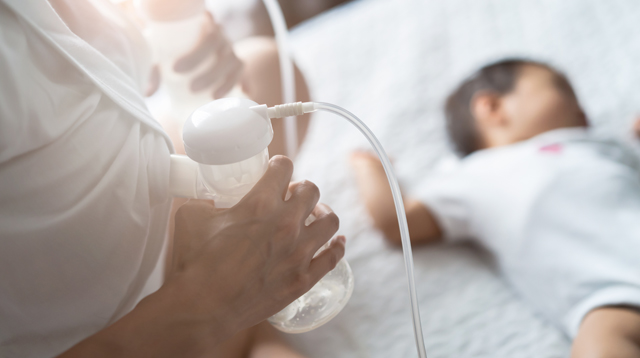 There are various reasons why a mom cannot perform direct breastfeeding.

Your baby may have been born premature or needs to stay in the NICU for the first few days; your baby may have anatomical issues that make latching or sucking difficult; you may have had a multiple birth; or you may have had postpartum complications and have to be hospitalized for a few days. There are also times when you need to be away from your baby due to work and other circumstances.

How do I get the best results from breast pumping?

One option moms have is to start pumping breast milk. It's especially helpful when moms can't help but be away from their babies — it's a way for them to continue on their breastfeeding journey. After all, the many benefits of breast milk for your baby are worth fighting for.

Here are a few tips and tricks to help you get started so you can get the most out of your pumping.

Choose an appropriate pump

You can express breast milk with a manual or electric pump. But if you plan to pump for an extended time, a double electric breast pump can save you time and effort. A hospital grade pump can also be advantageous since it is more durable and designed for frequent use.

When choosing a pump, make sure to get one with flanges that fit your breast. Here's a simple guide from babymama.ph:

Compare the size of the nipple tip to a coin. If your nipple tip is smaller or the same size as a 25-centavo coin, get a 24mm flange. If it is larger, get a 28mm flange. If it is larger than a 1-peso coin, get a 32mm flange.

ADVERTISEMENT - CONTINUE READING BELOW

Start by collecting colostrum

Colostrum is produced by a woman's body while she's pregnant and it is expressed through the breast as soon as the placenta detaches from the uterine wall, according to LATCH Los Banos lactation coach Armi Anastacio Baticados, in a previous Smartparenting.com.ph article.

It would be best to express colostrum as soon as you are able to give birth. According to What To Expect, it is usually easier to get colostrum by hand expression. Some moms say a Haakaa pump also works well.

Start by pumping for about 5 minutes on each breast then put the harvested colostrum in a clean, dry covered cup or a sterile syringe. Repeat the process every two to three hours.

Colostrum collected at different times on the same day may be stored in the same cup or syringe. Offer colostrum to the baby using a syringe or a dropper (some baby care kits come with these).

Like regular breast milk, freshly expressed colostrum can be kept at room temperature up to 4 hours or in the coolest part of the fridge (inside, away from the door) for several days.

Keep in mind, however, that colostrum is often thick in consistency and a mom will only make it in small amounts. Sometimes only as droplets!

Support growth spurts by cluster pumping

According to What To Expect, babies experience growth spurts between 1 and 3 weeks, between 6 and 8 weeks, and then in the third month, sixth month and ninth month.

ADVERTISEMENT - CONTINUE READING BELOW

Recommended Videos

During these short, intense periods of growth, your baby will need extra nourishment and will probably want to eat more often than usual. Your little one may demand to be fed every hour or even more frequently, especially in the evening.

It's a good idea to increase your milk supply and keep up with your baby's needs as these growth spurts happen. You can do this by cluster pumping.

Cluster pumping mimics your baby's frequent feeding during these growth spurts and tells your body to make more milk. This is done by pumping for 5 to 10 minutes every 30 minutes over a 3-hour period.

Below is an example of a cluster pumping schedule from spectra-baby.com.au. This schedule can replace 2 regular pumping sessions. Repeat this cycle for 3 to 5 days to increase your milk supply. 

6:00am: express for 10 minutes
6:30am: express for 10 minutes
7:00am: express for 5 minutes
7:30am: express for 5 minutes
8:00am: express for 10 minutes
8:30am: express for 5 minutes
9:00am: express for 5 minutes

How long should I pump for?

Starting on day 2 postpartum, you can already express milk 8 to 10 times in 24 hours, for 5 to 10 minutes each session. Do expect pumping to be uncomfortable or even painful the first few times.

You may want to apply coconut oil or any food-grade lubricant to your nipples or the tunnels of your flange to get more comfortable. Go ahead and try the different suction modes and strengths available on your pump and see what works and feels comfortable for you.

ADVERTISEMENT - CONTINUE READING BELOW

During the first few weeks, it is important to establish a pumping routine. Even if little or no milk comes out, continue pumping for about 15 minutes each session to signal your body to produce milk. You may opt to start taking galactagogues or milk boosters at this point but do note that supplements could only help your milk supply if you are regularly pumping.

The following are sample pumping schedules depending on baby's age from Healthline.com:

Newborn: 5 a.m., 7 a.m., 9 a.m., 11 a.m., 1 p.m., 3 p.m., 5 p.m., 7 p.m., and 12 a.m. or pump as often as the baby would eat
3 months: 6 a.m., 10 a.m., 2 p.m., 8 p.m., and 11 p.m.
6 months: 6 a.m., 10 a.m., 2 p.m., and 10 p.m.
Pumping for twins: pump every two hours using a double-electric breast pump for the first three months, then pump every three or four hours

Remember that you are free to try any schedule that works for you until you are able to produce your baby's full daily milk supply, which according to What To Expect, typically ranges from 25 to 35 ounces per day.

Other tips and tricks for more productive and comfortable pumping

If possible, do skin to skin or kangaroo care to foster closeness with your baby, help his development and growth, and stimulate milk production. If your baby is hospitalized, ask the medical staff if you can do this. If your baby is home with you, cuddle your baby a lot and hold him while pumping if you can.

ADVERTISEMENT - CONTINUE READING BELOW

You can also try power pumping for 2 or 3 days to increase milk production. This is done by pumping for short periods within an hour. For example:

6:00am: pump for 20 minutes
6:20am: rest for 10 minutes
6:30am: pump for 10 minutes
6:40am: rest for 10 minutes
6:50am: pump for 10 minutes

Another technique you could try during your regular pumping schedule is to continue pumping for 5 to 10 more minutes after the last drop of milk.

Moms who have been successful at pumping say going handsfree helps a lot. Hands-free pumping bras are available at your favorite shops like babymama.ph, or you could DIY one from an old bandeau or sports bra.

It may help to dedicate a small table as your pumping station and keep snacks, drinks and milk storage bags in a drawer or box nearby. Some moms also use pumping time to catch up on their favorite shows or podcasts or simply listen to their favorite music.

Building a milk stash and proper storing of breast milk

Even if you are exclusively pumping, you don't need to have a large milk stash unless you expect to be away from your baby for several days. Having two days' worth of milk or about 50 ounces would be enough.

Learning to properly store, thaw and offer expressed milk to your baby is just as important as learning the ropes of exclusive pumping. Read our guide here.

Spectra 9 Plus Double Electric Breast Pump

This portable, rechargeable breast pump can be used up to 12x per day and features letdown/massage and expression modes. Buy it here for Php9,500.

ADVERTISEMENT - CONTINUE READING BELOW

Wisemom Pocket Rechargeable Double Electric Breast Pump

With LCD screen and touchscreen controls this portable and rechargeable pump offers 2 suction modes: massage and expression. Buy it here for 1,995.

How else can you boost your breast milk supply? Click here for more tips.

What other parents are reading

Celebrate your pregnancy milestones!


Enter your details below and receive weekly email guides on your baby's weight and height in cute illustration of Filipino fruits. PLUS get helpful tips from experts, freebies and more!

You're almost there! Check your inbox.


We sent a verification email. Can't find it? Check your spam, junk, and promotions folder.

Trending in Summit Network