Stress Affecting Your Breastfeeding? How to Do Easy Relaxation Therapy at Home

Stress and breastfeeding do not make a great match.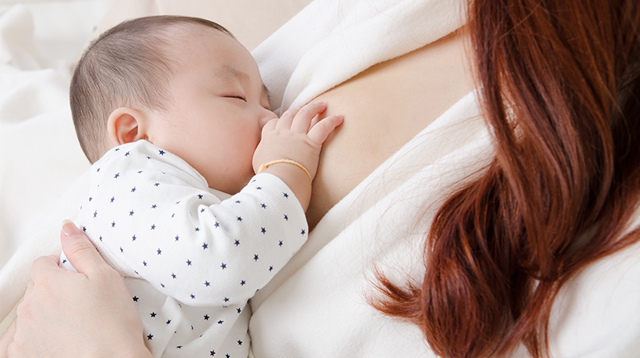 Many factors can make it difficult for moms to breastfeed their babies. You have post-birth complications, some have low milk supply and others struggle to get the baby to latch properly. The worrying can make anyone anxious, and unfortunately, you can add stress to the factors that make breastfeeding hard. That is why this new study on relaxation therapy and its possible benefits to breastfeeding makes sense. 

A group of researchers led by Nurul Husna Mold Shukri, an infant nutrition specialist at the Universiti Putra Malaysia in Selangor, Malaysia, gathered 64 new mothers who were exclusively breastfeeding their babies for their experiment. These women were provided help to assist them in their breastfeeding, including educational pamphlets and information on support groups they could join and lactation specialists they could approach.

Thirty-three of these women were given audio recordings which, as Reuters reports, "encouraged relaxation through deep breathing and offered positive messages about breastfeeding and mother-baby bonding." They were instructed to play these recordings while they were breastfeeding their babies. The study's findings were published in the American Journal of Clinical Nutrition.

Maternal stress should not be ignored

The study found that the mothers who listened to relaxation therapy while nursing their babies reported lower stress levels compared to women who were not given the audio recordings. The breast milk of the moms who were part of the relaxation group was found to have lower amounts of the stress level cortisol after two weeks. At around this time, the babies of the moms in the relaxation group slept an average of 82 minutes longer each day and gained more weight than the babies of the moms who were not in the relaxation group.

ADVERTISEMENT - CONTINUE READING BELOW

After three months, the infants who were part of the relaxation group consumed an average of 227 grams (around 8 ounces) more breast milk than the infants who were not part of the relaxation group.

"The results suggest that a simple relaxation tool — in this case a meditation relaxation recording — was able to reduce maternal stress during breastfeeding, favorably affecting breast milk volume and/or composition, and positively influencing infant sleeping behavior and growth," Shukri tells Reuters. 

"Although we only tested one type of relaxation intervention, it seems likely that anything that makes a mother feel more relaxed might have similar effects."

What other parents are reading

How to do your own relaxation therapy at home

To have your baby at home after nine months is joyful experience. But it can be exhausting physically and mentally because there are so many different things happening all at once, according to Armi Anastacio Baticados, a breastfeeding peer counselor from L.A.T.C.H Los Baños. If you need ideas on kinds of relaxation therapy that you can do at home, Baticados has a couple of suggestions.

"Breastfeeding in itself IS a form of relaxation," she tells SmartParenting.com.ph. "Nursing triggers the release of feel good hormones — prolactin and oxytocin — in the mother's body. These hormones help her calm down and promote [a] strong sense of attachment to her baby."

Baticados continues, "Some moms may find that gentle strokes from their husband or a professional full body massage [help] them relax. Some may need a nice, warm, uninterrupted shower, a warm mug of their favorite beverage at their side while baby snuggles, [or] a book to read."

ADVERTISEMENT - CONTINUE READING BELOW

Recommended Videos

Finding the most comfortable breastfeeding position can also help. "During the first few weeks, babies breastfeed frequently and for several minutes at a time. We encourage moms to find the most comfortable breastfeeding position with the use of [a] firm bed mattress and supportive pillows.

"We find that laid-back breastfeeding is the most relaxing position especially during the first few weeks. The key is to position in such a way that mom can let go of the baby without danger of falling off," says Baticados, who also suggests that lying on your side can allow you to breastfeed your baby safely and also get a bit of shut-eye.

Other de-stressing tips when you are breastfeeding

Aside from practicing relaxation therapy, Baticados says there are other ways you can turn breastfeeding time an opportunity not just for your baby to get the nutrition he needs but also for you to rest. Her first suggestion? Don't wait for your baby to start crying before you give your breast.

"Learn when to offer the breasts by watching out for feeding cues like rooting (baby opens mouth and looks side to side) or putting his hand on his mouth," she advises. "Never wait for baby to cry. Crying means baby is already really hungry and may cause a shallow latch which may escalate, leaving everyone frustrated."

Second, Baticados encourages uninterrupted bonding between the baby and the parents. "Prioritize rest and uninterrupted bonding with baby. Mom could snuggle skin to skin (both of them without top clothes on) while she sleeps (let baby sleep on top of mommy's tummy or chest supported by pillows). This way, when baby needs to breastfeed, mom or dad could adjust baby slightly to [allow him to] latch on."

ADVERTISEMENT - CONTINUE READING BELOW

Baticados says the lack of proper support, the feeling of inadequacy — "I think I don't have milk!" — panic when baby cries are a few reasons that contributes to maternal stress and affects breastfeeding. She emphasizes the importance of the people around the mom — specifically her partner or other immediate relatives — in helping make breastfeeding less of a stressful event and more of a successful one.

"Having a baby could be an overwhelming experience because of the many transformations happening simultaneously: physical and chemical changes in the woman's body, adjustments in household routines, and the shift in the husband and wife's relationship dynamics," she tells Smart Parenting.

Dads are an invaluable part of the breastfeeding journey. "Dads are important contributors to breastfeeding success," says Baticados. "They should be mom and baby's advocate and number one supporter. They should take good care of the mom while she is recuperating from giving birth. They can also do everything for the baby except breastfeeding: diaper change, soothing baby to sleep, babywearing, bathing, etc. When mom is not around, dad may cup-feed baby with expressed breast milk."

Baticados also says that it might be best to avoid accepting visitors, especially in the first few weeks after a mom gives birth. While you may want the rest of your family to meet your new baby, consider that you and your baby are still adjusting to many different changes. The presence of guests and the pressure to cater to their needs might only keep you from relaxing and recovering (remember, you just gave birth!).

ADVERTISEMENT - CONTINUE READING BELOW

Baticados has one last reminder: "The family should agree on their breastfeeding goal. It is crucial that mom, dad, and their support circle be well informed and take on the right mindset that breastfeeding is the biological norm and that mom's body is wonderfully designed to nurture her baby.

"Breastfeeding is one of society's important responsibilities ensuring that the next generation receives the optimum protection, nutrition, and care for the first 1,000 days of their lives and beyond. That being said, the mom and baby need all the proper emotional support and practical help from family, workplace, and health care providers. Everyone can contribute to calm and relax a breastfeeding mom."

What other parents are reading

Celebrate your pregnancy milestones!


Enter your details below and receive weekly email guides on your baby's weight and height in cute illustration of Filipino fruits. PLUS get helpful tips from experts, freebies and more!

You're almost there! Check your inbox.


We sent a verification email. Can't find it? Check your spam, junk, and promotions folder.

Trending in Summit Network