'I Froze My Eggs At 36 Then Became A First-Time Mom At 41'

'I paid close to P180,000 for the egg banking process and paid about P12,000 a year for storage.'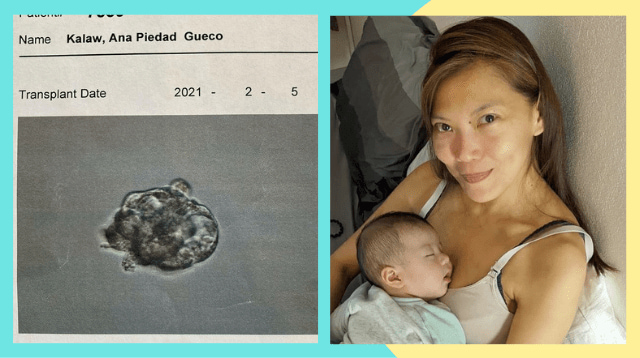 My sister once said that I think and do things with my heart.

I suspect it was an affectionate euphemism for how I jump into situations without thinking them through, which, admittedly, I do. Sometimes, these hastily made decisions have had disastrous consequences; a few times they've led me to something good.

And then there's that one split-second decision I made five years ago that changed my life.

I was 36 going on 37, single, been burned too many times, and tired of the dating scene. Like many women, I wanted a child one day but wasn't sure when (or if) I would still meet someone with whom I could share the experience.

I knew that a woman's eggs age with her and that, in my mid-30s, my chances of conceiving were dwindling every year.

Apparently, after 35, a woman's fertility starts to decline even faster. In her 20s and early 30s, she has about a 20 percent chance of conceiving each cycle; by the time she hits 40, her chances are less than five percent.

Ana Kalaw juggled writing, fashion styling, and traveling during her single years.

PHOTO BY

INSTAGRAM/ANAKALAW

ADVERTISEMENT - CONTINUE READING BELOW

To take the pressure off and to, in a sense, allow me to stop my biological clock, I considered having my eggs frozen.

I was then working in Bangkok, and on a trip back home to the Philippines, I paid a visit to Kato Repro Biotech Center, a fertility clinic whose medical director, Dr Richie Mendiola, trained under Dr. Osamu Kato, one of the pioneers of assisted reproductive technology (ART) in Japan.

I initially went for a consultation and to do some tests to see if I was eligible for mature oocyte cryopreservation, the medical term for egg freezing that is as intimidating and complicated as the actual procedure.

My results revealed that I was in the right stage in my menstrual cycle—and my life—to start treatment.

I hesitated for two breaths before deciding to go ahead with it.

I went home that day with hormonal stimulation medicines that I had to inject into my stomach for the next 10 days.

Those 10 days were hell—for me and the people around me. I am one of those women for whom PMS is all too real. I don't react well to hormonal changes in the body during a regular menstrual cycle, so the compounded amount of hormones running through my system left me even more bloated, even more irritable, and even more quick to anger than usual.

But all these medications would serve a purpose: to prompt my ovaries into producing multiple eggs in a single cycle. I survived the 10-day hormonal assault, but had to go back to the clinic for more injections and a couple more tests.

CONTINUE READING BELOW

Recommended Videos

After a few more days, I was cleared for oocyte harvesting.

The doctor was able to retrieve nine eggs, but only five were mature and eligible for cryopreservation. This number was quite low.

Ideally, doctors would try to harvest as much as they can during the egg retrieval procedure—more eggs, more potential of getting pregnant. (I know someone who produced 18 eggs in one cycle.)

And when you eventually need the eggs to do IVF, you won't know how many will survive the thawing process or can be successfully fertilized into an embryo.

I was told that I can come back for another round of egg harvesting, but since I was living abroad, I didn't think I would have the time nor the opportunity to go through the entire process again. I just had to be content with putting all my eggs in one basket—or in this case, one frozen storage unit.

Prior to my visit to Kato, I didn't tell anyone that I was planning to have my eggs frozen lest they try to dissuade me from spending a significant amount of money on something that I may not even need or use.

I paid close to P180,000 for the egg banking process and paid about P12,000 a year for storage.

The way I saw it, having my eggs frozen was an investment (egg banking is another term for egg freezing after all) and when it comes to an investment, you have to wait and see whether you can reap gains or write it off as a loss.

ADVERTISEMENT - CONTINUE READING BELOW

In my case, my investment paid off quite handsomely.

Ana married Jamie on October 8, 2020, in London, United Kingdom

PHOTO BY

INSTAGRAM/ANAKALAW

PHOTO 

COURTESY OF ANA KALAW

I would meet Jamie, my future husband, 11 months after I had my eggs frozen.

I was open about wanting children from the start, and we began trying to get pregnant a year into our relationship.

ADVERTISEMENT - CONTINUE READING BELOW

Doing IVF wasn't our first option. We tried conceiving the natural way—I religiously monitored my cycle and peed into ovulation strips to check when I was fertile. This went on for about a year and a half.

And I still wasn't getting pregnant.

I was pushing 40 by then; Jamie was 42. None of us were getting any younger so we entertained the idea of getting help.

It was back to Kato for me.

Getting fertility treatment involves a lot of assessments and tests, including one to check a man's sperm count and, for women, a procedure to make sure that their fallopian tubes aren't blocked with a polyps or tissue mass.

The latter is a procedure called hysterosalpingogram (HSG), where a thin tube is inserted into the vagina, through the cervix and up through the uterus and fallopian tubes. Once in place, an iodine-based contrast dye is inserted to fill up the uterine cavity and, if the fallopian tubes are open, the dye spills out into the abdominal cavity.

For most women, it's an easy enough procedure. I am not most women.

I remember sitting on a chair as the doctor prepped me for HSG. Next thing I know, I wake up slumped in the arms of a nurse, with concerned faces peering down at me. I was so nervous that I probably hyperventilated and fainted right in the middle of the procedure.

The good news: my tubes were clear. All our other tests came out normal. If I wasn't getting pregnant, then it was for reasons that remained unclear.

ADVERTISEMENT - CONTINUE READING BELOW

In January 2021, Jamie and I decided to move forward with IVF using the eggs I had frozen years ago.

All five survived thawing, but only three were successfully fertilized and developed into a blastocyst (a five-day embryo). One of these blastocysts was transplanted into my uterus in a painless procedure that involved a special ultra-fine needle.

Everything took less than 10 minutes.

When I moved to stand up from the bed, the doctor handed me a piece of paper with a photo of a clumpy blob on it. "Baby's first photo," she said.

Blastocyst or a five-day embryo.

PHOTO BY

INSTAGRAM/ANAKALAW

I didn't want to expect too much based on her words. The worst part about doing IVF is waiting to know if the embryo had successfully attached to the uterus.

For two weeks, I ate a lot of kale and chickpeas (said to be good for women undergoing IVF), did light exercise to keep my blood flowing, endured yet another round of hormone medicines, and tried not to go crazy trying to figure out if I was showing symptoms of very early pregnancy.

ADVERTISEMENT - CONTINUE READING BELOW

After two weeks, we went back to the clinic to do a pregnancy test.

While waiting for the results, I turned to Jamie and said, "If this doesn't turn out as we hope, can we go somewhere nice for a really long holiday?"

He said yes.

We didn't need to book a holiday.

Dr. Mendiola confirmed that our pregnancy test had come out positive.

I wanted to make sure I heard him right so I asked him to repeat the confirmation—on video.

In October 2021, I gave birth to our son Jose Pedro Kalaw Miyazaki-Ross—the welcome consequence, partly, of me thinking with my heart five years prior.

Jose 

Pedro Kalaw Miyazaki-Ross

at 2 hours old; Tokyo, Japan

PHOTO 

COURTESY OF ANA KALAW

Meet Jose Pedro Kalaw Miyazaki-Ross.

PHOTO BY

INSTAGRAM/ANAKALAW

ADVERTISEMENT - CONTINUE READING BELOW

Sometimes the decision to do something big, like having your eggs frozen for your future, is more intimidating than the process itself.

I've learned that it's good to take things one step at a time. Do research. Book a consultation and then go from there. Bite the bullet or proceed with caution. As long as you know that you have options.

It may be better to do egg freezing in your early 30s or even in your 20s, but don't think it's too late if you're older. You never know until you go see a doctor and have your ovarian reserve checked.

I have girl friends who tell me they aren't sure if they want children, but are considering having their eggs banked in case they change their mind later on. I tell them it's worth a go and, if they can afford it, the money.

In the end, regret is a much higher price to pay for a future that could have been.

PHOTO BY

COURTESY OF ANA KALAW

ADVERTISEMENT - CONTINUE READING BELOW

PHOTO BY

COURTESY OF ANA KALAW

Ana Kalaw is a part-time writer and editor and a full-time mom. She currently lives in Japan with her four-month old baby Jose and husband Jamie.

What other parents are reading

Celebrate your pregnancy milestones!


Enter your details below and receive weekly email guides on your baby's weight and height in cute illustration of Filipino fruits. PLUS get helpful tips from experts, freebies and more!

You're almost there! Check your inbox.


We sent a verification email. Can't find it? Check your spam, junk, and promotions folder.
Trending in Summit Network