Mom Lost Her Baby Because She Attempted 'Free Childbirth' at 45 Weeks

Taking back control of your birth doesn't mean you can ignore medical advice.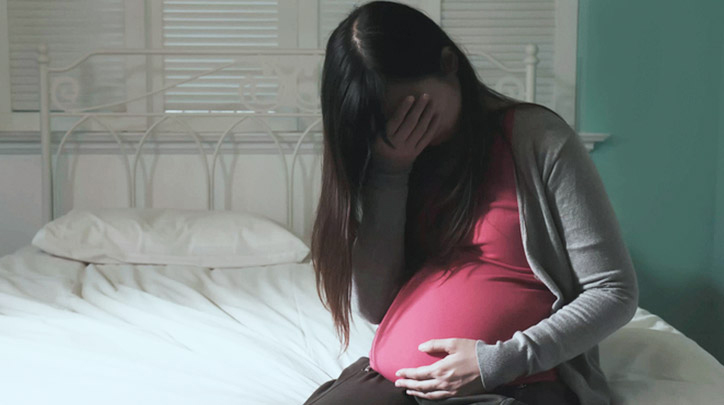 In February 2019, a woman in Hawaii lost her baby at 45 weeks (yes, you read the number, right). She ignored her midwife's recommendation to be induced a couple of weeks earlier and decided to listen to advice from a Facebook group instead, Kidspot.com.au reported. The social media group supported "free birth," which can mean unassisted home birth or extending the pregnancy if it meant waiting for labor to begin naturally. But those who practice still say they rely on advice from health professionals.

According to reports, at 43 weeks, the woman told the now-defunct social media group why her midwife advised her to induce labor. The midwife feared the baby was not receiving the necessary nutrients from the placenta with the mom at 42 weeks. She also expressed concerns that the baby had grown too big, and the preggo mom could be losing amniotic fluid.

The pregnant woman reportedly vented out her frustrations in the group, admitting she didn't believe the midwife. She also said she had never heard of a baby dying due to placental insufficiency and insisted her baby had plenty of amniotic fluid.

The moms in the group cheered her on and supported her plans. They also gave her several ways to naturally induce labor, including castor oil, which is known more as a laxative (it causes the intestines to contract) than something that can induce labor.

At 44 weeks and six days and using castor oil thrice, the pregnant woman's water bag broke and sought advice from the Facebook group again. She felt she should stay home until her contractions progressed. The members continued to agree with her and suggested to trust her intuition. Ten hours later, her contractions became violent and unbearable, and she was leaking meconium from her vagina. By the time she finally decided to go to the hospital, her baby no longer had a heartbeat. The doctors induced her so she could deliver her stillborn baby.

ADVERTISEMENT - CONTINUE READING BELOW

Of late, we have been reading a lot of stories about how the lives of moms and unborn babies are being put in real danger because of advice found on online parenting groups. Facebook groups can be comforting and helpful, but they CANNOT replace medical advice. And if a fellow mom does offer health-related help, it is best to consult a doctor about it.

In the case of the mom above, her midwide raised a lot of red flags. Why she refused to listen is not something all of us can understand. But we hope it serves as a lesson that we take extra care in doling out advice or doing something just because a mom said so.

Why a doctor may induce labor

There are safer ways to naturally induce labor. What To Expect explains that castor oil likely to cause diarrhea, upset stomach, cramping, or irregular, painful contractions. Some anecdotal evidence also shows that castor oil can be passed on to the baby through the placenta and make him pass his first stool, called meconium, before birth. Walking, having sex, and, for some doctors, evening primrose oil, are some of the better and safer ways to induce labor naturally.

While the World Health Organization (WHO) recommends doctors to reduce unnecessary medical interventions and let labor and delivery progress naturally, it should not put a mom and a baby's lives at risk. Here are three things to remember why inducing labor is a choice your doctor makes.

Pregnancy at 38 weeks is considered full term

ADVERTISEMENT - CONTINUE READING BELOW

Recommended Videos

Babies that reach 38 weeks inside their mom's tummies are ready to be born. Their body organs have developed, and they can survive when born. While there are moms who get to 40 weeks, sometimes 42 weeks, they are often in constant consultation with their doctors, monitoring the placenta, amniotic fluid, and baby's health inside the womb.

Placental health and amniotic fluid are crucial to the baby's health

The placenta is your baby's source of nutrients and helps your baby get oxygen from your blood. It helps gets rid of waste like carbon dioxide and performs functions that your unborn baby isn't able to do yet. It ages as your pregnancy progresses. The baby needs to be born if the placenta cannot do its job anymore. If the amniotic fluid is considerably less, the baby may go into fetal distress due to lack of oxygen to "inhale" from the womb's amniotic fluid.

Overdue babies are more likely to poop in the womb

Meconium is an infant's first poop. It usually happens within 24 hours after birth. If your baby poops while still in the womb, there is a chance he can inhale it, a complication called meconium aspiration syndrome (MAS), according to HealthyChildren.org, the resource for parents ran by the American Academy of Pediatrics (AAP). When a newborn inhales a mixture of meconium and amniotic fluid, it can partially or completely block the airways.

It is every woman's right to be involved in the decision-making during birth, but discuss your birth plan with your doctor and listen to her. She knows your medical history better than anybody else.

ADVERTISEMENT - CONTINUE READING BELOW

What other parents are reading

Celebrate your pregnancy milestones!


Enter your details below and receive weekly email guides on your baby's weight and height in cute illustration of Filipino fruits. PLUS get helpful tips from experts, freebies and more!

You're almost there! Check your inbox.


We sent a verification email. Can't find it? Check your spam, junk, and promotions folder.

Trending in Summit Network