Real Moms Share When and How to Push During Labor (Trust Your Instincts!)

Is there a proper way to push the baby out or make "ire"?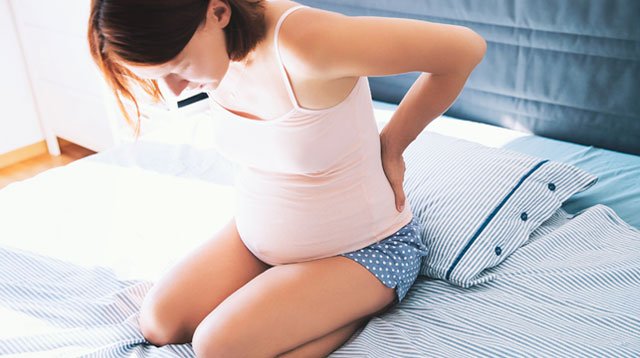 Fear of the unknown is the main reason why first-time preggos are scared of giving birth. You don't really know for sure what's going to happen. Even if you do your research or attend a birthing class (they do help a lot in calming the nerves), it's not a guarantee of how the entire birth experience will go. So three of the most common questions on our Smart Parenting Village Facebook group are:

How to push a baby out and when?
Is there a proper way of pushing the baby out?
How do I know if I'm doing it right? 

When should you push during labor?

Your doctor wouldn't let you push if your cervix isn't wide open yet — it would be a waste of energy that you'll need later on. So, first things first: you need to have an idea about the stages of labor. Here are the three main stages, according to the book What To Expect When You're Expecting.

Stage 1 of labor

This stage is divided into three parts: early labor, active phase, and the transitional stage. 

Contractions during early labor are only 35 to 45 seconds long, about 20 minutes or less apart. Your cervix is still only at 3 centimeters dilated. This stage takes the longest, from two or four to six hours or more, depending how fast or slow your labor progresses.  

During the active phase, the cervix may already be 7 centimeters dilated. The contractions are getting more intense, now at 40 to 60 seconds long, about three to four minutes apart. This typically lasts for about three hours, give or take. 

ADVERTISEMENT - CONTINUE READING BELOW

In the rapid transitional stage, your cervix should be fully dilated at 10 centimeters, and your contractions should be about 60 to 90 seconds long, about two to three minutes apart. 

Stage 2 of labor

This is the time to push the baby since you're already fully dilated. It can take as short as two minutes to hours. Some women will feel an overwhelming urge to push and a tremendous rectal pressure. There's also that tingling, stretching, and stinging sensation in the vagina as the baby's head is crowning. However, as your baby emerges, it will be a slippery wet feeling, often painless.

Stage 3 of labor

The final stage is when you birth the placenta. You will continue to have mild contractions after your baby's out, but most moms don't really feel these anymore. Your doctor will help you deliver the placenta by pulling the umbilical cord gently with one hand while pressing and kneading your uterus with the other and asking you to push at the right time. This can be over in five minutes to an hour. 

How do you push a baby out?

As described by our Smart Parenting Village moms, pushing a baby out is like pushing the biggest — sorry for the word — poop ever (while you have that constipated feeling). To give you an idea on how to push a baby out, here are some of the tips from real moms. 

Relax your body and thighs, and focus your energy in your rectum and vagina. 
Tucking in your chin to your chest or looking at your navel can help you focus your pushes.
Don't strain your upper body to avoid chest pains or your face to prevent any black and blue marks on the cheeks or bloodshot in the eyes. 
Take one or two deep breaths and then push during the same time you're having a contraction, or when your contraction peaks. Pushing should aid your baby, not dictate the pace. 
Be aware of your contractions, but don't worry, the doctor will tell you when to get ready and when to push. It's the same with preggos who've had an epidural.
If birth isn't progressing, try a different position when pushing a baby out. Try to lift your pelvis right before pushing and giving it your all. 
If your doctor is counting down from 10, don't stop pushing till the countdown is done.
Rest in between contractions. Your doctor may let you skip pushing during a contractio, so you can gather your strength for the next one. 

CONTINUE READING BELOW

Recommended Videos

Are you doing it right?

Most moms swear that you'll know how to push the baby out when the time comes. If you're still doing it wrong then, your doctors are there to help you.

Yes, you might involuntarily poop or pee as you birth your baby, but that's normal, so don't worry about it. Don't let the potential embarrassment hinder you from pushing progress (besides, at this point, shyness will quickly go out the window).

Some newborns end up with heads that have a cone shape — don't worry, it's not going to stay that way! If you couldn't push efficiently, the baby can end up partially going in and out of the cervix. Then again, some interventions can be done to help you deliver the baby.

While waiting for delivery day, do some exercises that can help you with labor and get comfortable with the positions that ease labor pain. Make a birth plan if you haven't so you and your birthing team are all on the same page. 

What other parents are reading

Celebrate your pregnancy milestones!


Enter your details below and receive weekly email guides on your baby's weight and height in cute illustration of Filipino fruits. PLUS get helpful tips from experts, freebies and more!

You're almost there! Check your inbox.


We sent a verification email. Can't find it? Check your spam, junk, and promotions folder.
Trending in Summit Network