Katarina Rodriguez Thought Of Giving Up Water Birth Because Pain 'Was Becoming Unbearable'

Delivering her first baby via water birth was a beautiful journey for Katarina.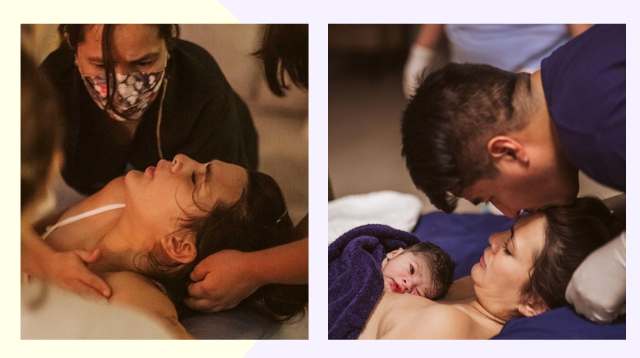 Editor's Note: Medical professionals caution against home births because of the risks involved. A hospital is the safest setting for childbirth, especially when a life-threatening complication develops, which can happen without warning. Women have the right to make an informed decision about where they prefer to deliver, but always consult a doctor to understand the risks. (Click here to know more about home births.)

"What's the essence of a woman?"

As a beauty queen herself, Katarina Rodriguez has probably come up with a dozen possible answers to this question. But she says it wasn't until she had given birth to her first child that the perfect answer dawned on her.

"Power to overcome pain that feels like death but in turn births life."

In a three-part post on her Instagram, Katarina described in length her water birth journey. She and her husband Niño Barbers welcomed Baby Robert Joaquin last August 25, 2021, in Davao. It was just this November when she revealed to the public that she had already given birth.

PHOTO BY

instagram/katarinarodri

ADVERTISEMENT - CONTINUE READING BELOW

Although almost three months had passed, Katarina's narration was so vivid that everyone who would read it would be transported to that exact birthing moment. 

The first part recounts what she felt when she started feeling contractions. The second part dived into her labor. In the third part, Katarina recounts her first meeting with Baby Joaquin. Along with the posts were intimate photos from her water birth.

Katarina's contractions made her realize the essence of a woman

Katarina shared that she gave birth earlier than her due date. On the night of August 24, Katarina "noticed a small chunk of blood come out, then called midwife Allen [Franco] who then checked that I was three cm dilated."

"Then nearing midnight I started to feel something like a fist pushing down on my cervix. This is when I knew my little boy was ready to come out."

Katarina said that she did not mind the contractions at the time and could still manage to watch K-dramas.

"Little waves of pain all around my tummy and lower back and inner thighs would come and go. Still mild to moderate pain, I could still watch my kdrama," she shared.

When the clock struck past midnight, her contractions became more painful. It was this pain that made Katarina realize that the essence of a woman relies on her "power."

PHOTO BY

instagram/katarinarodri

ADVERTISEMENT - CONTINUE READING BELOW

Recommended Videos

"Power to rule her mind and her body. Power to overcome the pain that feels like death but in turn births life. The power to do whatever it is she puts her mind to."

Katarina on the challenges of water birth

The former beauty queen decided to get into the birthing pool Coleen Garcia lent her as soon as her "inner thighs were shaking and I felt like collapsing."

Getting in the water relieved some pain, but it also grew as time passed. In her post, Katarina admits that the pain increased so much that it made her want to give up delivering her baby through water birth and just go to the hospital.

"I remember thinking a couple of times while squeezing Niño's hands that I should just go to the hospital because the intensity was becoming unbearable. But I had made a promise to myself not to speak or even think of anything negative."

PHOTO BY

instagram/katarinarodri

ADVERTISEMENT - CONTINUE READING BELOW

While trying to ease the pain brought by each contraction, Katarina's mantra was: "I trust my body, I trust my baby, I trust my God."

PHOTO BY

instagram/katarinarodri

Finally, after "three and a half intense hours and one big push, my boy came swimming into our world."

Katarina's "proudest moment"

On her third post, Katarina shared Baby Joaquin's nickname, "Quino." She said her delivery to Baby Quino was followed by the birth of some life realizations. One of these realizations is how the four elements of matter, fire, air, earth, and water, play roles when a woman gives birth.

"The element of fire present as the ring of fire, or burning sensation happening in my Muldhara, or earth chakra. The element of air, or breathe, in my breathing technique...

The element of earth, the humbling act of mother giving birth to child, where baby passes through her earth chakra. And of course the element of water, balancing the presence of fire, cooling down the burning sensations in my thighs, lower back and cervix," she explained.

ADVERTISEMENT - CONTINUE READING BELOW

By the end of her birthing story, Katarina shared how seeing Baby Quino for the first time gave her a sense of pride.

"I felt like an animal, confused as to where he came from, amazed as to how this baby came from me. This must be the proudest moment of my life," Katarina wrote.

Click here for more information you need to know about water births during the pandemic.

What other parents are reading




Celebrate your pregnancy milestones!


Enter your details below and receive weekly email guides on your baby's weight and height in cute illustration of Filipino fruits. PLUS get helpful tips from experts, freebies and more!

You're almost there! Check your inbox.


We sent a verification email. Can't find it? Check your spam, junk, and promotions folder.

Trending in Summit Network