Mom Chose Water Birth So Hubby Can Join Her: 'I Can Endure Pain As Long As We're Together'

She knew her body was built to withstand the pain and rewards of childbirth.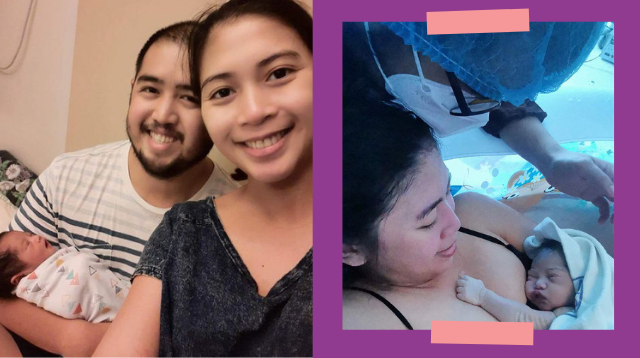 Editor's Note: This story is intended for information purposes only. It does not substitute a doctor. It is vital to consult a medically trained professional for advice that suits your needs.

Hospital childbirth protocols in the middle of a COVID-19 pandemic mean most mothers give birth alone. This, plus the fear of contracting the virus in hospitals, lead pregnant women to consider birth alternatives such as water or home births.

Styphelle A. Sibug, 31, strongly considered water birth as an option even before they got pregnant and before the pandemic happened. "We were amazed with the idea of an unmedicated natural birth," she tells SmartParenting.com.ph in an interview via Messenger.

"We read [through research] that by nature, my body is built to withstand the pains and rewards of childbirth. In my existence, I have never been inside an operating room and I planned to keep it that way, given that I am healthy and without complications," she adds.

Styphelle and her husband, Eman Joshua Sibug, 32, pushed for a natural and gentle birth at one of the well-known hospitals in Quezon City, under the guidance of an OB-GYN who was also a gentle birth advocate.

"The plan was going well until the recent surge in COVID-19 cases. Our chosen hospital had to assume that majority of patients being admitted might have the virus, which also means no husband during the delivery. [It also meant] no companion who acts as your pain reliever and gives you strength all throughout the delivery," Styphelle shares.

ADVERTISEMENT - CONTINUE READING BELOW

Styphelle and Josh with their daughter, Luna.

PHOTO BY

Courtesy of Styphelle SIBUG

But Styphelle and Josh still tried to have a water birth one last time. Near the end of her 37th week, they went to Marikina Maternity Clinic and Lying In and met with another OB-GYN, Dr. Cecile Francisco-Ordinario. "She accepted us despite me being near the end of our term and having gestational diabetes," Styphelle shares.

While the doctor assured Styphelle that her delivery will go well, she still advised the soon-to-be mom to give birth at a hospital. Thankfully, Clinica Antipolo Hospital and Wellness Center, Inc., does water births.

"This was to secure my safety should complications arise because of my gestational diabetes," Styphelle says.

Preparing for a water birth

Styphelle and Josh with their OB-GYN after a successful delivery.

PHOTO BY

Courtesy of Styphelle SIBUG

CONTINUE READING BELOW

Recommended Videos

Because Styphelle wanted a natural birth, she "prepared like a marathoner." With Josh by her side, the two started doing light yoga and stretching — they chose safe exercises for pregnant women to follow on YouTube — to loosen up the hips, pelvis, and lower back.

On her third trimester, Styphelle was diagnosed with gestational diabetes so she switched to a stricter diet — low carb, healthy fat, and high in fiber and protein. This helped lower her blood sugar until she no longer needed medication for it.

She and Josh also started walking one and a half hours every morning or late afternoon, then doing ten-minute meditations with loud breathing and light pelvic stretching every night.

As she got closer to her due date, Styphelle started doing daily squats and nipple stimulation. She also ate pineapples to naturally induce labor.

"My OB-GYN also advised me to take 2 vaginal insert capsules of Evening Primrose per day to soften my cervix," Styphelle shares.

An incredible birth

Styphelle gave birth with her husband beside her.

PHOTO BY

Courtesy of Styphelle Sibug

ADVERTISEMENT - CONTINUE READING BELOW

On the morning of April 22, 2021, Styphelle experienced mild contractions. After seeing her doctor, she was advised to either go home and wait for the surges of contractions or be admitted straight away and wait for the surges of contractions there.

Since they needed to take an RT-PCR test as a requirement for admission, they decided to go home first so they can take the test the next day. However, their baby had other plans.

"In the evening it all took a turn; we immediately drove to the hospital due to stronger and constant contractions that was harder to ignore," Styphelle shares.

She had her RT-PCR test in the emergency room while Josh took an antigen test. Both results were negative, so they were immediately admitted.

Styphelle was able to achieve her birth plan.

PHOTO BY

Courtesy of Styphelle Sibug

At around 4 a.m., Styphelle felt her bag of water break. When the nurse came, they found Styphelle fully dilated. During a second internal examination, they felt the baby's head.

ADVERTISEMENT - CONTINUE READING BELOW

Styphelle's OB-GYN was already on her way and instructed the nurses to give the mom a dose of mild sedative so she can be relaxed. Around an hour later, she was transferred to the birthing pool.

"After an hour or so of pushing Dr. Cecille noticed that I was getting too relaxed from the warm water of the pool and having a hard time pushing. I needed to get out of the pool, for the mean time, and push on a hospital bed until crowning," Styphelle recalled.

When she started crowning, the doctor let her feel their baby's head to motivate her to push harder. Styphelle shares, "I can still remember the words that Josh uttered to me when I did my last push, 'Styph just one last push, give it your all. Give everything you can. You can do it!'

The couple did not know their baby's gender before the birth, so both were surprised to find out Styphelle gave birth to a baby girl. They named her Luna Miyamoto.

Josh is excited to fulfill his daddy duties!

PHOTO BY

Courtesy of Styphelle Sibug

ADVERTISEMENT - CONTINUE READING BELOW

Looking back at her journey, Styphelle shares that she would not have been able to continue with the water birth if her husband and their families did not give their full support. Josh was present all throughout, "encouraging me that I can endure any pain as long as we are together," the mom shares.

She even shares that Josh was monitoring her contractions through an app, kept her hydrated, and was giving her lower back massages while she was in labor. Before pushing, her husband fed her with chocolates and milk chocolate drinks to give a sudden burst of energy she would need for delivery.

"Thank you for enduring it all, my pain, agony, screams, pulls, and scratches," Styphelle writes in a Facebook post. "I'm still on a high that I get to share this wonderful experience with you by my side."

The mom hopes that by sharing her experience, more moms will be open to a water birth should their pregnancy allow it, and with a go-signal from their doctors. After all, "the pain of an unmedicated, no episiotomy, natural gentle birth" makes for a memorable, not to mention, incredible birthing story that they will remember for years to come.

Click here for another inspiring story of a water birth done with the help of a doctor.

What other parents are reading

Celebrate your pregnancy milestones!


Enter your details below and receive weekly email guides on your baby's weight and height in cute illustration of Filipino fruits. PLUS get helpful tips from experts, freebies and more!

You're almost there! Check your inbox.


We sent a verification email. Can't find it? Check your spam, junk, and promotions folder.
Trending in Summit Network