This Creative Mom Started Her Biz With Just An iPad, Sold Over 2K Shirts In A Year

She tells moms who want to resign and start a business, "Follow your kilig."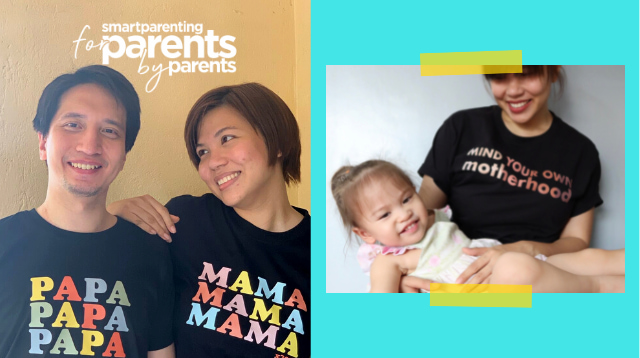 This story is part of Smart Parenting's new advocacy, For Parents, By Parents, which aims to help newbie mompreneurs and dadpreneurs promote their products and services to our parenting communities. Do you have great products or services for moms, dads, or kids and need a bit of marketing push? Email us at smartparenting@summitmedia.com.ph with the subject, "For Parents, By Parents."

If you've seen statement shirts worn by moms on social media that read "I Have Strength Marks" and "Mombod And Proud," and "Mind Your Own Motherhood," then you have seen the original shirts made by Studio Maria, a brand that celebrates motherhood and empowers moms.

Behind these cute and comfy shirts is creative mompreneur Chesca Susmerano, 32, from Las Pinas City.

A mama of one, Chesca told Smart Parenting that she decided to quit her job as a government employee, so that she can spend more time with her daughter.

"I resigned from my job in April 2020. The week after I handed over my resignation letter, nag-lockdown na. I had a strong feeling that I wanted to stay at home with my daughter kasi ang tagal ko sa office, on the road, parang gusto ko sana yung mga early childhood years niya andun ako," she said.

A leap of faith

In her previous job, she endured long hours of commute from Las Pinas to Quezon City and back. When she resigned, she didn't have a concrete plan on what to do next. "Gusto ko lang maging creative, mag-start ng something online, magbenta, magpaint, mag-gawa ng illustrations."

ADVERTISEMENT - CONTINUE READING BELOW

Six months into the lockdown, Chesca started Studio Maria by Chesca, where she accepted commissioned portraits of moms, dads, and families. "Naisip ko parang hindi scalable kasi time consuming kada portrait. Naisip ko, why not sell my designs on shirts? I learned through my sister-in-law to focus on a community that I want to serve - the mom community."

That's how Studio Maria for Mamas was born. 

Mama x3000 is one of their best-selling shirts. Chesca said, her husband's promotion gave them the added push to decide that she can quit her job and stay at home.

PHOTO BY

CHESCA SUSMERANO

With a tablet, her husband's support, and her brother's print-on-demand shirt business, Chesca started creating statement shirts for mothers. 

"Ang capital na in-invest ko is time. Yung six months from resignation, nag-YouTube University ako kung paano magdrawing sa iPad, ano yung mga resolution. Yung time to research to hone your skill, mag-picture ng products, mag-set up ng accounts, lahat yun libre pero time consuming."

CONTINUE READING BELOW

Recommended Videos

From printing shirts, Studio Maria for Mamas expanded to totes and caps. Now they already print their own shirts at home! 

Humbly, Chesca shared Studio Maria sold over 2,000 shirts in 2021 alone.

Lingering thoughts

While her transition from being an employee to an entrepreneur looks easy, Chesca reveals, it's an every day struggle.

"What I don't normally tell people is that every day, naiisip ko pa din mag-quit. Totoo pala na yung pinakamahirap na kalaban is yourself. Meron pa ring lingering thoughts na, "You are not good enough," "You won't succeed," "Baka pang-employee ka talaga." 

"My strategy now in both motherhood and business is to just show up, rest when needed, and then show up again."

"But what helps me overcome this every day, is by going back to my why. Bakit ko ba ito ginawa? Kasi gusto ko maging hands-on mom, gusto ko mag-work-from-home, kahit mahirap push natin ito."

READ ALSO: SAHM Creates Free Planners To Avoid Burnout

5 tips for aspiring mompreneurs

Here are five things that we learned from Chesca's story that other moms can learn from.

1. Start imperfectly

Your launch doesn't have to be grand, according to Chesca. She shares, "Nung nag-launch ako ng Studio Maria, nagpost lang ako ng isang post sa Instagram na, "Okay, were live!" Eventually nagkaroon ng website, Shopee, Lazada, inunti-unti ko lang."

2. Expect that there will be challenges

What motivates her to keep going comes from random messages she receives from moms. "May mga taong nagsasabi na you are doing good work, and there's change in perspective. It's not supposed to be easy, kasi mahirap talaga mag-negosyo, yung strategy ko is i-expect mo na na may challenge, kahit things dont go my way, go lang kasi you are doing good work. I am doing good work, kahit minsan hindi ko siya nakikita."

ADVERTISEMENT - CONTINUE READING BELOW

3. Never stop learning

When she's not printing shirts or meditating, Chesca chooses to invest her time on learning and growth.

Currently, she is completing an entrepreneurship course by the Department of Trade and Industry and Go Negosyo. "Kasi pumasok ako sa business without business background. May relatives lang ako na nasa e-commerce sila, so I had that exposure."

"Pero yung nitty-gritty, yung cash flow, branding, marketing, operations management, pano magproject ng inventory, gut feel lang lahat, at least nagkaka-structure how to improve the business," she said.

One of her best-sellers, Mombod and Proud, shows that all bodies are beautiful.

PHOTO BY

CHESCA SUSMERANO

4. Show up

She shares, "My strategy now in both motherhood and business is to just show up, rest when needed, and then show up again. By showing up, I don't give up, I extend my energy to others and I learn a lot along the way even if plans don't always work out. Laging may surprises when we show up no matter how we feel."

ADVERTISEMENT - CONTINUE READING BELOW

5. Utilize free resources

"Napakaraming free resources that you can use, like Shopee and Lazada if you want to sell online, kahit pure Instagram nga lang pwede na. Post lang ng post, kasi kung di mo isshare walang makakaalam diba. Share what your story is, and why do you think they need your products. Yung mga branding, eventually makukuha mo yan as you communicate with the people online."

Not alone

When asked if the hustle is worth it, "Marami akong nakilalang moms na hindi ko makikilala if I did not start Studio Maria. Sobrang fulfilling yun for me to get to know other people's stories, lalo na yung mga same yung pinagdadaanan kasi I don't feel alone in this challenging journey of motherhood and entrepreneurship."

For Chesca, the best thing about having a business is that she gets to spend time with her daughter - hit the beach or go to the zoo on weekdays - and for herself, while still being able to contribute to their family budget.

Chesca, with her daughter Likha

PHOTO BY

CHESCA SUSMERANO

ADVERTISEMENT - CONTINUE READING BELOW

"Madaming returns, madami ka ring isa-sacrifice. May mga months na pwedeng lugi ka, may mga months na mataas yung sale, there are also lean months, kasi nagsspend ka ng time for marketing, maraming iba ibang klaseng returns along the way."

New collection: Studio Maria Shortees

On June 26, Studio Maria for Mamas launched its new collection of mama statement Shortees (Crop top + Regular tee mashup) because as Chesca said, moms should be able to wear crop tops too!

The designs were crowdsourced mom statements from moms (from 176 entries!), and the top 5 were included in the new collection.

'Everyday Momday' at P400 each

Your every day, mom day shirt. Get all four colors for P1,300 only (save P300!)

PHOTO BY

CHESCA SUSMERANO

'Resting Mom Face (Kind inside)' at P480

Trivia: This design was submitted by Mommy Ella Libaton, a member of the Smart Parenting Mom Squad.

 

PHOTO BY

CHESCA SUSMERANO

ADVERTISEMENT - CONTINUE READING BELOW

'In case of emergency' at P480

M-O-M is the new S-O-S. 

 

PHOTO BY

CHESCA SUSMERANO

'Cool moms club' at P480

Can be a 'Welcome to the Club!' or 'Join the club!' gift! 

 

PHOTO BY

CHESCA SUSMERANO

'Momsters Degree' at P480

How about you?

 

 

ADVERTISEMENT - CONTINUE READING BELOW

PHOTO BY

CHESCA SUSMERANO

 

'Follow your kilig'

When asked what's her message for moms who also want to start a business or a passion project, Chesca said, "Follow your kilig."

"Kasi minsan ginagawa natin kasi nakita natin ginagawa ng ibang tao. It should be something that inspires you to do it, kasi hindi madali, pero if it gives you kilig, it will help you sustain it kahit mahirap."

According to Chesca, sometimes doing this big leap doesn't mean you have to leave your job. You just need to carve out time for it, if you really want it.

READ ALSO: How This Single Working Mom Is Growing A Mushroom Biz And Raising A Teen

"Eventually, you will feel and know if you really need to make big changes in your life (like resigning from your job) or maybe you'd feel that doing it as a hobby or side hustle is already enough to bring you joy. You define your kilig and what brings you joy, and you make changes to follow that. Knowing your heart is the first step."

Chesca has also been collaborating with other mompreneurs on Instagram, like Valianne's Trends, where they created stickers for strong moms, and Bagong Nanay for statement shirts for first-time moms. 

"As for me, I really wanted to be a creative and an entrepreneur AND a hands-on mom and it felt right at that time to give up my job for this chance to start a business from home. I know that this will still evolve as I grow and my family grows, but I'm glad that I allowed myself to try and get to know myself and my purpose better along the way," she adds.

ADVERTISEMENT - CONTINUE READING BELOW

Support Chesca and her business Studio Maria by shopping mama statement shirts for you or your mama friends on their website, Shopee, and Lazada.

Trending in Summit Network