This Mompreneur Has 5 Kids, 3 Start-Ups, 'We Need To Create Something Sustainable For Our Children'

This mom shares how her kids are learning grit and perseverance by involving them in every aspect of their small businesses.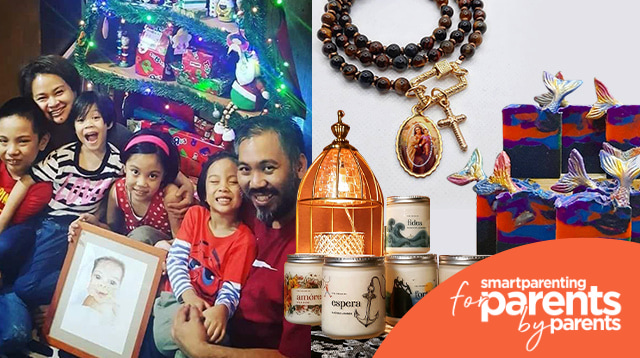 This story is part of Smart Parenting's new advocacy, For Parents, By Parents, which aims to help newbie mompreneurs and dadpreneurs promote their products and services to our parenting communities. Do you have great products or services for moms, dads, or kids and need a bit of marketing push? Email us at smartparenting@summitmedia.com.ph with the subject, "For Parents, By Parents."

"Hindi ko naman naisip na gagawin ko ito, hindi ko nga naisip na magiging housewife ako eh."

For Gay Javier, a mom of five from Pasig, becoming an entrepreneur and a stay-at-home mom never crossed her mind.

She was a full-time missionary and worked in events and media, but in 2015, she and her husband Grant Javier decided that she stay home to homeschool their kids. Their kids are Pablo, 14; Benita, 12; Lourdes, 10; Guadalupe, 8; and Isidro, who passed away.

"As of now, puro kami start-up, the umbrella of the business is called Bottega Bene. It means, "the good studio," Gay told Smart Parenting.

"Kasi parang we're thinking na our kids and I, we are artists, we love art, and yung mga kung anu-anong ginagawa namin is inspired by it. The same way na we also decided our home - yung layout ng bahay namin - is actually like a workshop na we live in."

They turned their master's bedroom into a school-slash-work studio. The board behind their kids used to be their bed.

PHOTO BY

COURTESY OF GAY JAVIER

ADVERTISEMENT - CONTINUE READING BELOW

With their home as their work studio, Gay encourages her children to get involved in their businesses, in their own way, where they can learn concepts that aren't usually taught in school.

A tool to teach grit

Under Bottega Bene, they have 3 start-up businesses: the most recent is Five Virgins PH, where they create scented soy candles made of pure soy, and high-grade fragrance oils. "Toxin-free, and friendly siya to pets and even to my son who has allergic rhinitis."

"It's called Five Virgins, kasi inspired siya from the Bible, yung 5 wise five virgins who had oil in their lamps. Kinikwento ko yun sa mga anak ko that we have to be always ready. Women are very smart people, kaya dapat lagi tayong handa."

Five Virgins PH has five scents, which represent the top qualities that women should have: Wisdom (Sofia), Hope (Espera), Love (Amore), Strength (Fortis), and Faith (Fides). Each candle costs P400 for 3.5oz and P750 for 7.5oz

PHOTO BY

COURTESY OF GAY JAVIER

CONTINUE READING BELOW

Recommended Videos

Aside from production, her kids are involved in branding, designing, and selling the products.

"If you see the label, it has a Greek na pagkakasulat kasi nag-Greek lessons sila before. I asked them to find names for the candles, sila yun."

She explains, "Yung Fortis, which is fortitude, the design there is a mountaintop na may dalawang tao pulling up another person, kasi the strength that we wanted to highlight is not individual strength, but the true strength that comes from being able to accept help from others."

She adds, "Tsaka yung strength in numbers because that's what I wanted to teach my girls na when you grow up, hindi kayo pwedeng hiwa-hiwalay, you have to find your strength with each other, it's stronger when you are together."

You can buy Five Virgins PH products in Shopee, here.

An outlet to find joy 

The second venture is La Mia Gioia, an Italian term for "my joy," which are handcrafted jewelry pieces inspired by faith.

Gay revealed she struggled when her youngest son Isidro passed away. "I started it at a time na wala akong joy sa life ko talaga. Nahirapan ako kasi namatay yung anak ko, sinisisi ko sarili ko. I had to look for that joy and I know that para makuha ko yun is if ayusin ko yung faith ko talaga, kasi nagtampo ako noon sa Diyos eh." 

She adds, "It's hard to pray when you're hurting, so I started with getting to know ulit. I decided on learning more about the person who would understand the hurts that a mother would have, with the loss of a child, si Mama Mary." This business, she said, was inspired by a need for her to find the joy to anchor herself in. 

ADVERTISEMENT - CONTINUE READING BELOW

A 5-layer bracelet that can be worn separately as a decade rosary bracelet, or linked into a necklace into a full rosary, start at P3000. Bracelets start at P500, necklaces start at P900 depending on materials used like stones, gold-filled, stainless steel and swarovski.

PHOTO BY

COURTESY OF GAY JAVIER

"Her entire life when she said yes to the Lord, it wasn't easy but still, she kept everything in her heart. I think most mothers are like that - yung tahimik ka nalang - pero gusto ko sana gawin ko yun with joy like she did."

You can buy La Mia Gioia products in Shopee, here.

These rosaries are designed by Gay and were handmade by unemployed mothers using precious stones in collab with Dasal PH. Prices range from P550 to P1500 each.

PHOTO BY

COURTESY OF GAY JAVIER

ADVERTISEMENT - CONTINUE READING BELOW

"My son, Pablo, who has autism, he likes to string beads, so hopefully when we have designs na pwede gawin ng mga bata o adults with autism."

READ ALSO: Raising Two Sons With Autism: Small 'Champagne Moments' Give Us Strength

Teaching 'diskarte' and grit

Their third venture was C'est Bon, which are handmade soaps and shampoo bars. This business was borne out of their practical need to have soap and shampoo!

"Eto naman kasi nag-pu-puberty na yung eldest ko. Ang dami nilang pimples, and then yung sa hair, I really didn't want them to use yung mga shampoo for grown-ups because their still young."

"My sister-in-law said, "why don't you make soap?" So they started with melt-and-pour soaps until they were able to enroll in a shampoo bar-making workshop with flexible payment terms. 

C'est Bon shampoo bars are P220 for 50g (good for 40-50 washes), and conditioner bars are P250 for 50g. C'est Bon, in French, means, it's good.

PHOTO BY

COURTESY OF GAY JAVIER

ADVERTISEMENT - CONTINUE READING BELOW

 

Buy this shampoo bar in Shopee here.

"The workshop included materials also, we made 10 shampoo and 4 conditioner bars. We gave away a few, tapos more than half we sold sa mga kamag-anak! From there we were able to buy a set of ingredients, so ganun namin siya napaikot."

They also used their earnings to enroll in a processed soap-making workshop.

 

Mermaid soap, anyone? "The products we make, we have to be able to say na it's good," said Gay. C'est Bon soaps range starts at P220 per bar.

PHOTO BY

COURTESY OF GAY JAVIER

 

You can check out all C'est Bon products in Shopee, here.

Lessons that are not taught in school

Recently, they tried putting up a pop-up store in an event, and the kids enjoyed a lot and learned from it.

From selling, Gay said her kids also learn other concepts, especially when one of her kids had a "keep the change experience." Her third child, Louie, was able to sell to a customer who bought P500 worth of products, and paid P1000.

ADVERTISEMENT - CONTINUE READING BELOW

"Kinompute niya, so in a way may Math na din siya dun eh, may Science, may art, may English pa kasi oral skills to be able to explain it. She got 400 pesos, tuwang tuwa siya, kain daw kami sa labas."

"So I guess without really hard selling it, naintindihan nila yung konsepto at nakikita nila yung pagod mo ng 2 weeks, eto yung nabili mo. There's always a way."

Her 10-year-old was able to give her siblings a milk tea treat from her earnings!

PHOTO BY

COURTESY OF GAY JAVIER

She said they always remind them that when they earn, they have to think about how they can share with others and save for the rainy days.

Their youngest child, Adi, designed the C'est Bon logo, and is exploring digital art that Gay considers to mint as NFT art.

PHOTO BY

COURTESY OF GAY JAVIER

ADVERTISEMENT - CONTINUE READING BELOW

"Our greatest need right now is to create something sustainable for our children, kasi di naman kami mayaman, pag biglang may nangyari samin ni Cocoi, wala talagang sasalo sa mga anak ko na kaya silang paaralin, and we also have Pablo na may mga therapies, that's why we started tong ganito," she said.

Pablo, their eldest son who has autism, helps out in making their products and in cleaning up

PHOTO BY

COURTESY OF GAY JAVIER

Tips for parents who want to start a business

As a mom who is just starting with her businesses, Gay shared some gems that she picked up along the way that can inspire other parents.

1. Start small

According to Gay, the first step is really to trust yourself and start. "Ang dami talagang excuses, but if you really want to, then you're going to start," Gay said.

"There are days when its hard for me na bumangon or to do anything pero may time na talagang it struck me, Cocoi said, just move a chair, then once you moved the chair, maybe you could move the table or get a plate, whatever, just start moving kahit gaano siya kaliit. Iinit din siya, maiinspire ka rin it's gonna come, it's just gonna happen, just go and the money will follow."

ADVERTISEMENT - CONTINUE READING BELOW

READ ALSO: This Creative Mom Started Her Biz With Just An iPad, Sold Over 2K Shirts In A Year

2. Persevere and pray

"You have to really persevere, kasi kahit hanggang ngayon, magdududa ako sa sarili ko, pero maya-maya may biglang break na dadating, balik ako ulit."

She adds, "Parang may time na, walang bumibili, nila-like lang ng mga tao sa IG, nagcocomment sila lahat, wala namang bumibili pero meron din namang time na ang daming bibili."

"Kakapitan mo yung mga wins na maliliit because those wins mean that you're on the right track," Gay said.

READ ALSO: How This Single Working Mom Is Growing A Mushroom Biz And Raising A Teen

3. Seek feedback

Gay said it's important to learn how to take feedback that are hard to digest or unexpected, "Kasi those are the best feedback kasi natututo ka mag-improve hindi lang ng product but ikaw din mismo. Kung paano ako mag-re-react sa feedback as a parent is probably the way my kids would also react, so nagiging mas okay ka rin na tao just so you could teach your child."

READ ALSO: 'Nabebenta Mo Talaga Yan?' This Mompreneur Grew Her Fashion Business From P3K To 6 Figures Monthly

4. Involve your kids

Gay advises, "Try to involve your children always. Kasi for me aside from the money, it's the time. Because the business is done with my children, hindi namin issue yung quality time kasi magkakasama kami."

You can buy Gay's handmade soaps on Shopee here, and her candles and accessories here. 

ADVERTISEMENT - CONTINUE READING BELOW

Read how a mom got inspired by her son to start a business that lets her earn up to P33K a day, here.

Trending in Summit Network