Loved 'Crash Landing On You'? 9 More Series For The K-Drama Newbie

Here's a list of Koreanovelas to watch next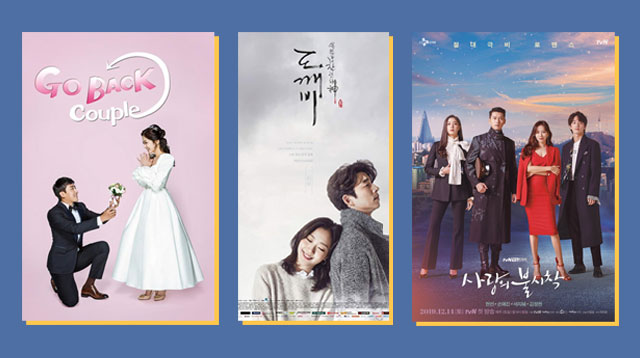 Unless you've been living under a rock, you would know that Korean dramas have captured the hearts of Pinoys and are the reason many of us miss out on sleep (besides caring for our babies, of course). Can you believe that K-dramas dubbed in Filipino (or "Tagalized") have been airing in the Philippines for the last 17 years?

So you've seen Crash Landing On You and loved it, but you simply don't want to start a habit to the point of no return. But, with local networks showing one series after another, and video streaming services Netflix and iflix making them available 24/7, there's no reason you can't try watching another one (or two). Call it "me-time" if it makes you feel less guilty. 

Need a little more convincing? Our community of moms at the Smart Parenting Village eagerly put in their votes for their favorite Koreanovela to make the selection process simpler for you. If you're just getting onboard the K-drama culture (resisting it is futile) here's a ranked list and a quick trailer for each to get you started.

1.

Goblin (2016-2017) 

Stars Gong Yoo, Kim Go-eun, Lee Dong-wook, Yoo In-na

In search for his human bride for centuries, the immortal Kim Shin finally stumbles upon her in the person of high school student Ji Eun-tak. The catch: the woman who is destined to become his bride is also the only one who can help him die and find peace. Originally titled Guardian: The Lonely and Great God, Goblin's final episode which aired on January 21, 2017 now ranks fourth as the highest-rated drama in Korean cable television. 

2.

Descendants of the Sun (2016) 

Stars Song Joong-ki, Song Hye-kyo, Jin Goo, and Kim Ji-won

An unfortunate incident paves the way for Yoo Si-jin, a captain of a South Korean Special Forces unit, and Dr. Kang Mo-yeon, to meet. Their blooming romance is interrupted by Si-jin's sudden deployment to another country and they eventually decide to part ways. They reconnect months later for a mission where they resume their relationship. Between trying to save lives and finding meaning in death, Si-jin and Dr. Kang prove love will conquer all.

ADVERTISEMENT - CONTINUE READING BELOW

This award-winning drama was a major hit in South Korea. Its main actors, Song Joong-ki and Song Hye-kyo, became lovers in real life and tied the knot on October 31, 2017, but eventually got divorced in July 2019. 

What other parents are reading

3.

Crash Landing on You (2019-2020) 

Stars Hyun Bin, Son Ye-jin, Kim Jung-hyun, and Seo Ji-hye

When South Korean heiress Yoon Se-ri accidentally lands in North Korea, a kindhearted army officer named Ri Jeong-hyuk helps keep her safe until such time she can go back to her country. It takes longer than planned, however, and along the way the two fall in love. But with their countries at war, will their love survive?

Crash Landing on You, which concluded on February 16, 2020, beat records to become the drama series with the highest viewership ratings in the history of cable television channel tvN. 

4.

Go Back Couple (2017) 

Stars Son Ho-jun and Jang Na-ra

Married and with one child, Choi Ban-do and Ma Jin-joo find themselves in discontent over the current state of their lives — he as a pharmaceutical sales agent and she as a housewife. By a twist of fate (or wishful thinking), both wake up one day back as their 20-year-old selves. Will the choices they make this time give them a happier ending? 

5.

Full house (2004) 

Stars Song Hye-kyo, Rain, Han Eun-jung and Kim Sung-soo

Aspiring scriptwriter Ji-eun leaves for a vacation thinking she won the trip for free, no thanks to her scheming friends who sell her home while she is away. Ji-eun meets famous actor Young-jae during her trip, but that was not to be their last acquaintance as she discovers that it was he who bought the house her late father built. Things get complicated as Ji-eun tries to find ways to get the house back, while Young-jae also pursues his own motives.  

What other parents are reading

6.

Vagabond (2019) 

Stars Lee Seung-gi, Bae Suzy, and Shin Sung-rok

Cha Dal-gun, a professional stuntman, makes a bold move to investigate the mysterious plane crash which killed hundreds of civilians, including his nephew. What he discovers with the help of National Intelligence Service agent Hae-ri is darker and more complex than he had imagined. 

7.

Legend of the Blue Sea (2016-2017) 

ADVERTISEMENT - CONTINUE READING BELOW

Stars Jun Ji-hyun and Lee Min-ho

Can love bring two souls together again in another lifetime? This question is answered when con-man Heo Joon-jae captures a mermaid named Shim Cheong in the present time, not knowing their lives have already been intertwined in the past. This fantasy love story is inspired by an ancient Joseon legend. 

8.

I Have a Lover (2015) 

Stars Kim Hyun-joo, Ji Jin-hee, Park Han-byul and Lee Kyu-han

With a dead-end relationship aggravated by the loss of their child, Choi Jin-eon divorces his wife Do Hae-gang to be with a younger girl named Kang Seol-ri. Hae-gang loses her memory when she meets an accident, but the man who saved her, thinking she was someone else, helps her start anew. In a twist of fate, the four characters meet again. What deep secret brings them all together?

9.

Weightlifting Fairy Kim Bok-joo (2016-2017)

Stars Lee Sung-kyung and Nam Joo-hyuk

Inspired by the life story of South Korean Olympic gold-medalist Jang Mi-ran, Weightlifting Fairy is a lighthearted romantic comedy that will take you into the struggles of athletes on their road to finding love and victory.

ADVERTISEMENT - CONTINUE READING BELOW

10.

My Love from the Star (2013-2014) 

Stars Jun Ji-hyun, Kim Soo-hyun, Park Hae-jin and Yoo In-na

An alien named Do Min-joon finds himself stuck on Earth after he visits the planet and misses his ride back. In order to survive, he assumes different personalities to prevent suspicion. Just as he was about to end his 400-year stay on the planet, he meets Cheon Song-yi, an actress, whom he falls for eventually, making his impending departure more difficult than it should be. 

Trending in Summit Network