Here's Why Kris Aquino and Judy Ann Santos Love Essential Oils

Start with lavender, which is very gentle and versatile!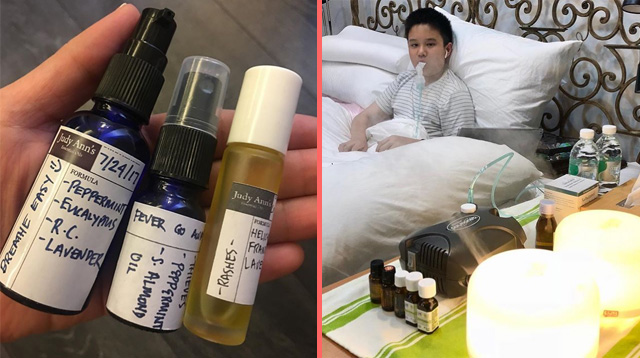 When their kiddos are sick in bed, celeb moms Kris Aquino and Judy Ann Santos prescribe lots of love and bring out their essential oil tool kit (after a go signal from their doctors). Juday "unleashes the oilbularyo" in her and makes her blend in spray bottles, while Kris does her research and mixes different oils to drop in a diffuser.

Admittedly, it can be quite difficult for a skeptic to get on the essential oils bandwagon. After all, can simply smelling something produce an immediate and almost miraculous effect as many have touted? 

What other parents are reading

For answers, we went to Noelle Polack who gave a talk on essential oils during the get-together of the first and most active members of the Smart Parenting Village Facebook group held at Discovery Suites. Aside from being a Doterra essential oils ambassador, Noelle is also a birth and postpartum doula from the Pinay Doulas Collective and a breastfeeding counselor.



Essential oils are mainly used for aromatherapy — a term coined by French chemist Rene-Maurice Gattefosse who was the first to explore the uses of essential oils. "He made that distinction between what is a fragrance and a therapeutic or aromatic substance," said Polack.  

Basically, aromatherapy works by targeting the limbic system, that part of the brain responsible for controlling emotions. She explains, "So, you smell the aroma, and it sends a message to the limbic system to start producing certain hormones in response." These hormones triggered by the aroma is what makes aromatherapy "work." It's how you find the smell of lavender soothing and calming.

ADVERTISEMENT - CONTINUE READING BELOW

What other parents are reading

To those unacquainted with essential oils, here are a few basics about them that might just convince you to give them a shot: 

1. Essential oils are just another way of taking advantage of the beneficial properties of plants.
Essential oils are potent extracts of a plant's "essence," which can be its fragrance, healing properties, etc. Some plants, for example, emit an odor to deter pests from growing or coming near them (like how lemon eucalyptus repels mosquitoes) or have fragrances that attract bees for pollination. 

"So, what we're really doing by getting essential oils is taking these things in a plant and using them for ourselves. We're taking all of these benefits that the plants are already using and trying to harness them for us," said Polack. It's similar to natural remedies like ginger tea that can help ease dizziness and nausea or the sap of aloe vera that can relieve itchiness. 

"The use of essential oils is just one part of a huge world of using plants for our benefit," she added. "Aromatherapy makes sense. It's not a placebo effect. There is something in plants that really keeps us in better health or improves our health."

CONTINUE READING BELOW

Recommended Videos

What other parents are reading

2. You can't expect essential oils to work like your medication.
"Aromatherapy is the use of pure and genuine essential oil from plants to address physical, emotional, mental, and sometimes even the spiritual health of an individual," said Polack. But it's not like the pills in your medicine box, she explained. "'Pag masakit ulo mo, for example, you take an ibuprofen. In essential oils, the aroma of peppermint can help ease a headache." 

3. Essential oils are not meant to be the definitive answer to a problem.
"Use it as a tool — not as an end all and be all," said Polack. Take labor pain as an example. To cope, moms are taught breathing and labor positions as relaxation techniques. Polack makes use of essential oils and aromatherapy during labor. Lavender, she said, can help a mom relax during active labor and peppermint can give her that second wind so she has the energy to push.  

"When I use oils in a hospital, I don't diffuse. In a birthing space, I have lots of cotton pads, and then I have a ziplock bag for each cotton pad. 'Yun ang pinapaamoy ko. 

"We do not apply oils on parts of the body that have direct contact with the baby during 'Unang Yakap.' Dapat pag-patong sa chest with skin-to-skin contact, amoy nung baby yung mommy niya.

"Again, essential oils are only a part of a bigger picture, they're physiological and emotional support. And, if the mom has not had experience with a certain oil, [labor and childbirth] is not a time to experiment."

ADVERTISEMENT - CONTINUE READING BELOW

What other parents are reading

4. You have to know how to use them.
"In the use of essential oils, you cannot be lax," said Polack. "They're so potent and they can be harmful." 

Eucalyptus oil, for example, should be used with caution on children ("it can slow down breathing") — make sure it is not directly inhaled or used near the face.  

"Rosemary oils can be also very warm. Citrus oils are quite safe, but they're phototoxic — you're more prone to sunburn if you've applied them topically."

5. Even beginner moms can learn to love them as they have a myriad of uses.
"Lavender is generally the safest oil to start with for families with young children. Kids going through growing pains (a.k.a. lagnat laki) will find it soothing. Lavender has mild analgesic properties. Dilute it in enough carrier oil and then 'yun yung i-massage mo dun sa legs para lang hindi gano'n katindi yung discomfort of the child," said Pollack. "Remember, if you're applying essential oils topically, always, always dilute."

She also suggested lemon oil for beginners. "It's very versatile. If you inhale it, the aroma is uplifting. And, if you have a spray bottle, take one part white vinegar, four parts water, and a couple of drops of lemon oil. Use it to spray on your tiles to disinfect the area. It's nice if you want to avoid using any of those products with parabens or toxic ingredients."

ADVERTISEMENT - CONTINUE READING BELOW

What other parents are reading

Celebrate your pregnancy milestones!


Enter your details below and receive weekly email guides on your baby's weight and height in cute illustration of Filipino fruits. PLUS get helpful tips from experts, freebies and more!

You're almost there! Check your inbox.


We sent a verification email. Can't find it? Check your spam, junk, and promotions folder.
Trending in Summit Network