Can FOMO Be Destructive? Isabelle Daza Talks to a Psychologist to Learn More

Social media can be inspirational, but it can also be very destructive.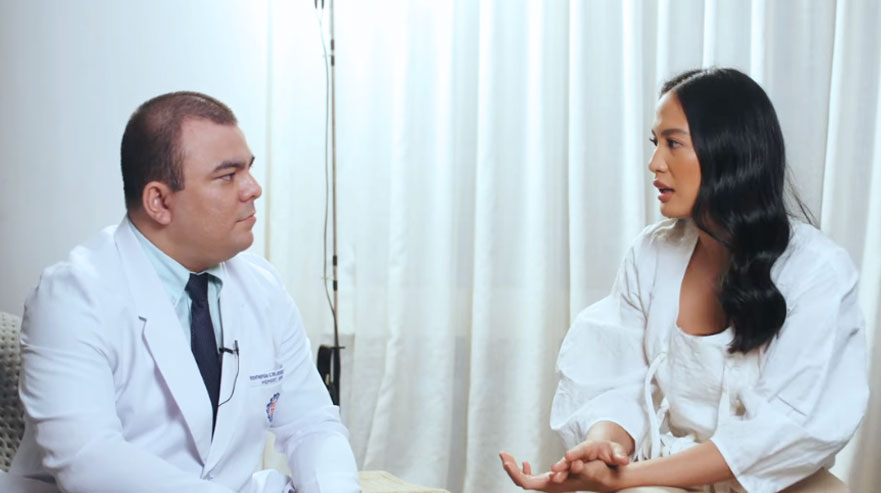 Isabelle Daza, who has always been vocal about being an advocate for mental health awareness, is using her influence to educate her followers about how social media affects mental health.

Last July 13, 2019, the mom of one uploaded the first of her three-part interview with psychologist Richtofen De Jesus on Instagram TV and her YouTube channel.

Isabelle was concerned about the effects of social media on a person's mental health because she heard from doctors that younger children have been seeking help from psychologists and psychiatrists. Dr. De Jesus attributed it to how people substitute personal interaction for computerized interaction nowadays. But they do not show their "true" selves, which creates pressure as they continue to seek validation through social media.  

What other parents are reading

"Filipinos are very sociable individuals. We don't want to be left out. What happens here is that we now try to identify ourselves with the people we follow on Facebook," Dr. De Jesus explains. "Because we are trying to identify ourselves with them, we now want to achieve a level or a status that they are experiencing. [And] we are also pushing ourselves too much to be in that status."

De Jesus uses "travel goals" as an example, a term often used as a hashtag. Whenever people see these kinds of posts, they start to wonder how they can achieve it and if they cannot, frustration sets in. "It then starts a cycle of self-doubt. If the person's psychological health is a little bit unstable the problem starts," explains Dr. De Jesus. "You now become a little bit more annoyed with who you are, you don't become satisfied with what you have and the depression will settle in."

ADVERTISEMENT - CONTINUE READING BELOW

What other parents are reading

Phone addiction is real

Dr. De Jesus adds that while social media can be inspirational, it can be destructive for some. He cites a condition called "Screen Exposure Addiction," which happens to people who can't let go of their gadgets.

"We have a part on our brain that is called the 'limbic system' that gets a little bit stimulated whenever we do that (check our phones). Because of that sudden surge of happy hormones, we then feel so relieved, so happy about what we do, so reinforced of our action that we try to repeat it as much as we could," shares Dr. De Jesus.

Isabelle admits she is guilty of being on her phone all the time. "Even in front of people, like if I'm with my husband or with some friends and family, I still want to be on my phone," she says.

That 'addiction' can also affect how parents spend time with their kids. In a video posted on March 2019, Isabelle shares an important reminder: "[I] created this video as a reminder to myself to be present and that not everything has to be recorded. I realized that there are times I chose to be on my phone rather than spend quality time with my son."

What other parents are reading

Social media can trigger anxiety

Dr. De Jesus says that social media affects mental health because it promotes a sense of validation, but it is coming from other people, even strangers.

Isabelle agrees. "We post a photo, and we wait for people to like it. [Likes] is a way of measuring…we're constantly being hammered with different photos and we compare each other when it comes to body or clothes, or vacations or material things we have. And it all adds up," she says.

ADVERTISEMENT - CONTINUE READING BELOW

Recommended Videos

In other words, when people are pressed for validation, anxiety can set in. "'If I will post this, who will comment on it?' Even though for a fact that what you just need to do is to really just validate yourself for your own efforts rather than allow other people to judge and mold who you are," Dr. De Jesus says.

Isabelle reveals she deals with social media anxiety, but because it's part of her work, she had learned to compartmentalize. "But I still go through it. At night, [I still think] 'Oh my gosh, tomorrow's another day, what am I gonna post?'"

What other parents are reading

For Dr. De Jesus, it's a matter of perspective. "Whenever you post something, take out the idea that it has to be something palatable for others. Rather, you're going to post it because it was a part of a good experience that you had," he advises.

If people react to it negatively, tell yourself this: "I do not have any control [over] what they think — it's their opinion. At the end of the day, it is me who knows the truth about who I am. And that is what I'm going to believe in. It's you who has the real feeling about what you posted and that's what is more important that you need to hang on to."

While the doctor's words seem simple enough to follow, Isabelle said it could be a struggle for people going through anxiety. The doctor replied, "The start is always the hardest part." 

If you're going through a crisis and you think that social media affects your mental health, don't be ashamed to seek help.

ADVERTISEMENT - CONTINUE READING BELOW

"I want to remove the stigma that mental illness, anxiety, depression is something that we need to be ashamed about. I want to be a voice of my generation and to be heard that this is an epidemic," said Isabelle at #LetsTalkLetsListen, a mental health forum held in July 2018. "People need to be heard and maybe we can save a life."

Don't be afraid to reach out if you are feeling anxious, helpless, or despondent. If you need someone to talk to: 

Crisis Line +633 893-7603 / +63 917 800-1123 / + 63 922 893-8944 
Manila Lifeline Center at +632 896-9191 or +63 917 854-9191
Department of Health's 24-hour suicide prevention hotline Hopeline +632 804-4637 / +63 917 558-4673 and 2919 for Globe and TM subscribers 
You can also join SOS Philippines on Facebook, a support group founded for survivors of suicide loss and Filipinos undergoing mental health ailments like depression and bipolar disorder.

What other parents are reading

Celebrate your pregnancy milestones!


Enter your details below and receive weekly email guides on your baby's weight and height in cute illustration of Filipino fruits. PLUS get helpful tips from experts, freebies and more!

You're almost there! Check your inbox.


We sent a verification email. Can't find it? Check your spam, junk, and promotions folder.

Trending in Summit Network