I Was a Strong, Independent Mom. Then One Day I Was Afraid to Leave the House

A mom shares her story when she unexpectedly came face to face with an anxiety disorder.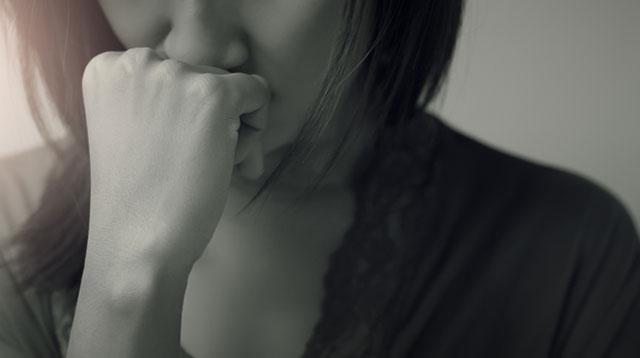 Mental health issues have been flooding my wall these days. I have seen several Facebook posts from friends sharing about the deaths of fashion icon Kate Spade and acclaimed celebrity chef Anthony Bourdain. My heart went out to them. I felt that if people personally knew someone who suffered from mental illness and rose above it, then they would be able to relate. 

So I am sharing my story. 

Many of my Facebook friends don't know that I was diagnosed with an anxiety disorder six years ago. Never in a million years had I imagined myself having such a disorder because I saw myself as a strong, independent woman,  one who is secure of herself, friends, and family. I was a certified public accountant and a professor, one who was always in control.

Then, one day, I don't know why I felt agitated. I couldn't go anywhere without feeling nervous. I would have brief episodes of panic attacks, but it would just fade after a while.

And then the nervousness, the panic, the anxiety simply did not go away anymore.

What other parents are reading

I couldn't sleep and eat for days and weeks. I couldn't go anywhere on my own unless someone was with me. My son, who was then 8 years old, would accompany me to my classroom for my 4:30 p.m. class (just after his dismissal). Yes, I could barely walk on my own from one classroom to another, and this went for an entire school semester.  

The tipping point came when my episodes became more frequent. I had to hide all knives in our kitchen before going to sleep. I was afraid I would do something to myself and my family in the stillness of the night when I couldn't talk to anyone.

ADVERTISEMENT - CONTINUE READING BELOW

I realized it wasn't normal, and I needed help. I first sought and emailed a friend who was based in Canada. Her child had a mental disorder, so I felt she would not judge me. I was scared to tell even my best friends for fear of being judged.

I guess the first thing to recovery was finding the humility to accept that something is wrong with you and that you need help.

My friend suggested that I see a psychiatrist. When I told my parents about it, they laughed at me — the usual reaction you would get. But my husband was very supportive. He patiently accompanied me during my doctor's visits.

What other parents are reading

I remembered how my first visit was liberating, just knowing that someone understood how I felt and explained everything that was going on in my brain (all the chemical imbalance and so on). I was told mine was an environment-induced disorder due to stress. I was on medication for six months.

The six-month ordeal was "easy" because of friends, colleagues, and family. I felt the faculty under me deserved to know. So I told them, and in all humility, I asked for their help and understanding why I would need them to go with me on this journey. That phase tested our friendship, our working relationship, and my leadership.

I was talking to people, going to work, discussing with my students, but my heart was pounding hard.  The irony was, during this time, I never incurred absences from work. I was afraid to be left alone at home.  So I fought with all my strength to drag myself to go to work.

Later on, my psychiatrist told me that those who are depressed started with anxiety.  Because they were scared, they wouldn't go out of their houses.  And because they did not meet people and had no one to talk to, the anxiety would get worse until depression set in. I was so afraid of this, so I pushed myself to fight with all my strength.

ADVERTISEMENT - CONTINUE READING BELOW

Recommended Videos

What other parents are reading

I could still remember how my husband looked at me while we were dining one night. His eyes spoke of how much he wanted to take away my pain. My husband would hug me when I couldn't sleep, but he was frustrated that he couldn't do anything. But, more so, I remembered the look of love, and how he would patiently go with me everywhere, sometimes sacrificing his job.

There were times I would sit in my husband's office doing nothing. Being at his side was assurance enough that I had somebody who will support me.

During the entire ordeal, I only had one thing in mind: that this, too, shall come to pass. That was six years ago, and I have stopped the medication for five years now (as directed by the doctor).

What other parents are reading

Looking back, I struggled most on the thought that I would hurt my family.  I was scared that the mental illness would become so devastating that I could not get over it.

It was the feeling of being alone that I was scared the most. That was why I always need somebody to accompany me wherever I go.

In my current assignment at work, it is not unusual for me to meet "problem" students, many of whom are not academically-slow but are undergoing health, financial, family issues. A good number are depressed and have anxiety disorders. I feel like I went through all that pain to help these students. 

That ordeal has made me stronger, more compassionate and understanding of other's weaknesses. Most of all, it taught me to live each day with humility, and that it is okay to be not in control all the time — let God take the steering wheel.

If you have friends undergoing mental disorders, the best thing to do is make them feel that you are there. You don't have to say anything. Let them know you don't judge them, and you love them just the way they are.

I am blessed to be well now. I am not ashamed to admit what I have been through. I am now a better person because of it.

Stephanie Calamba is a certified public accountant who worked for one of the country's big accounting firms. A member of the academic community for 20 years now, she serves as a college dean currently. She and her husband, a civil engineer, have a son who is 14 years old.

ADVERTISEMENT - CONTINUE READING BELOW

Call the Crisis Line for free and anonymous counseling through: +632 893-7603 / +63 917 800-1123 / +63 922 893-8944. You can also join SOS Philippines on Facebook, a support group founded for survivors of suicide loss and Filipinos undergoing mental health ailments like depression and bipolar disorder.

If you think you may have depression or know someone with depression, you can call the Department of Health's 24-hour suicide prevention hotline, Hopeline, +632 804-4637 / + 63 917 558-4673 and 2919 for Globe and TM subscribers.

What other parents are reading
Celebrate your pregnancy milestones!

Enter your details below and receive weekly email guides on your baby's weight and height in cute illustration of Filipino fruits. PLUS get helpful tips from experts, freebies and more!
You're almost there! Check your inbox.

We sent a verification email. Can't find it? Check your spam, junk, and promotions folder.

Trending in Summit Network