How To Care For Your Child At Home If You Suspect He Has COVID-19

Children with mild symptoms may be asked to manage their illness at home.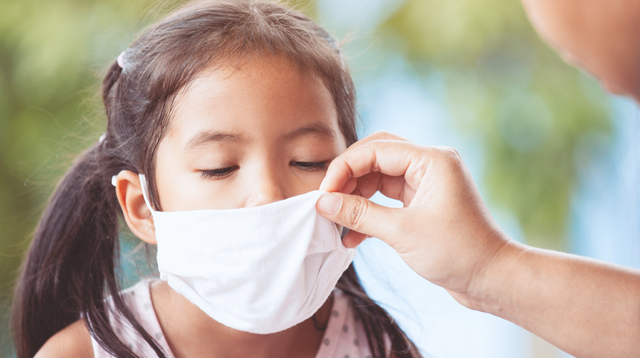 The thought that your child may have coronavirus disease 2019 (COVID-19) may fill you with dread, but having the virus is not a death sentence. It's important to note that in majority of confirmed cases, kids exhibit milder symptoms or none at all. (Click here for a list of symptoms of COVID-19 in children.)

"Hindi sila nababalita na grabe ang epekto," shared Dr. Anna Ong-Lim, a pediatric infectious disease specialist in an interview with CNN Philippines. "Kung meron man, ubo, sipon, at pagkaraniwang trangkaso ang nakikita natin sa bata."

The Philippine Pediatric Society (PPS) and Pediatric Infectious Disease Society of the Philippines (PIDSP) recently came out with updated guidelines for pediatricians and other healthcare professionals on how to properly assess and treat children with suspected or confirmed COVID-19. (Read how they classify the cases depending on severity here.) It can also be helpful for parents so they know how to properly manage the illness at home if it does not require hospitalization. (Read the full guidelines from the PPS and PIDSP here.)

How to manage your child's COVID-19 symptoms at home

According to the PPS and PIDSP, children with non-severe disease — and, in some cases, stable preexisting conditions — may be sent home, unless "there is a concern for rapid deterioration or an inability to promptly return to hospital." Home care is recommended and should focus on "appropriate supportive treatment, prevention of transmission of the virus to others, and monitoring for clinical deterioration" (in which case, you should send your kids to the hospital ASAP). It is also important for parents to always be in touch with their child's doctor for the duration of the home care "until the child's symptoms have completely resolved."

ADVERTISEMENT - CONTINUE READING BELOW

How to isolate your child

According to PIDSP, children who are a suspect COVID-19 case should try to separate themselves from other people in the household. If possible, place the child in a well-ventilated room — with open windows and use electric fans for ventilation — and ideally with their own bathroom. (Don't have a separate room in the house? Click here for your options.)

Confine activities of the child inside the room. If this is not possible, limit the shared space and movement of the child in the house. They should also have their own set of dishes, drinking glasses, cups, eating utensils, and beddings.

Assign one person who is in good health as the child's primary caretaker. Avoid letting the elderly care for them. Those who are not taking care of the child must always maintain a distance of at least 1 meter from the child.

Both the child and household members should wear a surgical mask when they are inside the same room or when interacting inside the home. Make sure that your child's mask securely covers the nose and mouth. They can remove the face mask when the child is eating or drinking, but this should not be touched when worn.

For children below 2 years old, wearing of face masks is not advised due to risk of suffocation. Do not let your child wear a mask if he has difficulty breathing when wearing it, or if your child has a cognitive or respiratory impairment that makes it hard for them to tolerate wearing the mask. They should also not wear masks if it causes them to touch their face more frequently.

CONTINUE READING BELOW

Recommended Videos

Try to find the right size of mask for your child's face and make sure to adjust it for a secure fit. N-95 masks are not recommended.

Teach your child to always practice frequent handwashing. They should also cover their mouth and nose when coughing or sneezing using a tissue. All household members should also wash their hands after contact with the child.

Reminders for the child's caretaker

Always wear a surgical mask (make sure it covers your nose and mouth) when in the same room as the child. Do not touch or handle both your masks while using it. If the masks get wet or dirty with secretions, remove the mask without touching the front and immediately replace with a dry mask. Do not reuse masks. According to the PPS and PIDSP, cloth masks do not provide adequate protection. (Read the reasons here.)

The use of disposable gloves is highly recommended especially when handling oral or respiratory secretions, feces, or urine. Avoid direct contact with your child's secretions and stool. Wash and disinfect your hands after removing the gloves.

Always wash your hands with soap and water for at least 20 seconds especially after the following situations:

Before and after contact with your child, especially after handling secretions
Before and after preparing your child's food and feeding the child
After assisting the child in using the toilet or diaper-changing and after bathing the child
If the hands are visibly dirty

Dry your hands with disposable paper towels or clean cloth towels (with frequent replacement).

ADVERTISEMENT - CONTINUE READING BELOW

When flushing the toilet, keep the lid down to prevent droplet splatter and aerosol clouds. Remember to clean and disinfect surfaces that are frequently touched in the room as well as toilet surfaces. You may use regular household soap or detergent to disinfect. Keep these out of your child's reach to prevent accidental ingestion or poisoning.

How to wash and dispose soiled linen and diapers

Waste that are generated during home care (including diapers, tissue/wipes, etc) should be placed inside a waste bin with a lid inside the child's room where they are isolating. Seal the trash bag tightly before disposal.

When handling soiled items, always use a face mask and disposable gloves. Place all used disposable gloves, face masks, and other contaminated items in a lined container before disposing of them with other household waste.

Clothes, beddings, pillows, or stuffed toys used by the child must be washed separately. Do not shake dirty laundry to minimize the possibility of dispersing the virus through the air.  Machine washing with warm water and laundry detergent is recommended.

If this is not possible, soak the soiled linen in hot water and soap in a large drum and use a stick to stir the contents. Be careful to avoid splashing. Empty the drum and soak the linens in 0.05% chlorine for around 30 minutes. Rinse the laundry with clean water. If the items are still dirty, you can now wash it using regular laundry soap or household detergent with warm water. Dry it under the sun.

ADVERTISEMENT - CONTINUE READING BELOW

Wash your hands with soap and water immediately after handling waste and other soiled items.

What medicine can you give your child?

There is no specific medicine for COVID-19. However, according to the PPS and PIDSP, you may give the following medications to your child to address their mild symptoms:

Antipyretics such as paracetamol for your child's fever. (Data on ibuprofen use is equivocal at this time, so avoid giving it to your child for now.)
Antibiotics prescribed by the doctor. According to the guidelines, "antibiotics should be used rationally based on existing national guidelines for pediatric community-acquired pneumonia and respiratory tract infections."
Essential vitamins and minerals such as Vitamin C, Vitamin D3, and Zinc from supplements

The guidelines note that home nebulization should be avoided unless you are given the go signal by your doctor. This is because the risk of infection transmission via droplets or aerosols may increase during nebulizer treatments. Instead, your child may use a metered-dose inhaler if necessary.

While supplements may be given, the PPS and PIDSP emphasizes the importance of providing your child with a balanced diet and proper nutrition, as well as adequate hydration.

How to provide your child with mental and emotional support

Your child may not understand what is going on and why they are being asked to go on isolation. Talk to your child about their condition in a way they can understand, "giving assurance that they are being observed close at home with the supervision of their doctor," according to the guidelines.

ADVERTISEMENT - CONTINUE READING BELOW

For now, you can limit your family's exposure to news coverage and social media. Your child may become frightened and misinterpret what they see and hear especially when they don't understand it.

As much as possible, continue with your child's regular routine even while they are under quarantine. Learning activities and simple play are encouraged if the child is well enough for it. Screen time limits must still be observed according to their age.

Throughout the quarantine period, it is important to monitor and record your child's symptoms. Notify your doctor immediately if the symptoms worsen or if any members in your household develop symptoms. If symptoms worsen or if no improvement is seen in 2-3 days, you may bring your child to the nearest healthcare facility for proper assessment.

The DOH now provides free telemedicine consultations for all COVID-19-related medical advice and non-COVID-19 health-related concerns. Call their 24/7 hotline at +632 894-26843 (COVID) or click here for more information. For free medical consultation from pedias, ob-gyns, and more, click here.

For the latest news and updates on COVID-19, check out reportr.world/covid-19.

What other parents are reading




Celebrate your pregnancy milestones!


Enter your details below and receive weekly email guides on your baby's weight and height in cute illustration of Filipino fruits. PLUS get helpful tips from experts, freebies and more!

You're almost there! Check your inbox.


We sent a verification email. Can't find it? Check your spam, junk, and promotions folder.
Trending in Summit Network